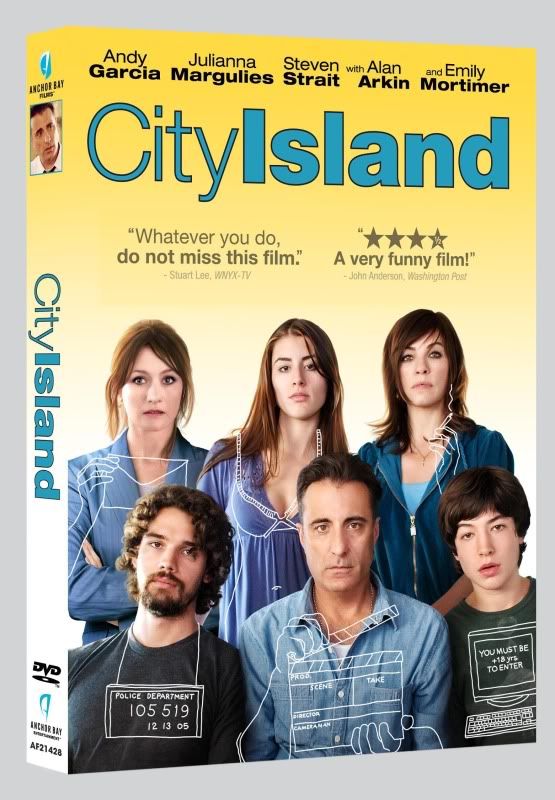 Photo - Courtesy of
Anchor Bay Entertainment
Writer/Dir: Raymond De Felitta (The Thing About My Folks, Cafe Society)
Cast: Andy Garcia, Julianna Margulies, Emily Mortimer, Steven Strait, Dominik Garcia-Lorido, Ezra Miller, Alan Arkin
USA
,
2010
Reason to see:
Solid acclaim across the board
City Island
centres on the Rizzo family, Vince (Andy Garcia) & Joyce (Julianna Margulies) and their kids Vivian (Andy Garcia real life daughter Dominik Garcia-Lorido) & Vince Jr (Ezra Miller) who live on City Island, a fishing village in the outskirts of New York City. On the surface The Rizzo's are a very everyday family of parents with non-glamorous day jobs providing for their families with the drive for their children to have a prosperous future. But under the everyday lies secrets in their lives that they are keeping from each other, not maliciously, but rather the kind of secrets that grow out of grow out of doubts and worries. As the secrets remain hidden the the more out of control the energy around them becomes, which provides lots of opportunity for misunderstanding and of course, stellar comedy.
Comedy is only as strong as it's players and the players here are extremely strong. The dialogue is fantastic, especially from Ezra Miller as the teenage son Vince Jr., who is a stand outs among stand outs in an impressive cast. That's one of the great things about the films -everyone's performance is spot on and brings a fantastic life to their characters. Every single person in Rizzo family feels alive and true, often conflicted and secretive, but very alive and true. The supporting cast is brilliant as well, Alan Arkin is absolutely dead-pan hysterical in his role here as an acting teacher, and Emily Mortimer is as Molly.
It's a fantastic comedy all around that plays the family drama card extremely well, which gives it a well-deserved wide audience appeal. At it's heart, I really see an actor's film - not only because it discusses and showcases acting as a craft, but also because the characters and their secrets & stories are meaty and delicious. It's like lasagna. Multi-layered goodness with flavours that are best when blended together to the point where they don't exist on their own but as one irresistible entity. And believe me, you do not want to resist. Surrender. Surrender and take a trip to
City Island
with the Rizzo's. You won't regret it.
DVD Extras:
Audio Commentary with writer/producer/director Raymond De Felitta and producer/actor Andy Garcia

- very congenial and amusing commentary that focuses on everything from the location, to casting & working with the actors, highlights improv moments and lots about the acting process and acting in general.

Dinner with the Rizzos (16 minutes)

casual round table style dinner discussion with writer/producer/director Raymond De Felitta, producer/actor Andy Garcia and actors Julianna Margulies, Steven Strait & Dominik Garcia-Lorido chatting about the film, the location, working together, memories of the film making process and other actors in the film. Overall informative and as well as being touching.

Deleted Scenes (15 minutes)

- 10 scenes, combination of extending and deleted scenes, a few are referred to in the commentary and many give interesting insights and great moments between the characters.

Trailer
City Island
is now available on DVD and BluRay. Check it out over at
Amazon.ca
&
Amazon.com
Shannon's Overall View:
I loved it
I've already watched it again
I highly & widely recommend it
Return to Film Reviews
or see more
DVD Reviews
© Shannon Ridler, 2010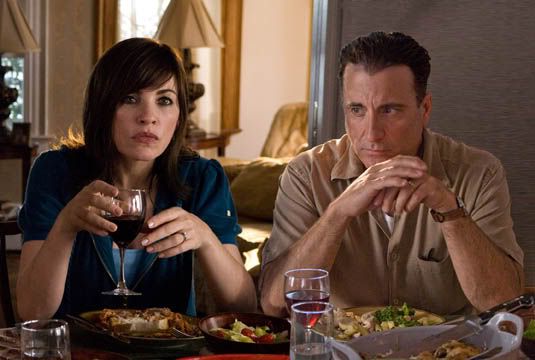 Photo - Courtesy of Anchor Bay Entertainment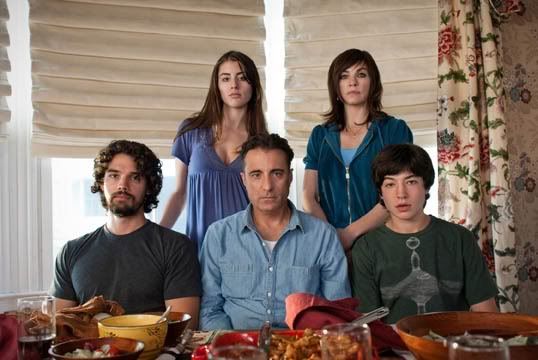 Photo - Courtesy of
Anchor Bay Entertainment