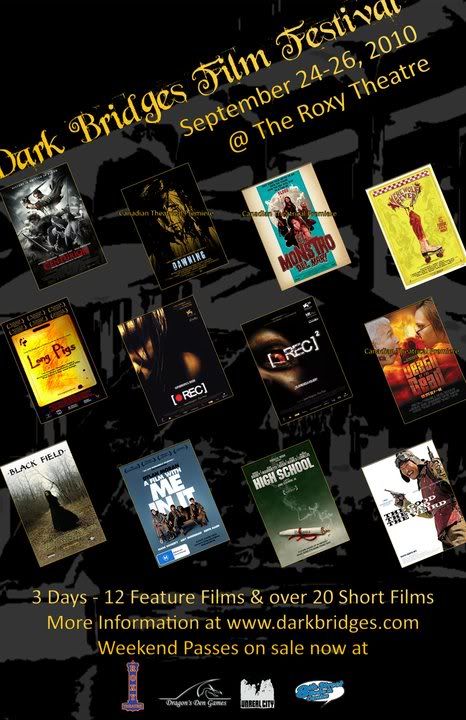 It's only a few days until the
Dark Bridges Film Festival
kicks off at the
Roxy Theatre
in Saskatoon, Saskatchewan. The festival is bringing all kinds of genre films out to play and showcasing 12 features and 20 shorts of the festivals three day run.
The festival starts off with a bang with the Roman epic
Centurion
as their first film on opening night and that's sure to get your blood pumping, and then they have a cabin thriller with
Dawning
, and the midnight screening of the night is an Australian film called
El Monstro Del Mar!
and described as "Half Faster Pussy Cat Kill Kill, Half tentacle seamonster flick". That sounds like fun to me!
Saturday is sure to bring out the creepy creatures and the undead with werewolf flick
Werewolf Fever
, a cannibalism focused
Long Pigs
that looks truly disturbing and then a zombie double bill with one of the biggest buzz scary films around
[REC]
and it's sequel
[REC] 2
. The evening caps off with a midnight screening with the Canadian Premiere of Gary King's
Death of the Dead
which features ninja zombies. Ninja zombies!!
Sunday features included the gorgeous Canadian historical drama
Black Field
, fantastic black comedy
A Film with Me in It
,
stoner comedy
High School
starring Adrien Brody and caps the evening off with one of my favourite films of the year the South Korean western
The Good The Bad The Weird
.
And it's not just features, check out the
Saskatchewan Short Film
and every feature has shorts playing with it from hilarious
The Necronomicon
to the chilling
Off Season
and the beautiful
Junko's Shamisen
.
How can you not love a festival that opens with a the Roman epic
Centurion
and closes with the kimchee western
The Good The Bad The Weird
? What a fantastic energy to bookend the festival with! I'm jealous of the folks attending the festival, it's a fantastic selection of films to enjoy from the weird and wild to bizarre and horrific, I wish I was going to be there!
I chatted with festival founded & directed John Allison on the most recent episode of the
Movie Moxie Podcast and you can listen to our conversation here
. In a nice tie-is, it's also the episode where I discuss zombies films as a genre.
For more information, check out the Dark Bridges Film Festival:
Website
,
Festival Schedule
,
Festival Overview
,
Information on Festival Passes
,
Facebook Group
,
Facebook Event
,
Festival Trailer
and Venue Information.
The
Dark Bridges Film Festival 2010
runs from September 24 - 26,2010 at the
Roxy Theatre
in Saskatoon, Saskatchewan, Canada.