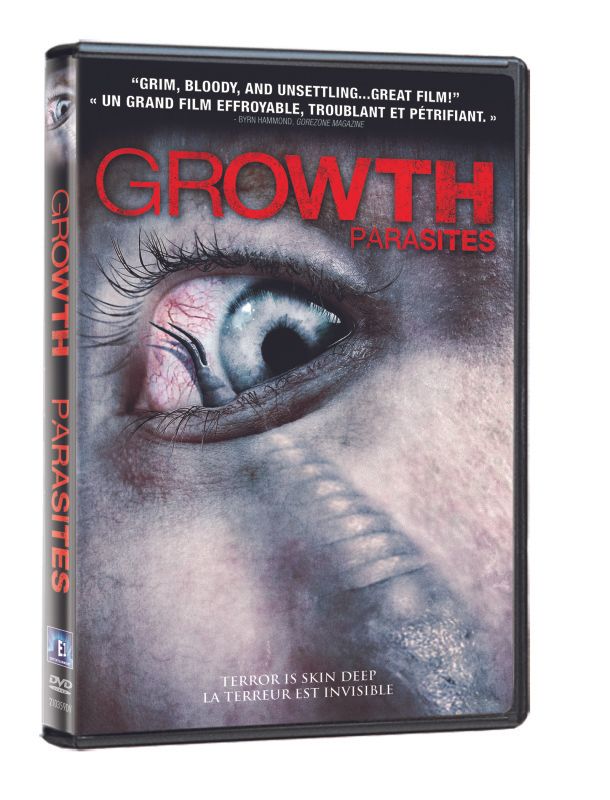 Courtesy of eOne Films
Writer/Dir: Gabriel Cowan (Flower in the Gun Barrel)
Cast: Mircea Monroe, Christopher Shand, Nora Kirkpatrick, Brian Krause, Alexi Wasser, Richard Riehle, Ian Patrick Williams
USA
,
2010
(DVD Release)
Reason to see:
Infection based horror film? Sign me up!
Growth
is set an island research facility that made huge breakthroughs in technology back in 1989, ones that were successful enough for it to become a self-contained community, which had and survived and epidemic outbreak. Now, 20 years later Jamie (Mircea Monroe) and her step-brother Justin (Christopher Shand) return to the island along with some friends, to sell their family property.
The film throws a lot of history at us for what's really a creature feature, but it does it quickly, efficiently and stylistically to set up the stakes. There were horrors in the islands past, who's up for thinking that they will return? I bet they will! The films hits a lot of the things we expect in horror - an attractive young cast of characters with a dark history, isolated location and the monsters themselves. Where it changes things up is having a step-sibling relationship at the forefront where the two siblings get along, but have very different pasts and memories. I liked the revealing of the history through Jamie's journey and Justin's journey is very much centred in the present and arcs through an interesting confidence level personal journey. And then of course we have the creepy, slithery, worm-like gross creatures come out to play all over the place.
It is a creature-based horror film and with that we have to talk about the creatures and the effects. I'll admit I'm a fan of practical effects in general so the creatures in their CG wasn't a huge highlight for me. It's creepy and gross, but very clearly visual effects and didn't feel like they creepy crawlies were actually there for the most part. But, I did like a lot of the practical effects that were used from gross-out moments to physical fights and overall they were very inventive in the portrayals of the heighten senses of the characters.
A huge highlight of the film is the fantastic performance by Christopher Shand, he has a great role here that showcases a variety of different tones in the character, all of which worked seamlessly and provided us with a complex, layered and a truly stand out performance. I look forward to seeing more Christopher Shand in the future - he is literally oozing with potential.
Warnings:
Gore, violence
DVD Extras:
Commentary with writer/director/producer Gabriel Cowan & producer Amiee Clark

- informative and also very sarcastically funny commentary that focuses a lot on locations, continuity, notating crew members appearances and very informative on a lot of the effects and how they were achieved in a variety of creative low budget ways.

Commentary with writer/director/producer Gabriel Cowan and actors Mircea Monroe (Jamie), Nora Kirkpatrick (Kristen) & Christopher Shand (Justin). Actor

Brian Krause (Marco) also comes into the commentary about 2/3rds of the way through. Very enthusiastic & reactionary commentary with the majority of the actors watching the film for the first time, which makes it very entertaining to listen to the non-horror fan reactions to some of the effects and scenes. Also some interesting insights into the characters, each of the actors on their acting process and how they initially got involved in the project.

Korea Online (5 minutes) -

fascinating look at how they achieved the scenes shot in Korea through Google video and with the director Gabriel Cowan directing from his home in the States to the cast & crew in South Korea. Really innovative work here.

Growth in Development (5 minutes) -

film footage, behind the scenes, effects development and interviews with director Gabriel Cowan, actors Mircea Monroe (Jamie) & Christopher Shand (Justin), VFX Supervisor Paul Stec. A strong focus on the effects from the creatures to the underwater shorts, and also the challenges and tricks on working on a low budget.

Deletes Scenes

- 9 scenes (15 minutes) -

combination of extended scenes, deleted scenes and rewritten/reshoot scene.

Trailer
Growth
is available on DVD as of September 7, 2010. Check it out over at
Amazon.ca
&
Amazon.com
Shannon's Overall View:
I enjoyed it
I'll watch it again
I recommend it to fans of creature-based horror/thrillers and for Christopher Shand's performance
Return to Film Reviews
or see more
DVD Reviews
© Shannon Ridler, 2010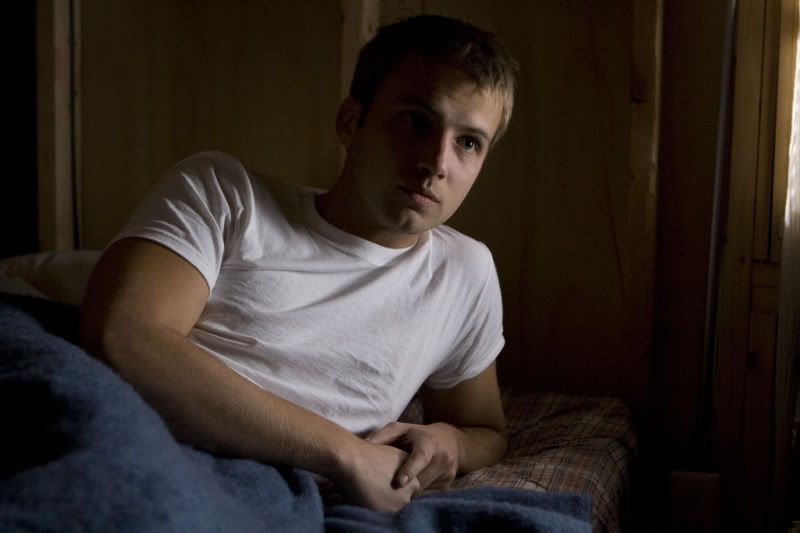 Christopher Shand. Courtesy of eOne Films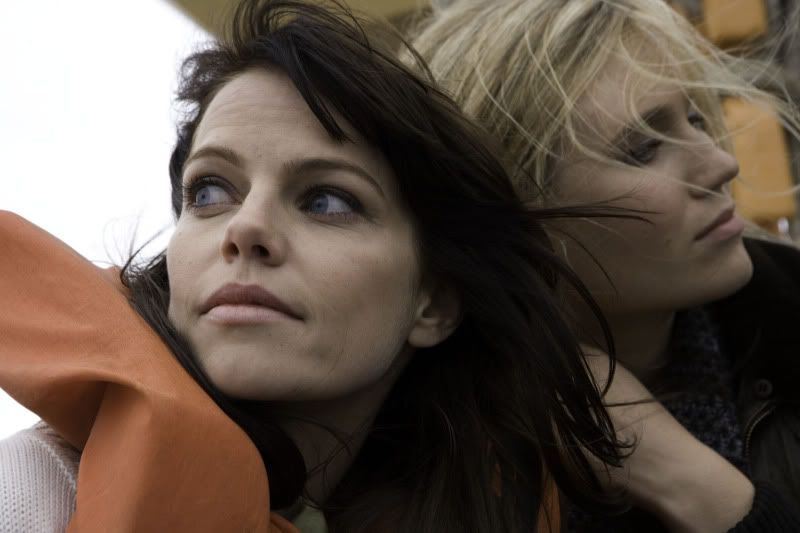 Mircea Monroe (left) and Nora Kirkpatrick. Courtesy of eOne Films