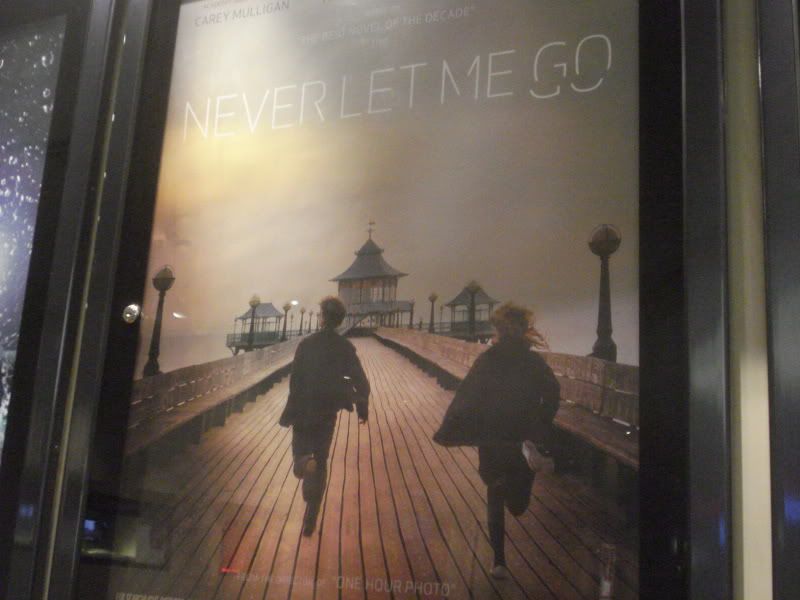 Dir: Mark Romanek (One Hour Photo)
Cast: Carey Mulligan, Andrew Garfield, Keira Knightly, Sally Hawkins, Izzy Meikle-Small, Charlie Rowe, Ella Purnell, Charlotte Rampling
UK
/
USA
,
2010
Seen:
September 24, 2010
at Varsity
Reason to see:
Absolutely adored the phenomenal
novel it is based on by the same name by Kazuo Ishiguro
Never Let Me Go
is a challenging film to write about for several reasons. First, the
book
upon which it is based is truly excellent and I would encourage people to read it even if there wasn't a film. Because of the books unique storytelling style and very different tone, it's hard to relate it beyond a straight-up recommendation because going into what it (and the film) is 'about' is spoiler and wouldn't really do either of them justice as it's unveiled beautifully and adeptly in both the film and book versions.
But I can say that it is a very experiential film. A film that on the surface reminences the childhood and early adulthood of three friends Kathy (Carey Mulligan), Tommy (Andrew Garfield) and Ruth (Keira Knightly) with equal parts nostalgia and slightly fuzzy wisdom. Their rather isolated education at Hailsham, life experiences and relationships and their views on the world. There is an subtle oddity of tone that deftly creates the atmosphere that although nothing is wrong, something is just somehow out of place. Edges on uncomfortable, but grounded in truth which keeps our attention softly focused and absorbent. It's absolutely masterful.
It is a film that is about much grander themes on life and relationships over the specific plot points and happenings, but even so each and every thing we see matters. I was very impressed with the specificity of the book to film adaptation, especially in tone. I had imagined it quite differently but what they actually created was absolutely fascinating. Subtlety and restraint play a huge part here, and the benefits of them are that you really slowly become entrenched in the film. The performances are very strong, particularly from Carey Mulligan (An Education) as our protagonist Kathy and Andrew Garfield (
Boy A
,
The Imaginarium of Doctor Parnassus
) as Tommy, whom should be on everyones radar as stellar actors and they proven that yet again here.
It's an amazing achievement and adaptation by creating an out of time out of place feel that is both distanced and accessible, with a story that is extraordinary yet believable and characters that compel, repel, live and love. It's absolutely beautiful.
Shannon's Overall View:
I loved it
I'll buy it
I highly recommend, but would recommend reading & enjoying the book first if you can
27 minutes of preshow including an 8 minute late start (!), 10 commercials and 5 previews:
The Fighter, Made in Dagenham, Barney's Version, Conviction
and
Black Swan
Return to Film Reviews
© Shannon Ridler, 2010