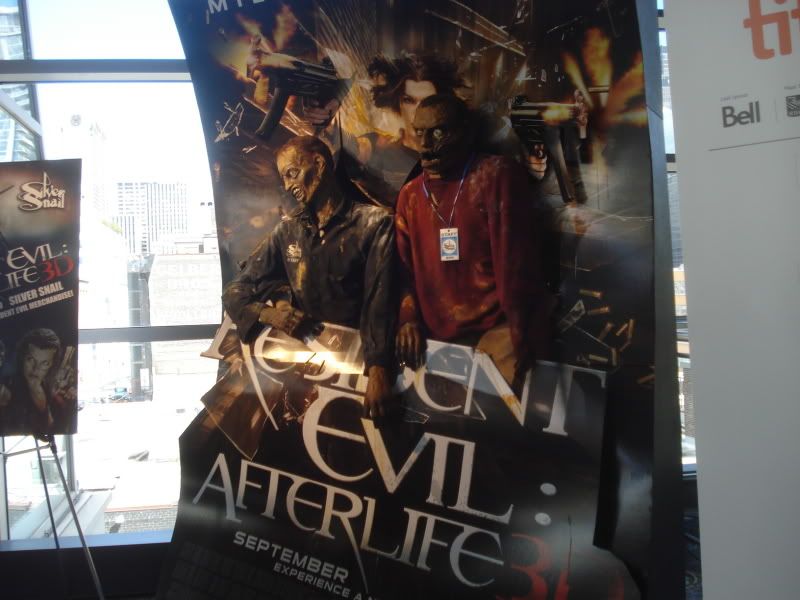 So, the only release we had this week was
Resident Evil: Afterlife
and I was actually looking forward to seeing it because the previews looked pretty fun and I'm a fan of Milla Jovovich. The theatre was really busy for a mid-afternoon screening, but it was a smaller theatre as the place was pretty much taken over with TIFFness.
So, watching away ... in 3D (which I can't see most of the time... but anyways), and I'm enjoying the film as it's pretty fun and mostly what you'd expect if you've seen other films of the series. But about 1h10 min into the film (which was 1h30 min into the screening), the sound cuts out. Then a few minutes later, the picture cuts out. They make an announcement that they are working on it, but eventually cancel the screening.
So now, I'm stuck.. because I enjoyed what I saw, but I don't really want to see the entire film again - I really just want to see the last 27 minutes of it's 97 minute runtime. And considering it's high on the special effects end, about 10 of those 27 minutes are likely credits.
So the question is, do I go out to see the film again for what's really going to be about 17 minutes I haven't seen? Or try and catch just the end of it? And if so, should I see it in 3D or 2D? Plus, how much will experience tailor my opinion of the film? It's a tough call.