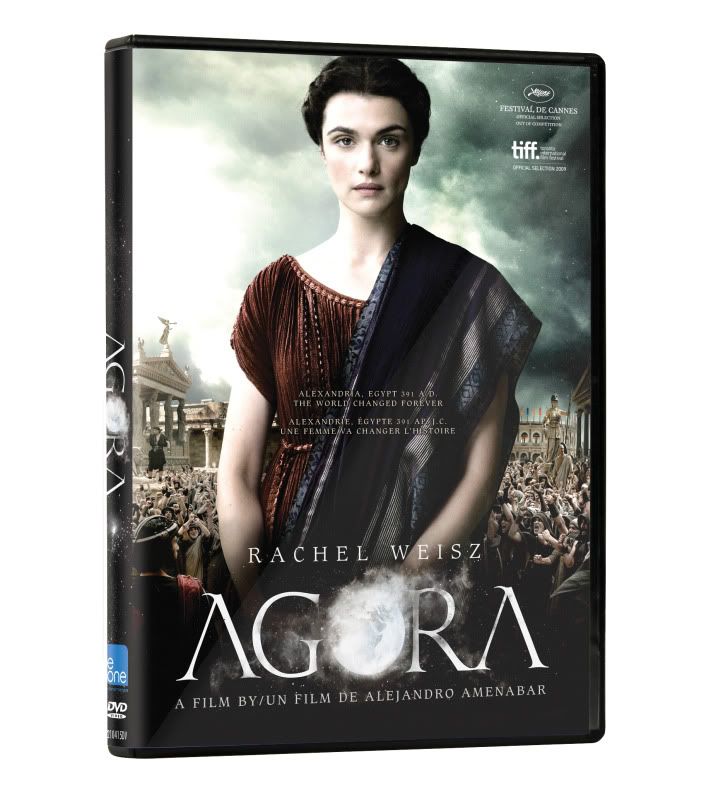 Courtesy of eOne Entertainment
Dir: Alejandro Amenábar (The Sea Inside, The Others)
Cast: Rachel Weisz, Max Minghella, Oscar Isaac, Rupert Evans, Sami Samir
Spain
,
2010
Reason to see:
Historical film centred on the female philosopher and astronomer Hypatia
Set in 4th century in the city of Alexandria,
Agora
follows the Hypatia a teacher, philosopher, astronomer and mathematician in a time where philosophy, science and faith collide through changes of power. Different religious and belief system exist, but not side by side in harmony but colliding with each other at every step.
Hypatia believes in power of knowledge and wisdom. Rachel Weisz does an amazing job embodying her with eloquence, vigor and beautiful curiosity in the world and determined strength to solve the mysteries of the universe. It's so exciting to see film centred on a female protagonist who was a philosopher, astronomer and mathematician. And in 391 AD. Wow. What a powerhouse she was.
Powerhouse is a great way to describe the film as a whole, as her journey alone was epic as were time times in and around Alexandria. Also, the film fits the epic definition in several ways including sweeping, gorgeous cinematography that makes each and every shot a thing of beauty. We also are treated to great performance from the cast including a particularly stellar performance from Max Minghella (
The Social Network
) as Hypatia's young slave Davus, who's has his own epic journey that underscores the film. We also get to see great works from Oscar Isaac (Prince John in the 2010
Robin Hood
) as the privledged Orestes, Sami Samir as the often scary Cyril.
From a gender perspective, it feels so refreshing to see historical film where a woman in a place of knowledge and privilege is teaching, hypothesizing & problem solving and also not minutely interested in the numerous men who are obviously interested in her. So rare to see this perspective in a historical film and I loved it. Hypatia is also clearly the most intelligent person we encounter and she loves knowledge and thought, genuinely thriving from thinking as if it were nourishment, which I found very inspiring.
It's completely fascinating to see people struggle with and ponder scientific concepts and ideas where we now have what we consider to be the solid truth for those particular problems. I think it's a great way to not only honour the challenges that people went through in the past, but also to remember how things can change over time and be open to change in the current as the world inevitably will be different in the future. Although seeing the cruelty of intolerance & hate is challenging to watch, it does serve as a reminder that how awful the result of intolerance can be which hopefully will inspire people to be more open, accepting and tolerant of ideas that are different than there own in the hopes of making the world a better place for everyone.
Warnings:
violence, cruelty and intolerance
DVD Extras:
Introduction by director Alejandro Amenábar (1 minute)

in Spanish with English subtitles on the idea behind the film and how it ebbed, flowed & grew over time

Deleted Scenes (7 scenes, 10 minutes)

really great collection of deleted scenes, including a gorgeous alternate beginning. I enjoyed many of them and would have loved to see them in the film, but at the over 2 hour run time can see the need to let them go. Great addition to the film though.

Alexandria The Greatest City (48 minutes)

Although very interesting addition, this is one of the oddest DVD extra's I've seen so far, as it isn't a documentary on the film

Agora

but rather the city of Alexandria. It's hosted by Bettany Hughes and is an educational and informative documentary that showcases lots of beautiful and interesting locations, provides context and history through discussions with historians, and tells the history of the city of Alexandra from the creation of, idea and ideals behind it and tragedies that came to it. It does include film clips from

Agora

and has a brief look at Hypatia, her work, discoveries and inventions.

Trailer
Agora
is available on DVD as of October 19, 2010. Check it out over at
Amazon.ca
&
Amazon.com
Shannon's Overall View:
I enjoyed it
I'll watch it again
I'd widely recommend it
Return to Film Reviews
or see more
DVD Reviews
© Shannon Ridler, 2010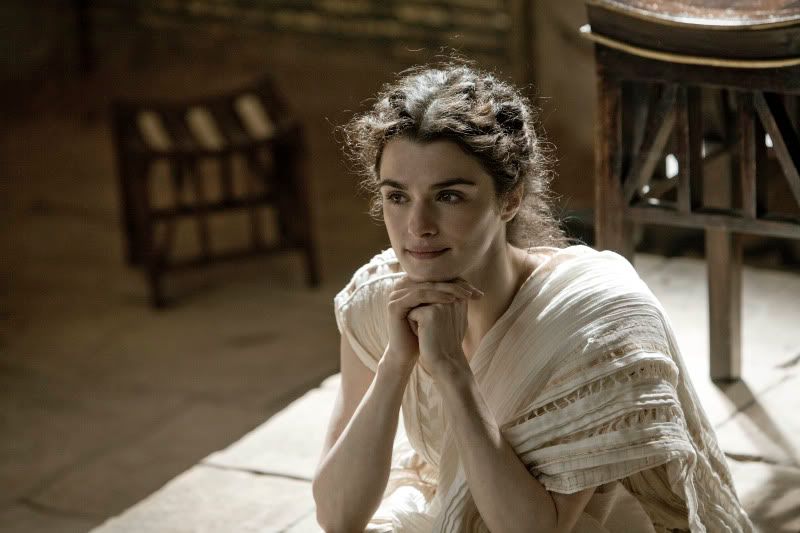 Rachel Weisz as Hypatia, in Agora, Courtesy of E1 Entertainment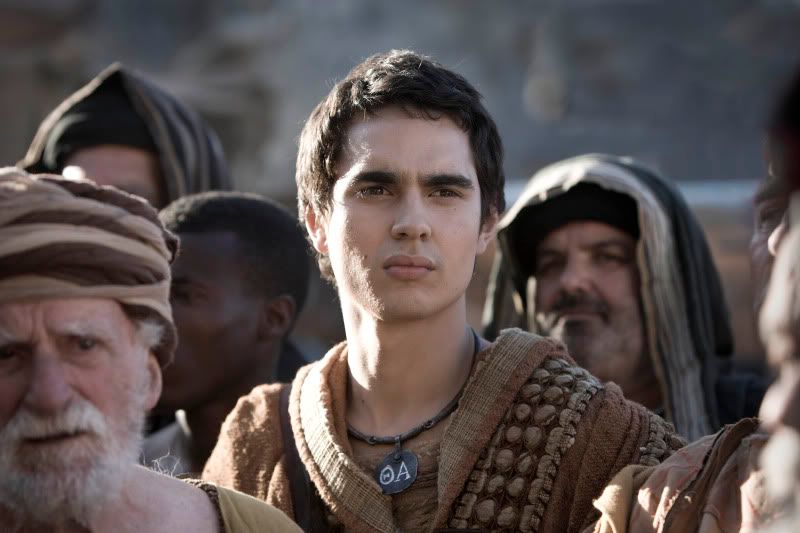 Photo by Teresa Isasi Max Minghella as Davus in Agora, Courtesy of E1 Entertainment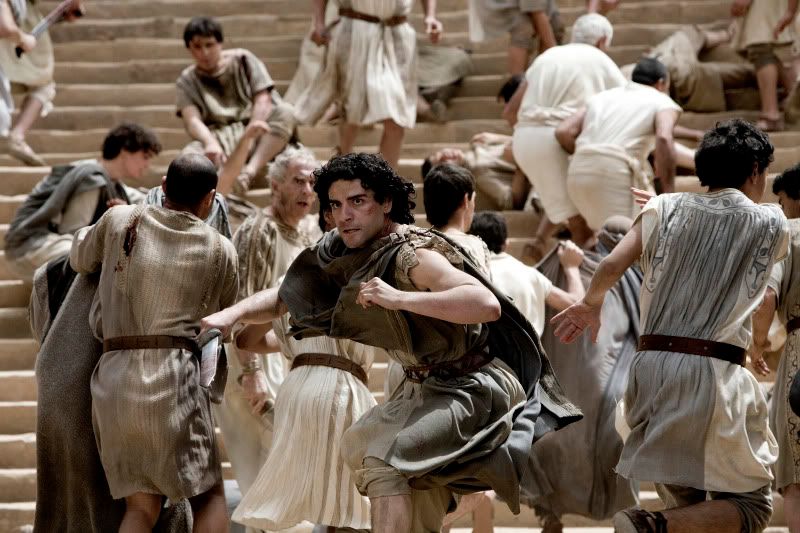 Photo by Teresa Isasi, Oscar Isaac as Orestes in Agora, Courtesy of E1 Entertainment
Sami Samir as Cyril in Agora, Courtesy of E1 Entertainment