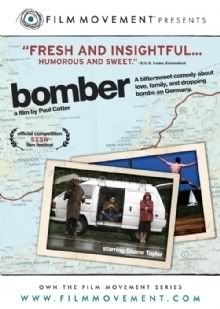 Writer/Dir: Paul Cotter - feature film directorial debut
Cast: Shane Taylor, Benjamin Whitrow, Eileen Nicholas
UK
/
USA
,
2009
Reason to see:
It's the
monthly selection
for
Film Movement
's
DVD of the Month Club
Bomber
is one part family drama and one part road movie, all with an 'unlikely group of people working together' vibe to in, which is an amazing feat considering the 'unlikely group' of people are an actual family of an adult son and his parent. Working the subtleties is a huge strenght of the film, being able to showcase both familiar family awkwardness as well as the ease of comfort levels, we see a window into their private lives unveil as they travel together on a road trip to Germany.
Having it be a family drama on the go is a brilliant way of driving all of their separate yet intertwined stories moving forward. It provides opportunity for the unexpected, lots of debate on how to get where your want to go (especially if not everyone wants the same thing!) and also the experience of being together. And that really feels to be what it's really about - being together, and knowing and not knowing those that are close to you. It's a beautiful film with an understated emotional journeys that are ponderous and eye opening.
One of the true treats of the film is the cast and their performances. Shane Taylor is absolutely lovely in the film as Ross, bringing the resistant yet helpful son to life in the inadvertent presence of this trip with his parents. I keep wondering how I've never seen his work before, but I'll be keeping my eye out for him after this as he's a complete treasure of an actor. Bringing the family together we have Benjamin Whitrow as the quiet yet a-look-can-say-a-thousand-words Dad and Eileen Nicholas as coming into her own again or possibly for the first time Mom. It's an absolutely lovely film and it was a joy to watch. I already look forward to seeing it again.
DVD Extras:
Behind the Scenes (13 minutes)

I've never seen this before as an extra - it's actually a visual slide show of photographs taken during the production with running audio commentary from writer/director Paul Cotter, producer Maureen Ryan, editor Matt Maddox and actor Shane Taylor. Very slice of life of the process of making the film.

Audio commentary with writer/director Paul Cotter, producer Maureen Ryan, editor Matt Maddox and actor Shane Taylor

- very interesting commentary that is a sweet accompaniment to the film and it was really refreshing take on micro budget filmmaking from the perspective of how many of the people and locations involved were people willing to be helpful. You really get a sense of the small and special crew that drew together to make things happen and everything to fall into place.

Director's Bio

Trailer
Bomber
is the
monthly selection
for
Film Movement
's
DVD of the Month Club
. It's also available over at
Amazon.ca
&
Amazon.com
Shannon's Overall View:
I enjoyed it
I'll watch it again
I widely recommend it
Return to Film Reviews
or see more
DVD Reviews
© Shannon Ridler, 2010