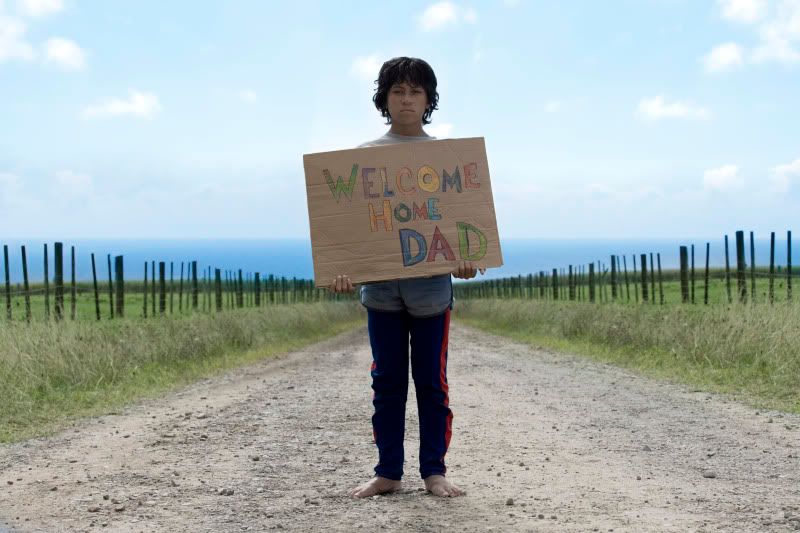 Writer/Dir: Taika Waititi (Eagle vs Shark, "Flight of the Conchords")
Cast: James Rolleston, Taika Waititi, Te Aho Aho Eketone-Whitu
New Zealand
,
2010
Reason to see:
Long sustaining power on the
Australian box office
got me curious - thrilled to hear the film was making a stop here in Toronto!
Set in 1984,
Boy (2010)
follows a boy named Boy (played by James Rolleston) and is a coming of age/family comedy that centres on Boy's relationship with his father Alamein (played by writer/director Taika Waititi). The film has a lovely, lively quality to it that blends a whimsical joy in Boy's hopeful interpretation of parental absence. This combination of gives an almost magical realism vibe to the film, the view from a child's point of view if they believe all the stories they hear as the truth. What makes the film really special is that it retains a beautiful energy around those truths.
I loved the freshness of Boys interpretations of things around him and his life-learning process in relationships, family and responsibility and how it maintains a gentleness to it. There is a strong tapped in creativity here, like being able to directly access Boy's imagination of what's going on and having that be projected to what we see, often this is the images of what seem to be tall tales of his father, whom Boy so strongly idealizes.
Warm-spirited and joyful,
Boy
is a must-see. It's a beautiful combination of freshness and zest for life, with equal parts optimism and fantasy - something that everyone can benefit from adding that kind of energy into their lives.
Boy (2010)
opens the
imagineNATIVE Film + Media Arts Festival
on Wednesday October 20, 2010 at the
Bloor Cinema
with writer/director Taika Waititi in attendance.
See here for more information about
tickets
,
imagineNATIVE
and
the film at the

Boy

website


Shannon's Overall View:
I loved it
I'll watch it again
I'd widely recommend it as an inspiring & delightful coming of age film
Return to Film Reviews
© Shannon Ridler, 2010