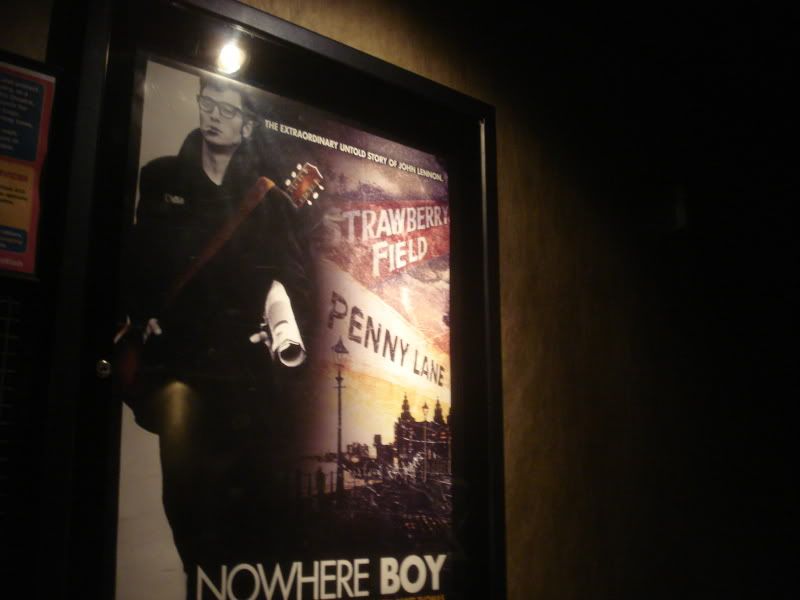 Dir: Sam Taylor Wood - feature film directorial debut (short film
Love You More
)
Cast: Aaron Johnson, Kristin Scott Thomas, Anne-Marie Duff, Thomas Sangster, Calum O'Toole, Jack McElhone
UK
/
Canada
,
2010
Seen:
October 15, 2010 at Varsity
Reason to see:
John Lennon biopic from Sam Taylor Wood? You couldn't keep me away!
It made
my most anticipated films of 2010 Part 2 List
The focus of
Nowhere Boy
is John Lennon early days biopic. That was more than enough to get me interested and in the door, but I knew I was in for a treat as it's directed by Sam Taylor Wood as she also directed the brilliant and award winning short
Love You More
. In that short, she certainly showcased her adeptness and ability to understand and convey the visceral importance and effect of music during coming of age periods in life, which is a huge theme in
Nowhere Boy
, and done effectively well yet again.
There is something particularly astonishing about seeing one of the most well known musicians and talents from the perspective of adolescence. You see the roots of joy in music and his life, and also the challenges of everyday life of school, family and teenage rebellion and angst. All throughout it feels entirely genuine and accessible. That's what was the most astonishing to me, how normal it felt although I'm sure at the time it would be rather unusual for a teenage boy to be brought up by his aunt. It sounds like a bit of a contradiction, but it doesn't feel that way when you are watching it. There were also lots of nods to Beatles references than even I as a pedestrian fan could pick out, and I'm sure there is much more embedded for the die hard fans.
The heart of the film is not only in the music but also the family relationships, which seem to be complicated even at the best of times but they are family through and through. It's all brought to life wonderfully by the stellar cast, with Aaron Johnson in the lead a John, who has been quite the chameleon this year as he also played the lead in
Kick-Ass
. Mark my words, if these are just two of this performances in just one year we are going to be looking to a wonderful array of work from him in the future. We also get fantastic peformanes from Kristen Scott Thomas as Aunt Mimi, Anne-Marie Duff as Julia and Thomas Sangster as a very young Paul.
Overall, it's a wonderful film about the power of life, music, family and love that's beautifully crafted to make you feel, understand and love everyone in it. And I loved every single minute of it.
Shannon's Overall View:
I loved it
I'll buy it
I widely recommend it
14 minutes of preshow including 4 commercials and 4 previews:
Barney's Version, The King's Speech, Made in Dagenham
and
The Next Three Days
Return to Film Reviews
© Shannon Ridler, 2010