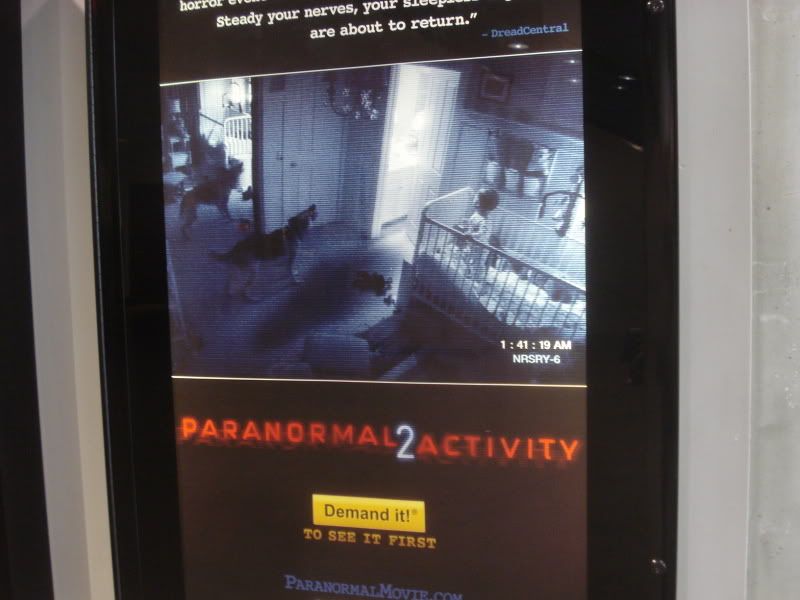 Dir: Tod Williams (The Door in the Floor)
Cast: Katie Featherston, Molly Ephraim, Sprague Grayden, Brian Boland
USA
,
2010
Seen:
October 23, 2010 at AMC
Reason to see:
Really enjoyed the first
Paranormal Activity
First up, I think it's important to note that seeing the original
Paranormal Activity
before trekking into
Paranormal Activity 2
is essential. It's not that you won't understand the sequel, but the viewing experience is greatly enhanced by seeing the original first (and I think the original is awesome!), plus content in the first film if referred to and it's just all around better to see it first!
Paranormal Activity 2
follows Kristi (sister of Katie from
Paranormal Activity
), her husband Dan, their new son Hunter and Dan's daughter Ali who all live in a big house with their dog Abby. There were a few things that I wonder if it was done on purpose to confuse us, like having an Ali & Abby in the same house so when people are talking about them it's hard to tell who they are referring too. Also unless I missed it, baby Hunter seems to go from a babe-in-arms to crawling stage almost overnight which really threw me off. But the real focus of the film the creepy happenings at this families house, as it is a horror film after all!
I'm of two minds on
Paranormal Activity 2.
On the one hand I think it's a really creative take on a sequel, it surprized me and I thought it was an interesting story - so I'll give it credit for that. But, on the other hand I don't think it's as scary as the original nor does it use the vérité style better than the original. In fact, the vérité style was only very thinly necessary whereas in the original the reason behind it centred the film as a whole. And, worst than that I certainly noticed editing that complete broke my suspension of disbelief on what I was seeing, although I imagine that to combat the practical challenge of having an infant as one of the central characters. That was for some, but not all, of the times that I thought the vérité style wasn't used as effectively. Creating suspense is a tricky thing in this type of film, there has to be enough that isn't happening to get us comfortable and wondering, but enough happening to scare us and engage us. I didn't feel like it was quite the perfect mix here, having too much of nothing happening but it not actually feeling suspenseful. There certainly were scares but they didn't quite hit as hard as I had expected.
As a horror sequel, it's a heck of a lot better than loads of others out there. It's better than I expected, but certainly not as good or as scary as the first. I did feel entertained & engaged while watching, however I was quick to not anything that might have been an inconsistency or oddity. If you were a fan of the first film I think you'll enjoy this one too, but it doesn't have that same je ne sais quoi flavour to it.
Shannon's Overall View:
I enjoyed it
I'll watch it again
I'd recommend it to paranormal film fans who've seen & enjoyed the first
Paranormal Activity
14 minutes of preshow including 3 commercials and 6 previews:
True Grit, Morning Glory, I Am Number Four, Burlesque, Scream 4
and
Drive Angry
Return to Film Reviews
© Shannon Ridler, 2010