HELEN MIRREN and JOHN MALKOVICH star in RED Photo credit Frank Masi © 2010 Summit Entertainment, LLC. All rights reserved Courtesy of eOne Films
Dir: Robert Schwentke (The Time Traveller's Life, Flightplan)
Cast: Bruce Willis, Mary-Louise Parker, Helen Mirren, John Malkovich, Morgan Freeman, Karl Urban, Richard Dreyfuss, Brian Cox, Ernest Borgnine
USA
,
2010
Reason to see:
Loved the idea of Retired Extremely Dangerous ex-hit-folk
Red
follows retiree Frank (Bruce Willis) as we tries to make the adjustment to his Retired Extremely Dangerous life. Good thing for us that he uses his retirement time to keep in shape as it's not long until he's thrown into a whirlwind of chaos, bringing a perfect storm of action, mystery and romance to the screen for our entertainment.
Although Frank is obviously someone who has keep to himself in his retirement but instead of milking the lone wolf card,
Red
pulls a new card out to play with the professional killer sub-genre with bringing a gaggle of his retirees back into the fold to work together as a united front. They aren't without their complications, but that's the joy of the characters from Victoria's (Helen Mirren) spotless house to Marvin's (John Malkovich) paranoid nature to the fact that Joe's (Morgan Freeman) is in a retirement home. They always work with the zaniness, instead of against it which provides for many laughs but also a warm sense of acceptance. It's really awesome to see an action film that showcases and embraces the idea of longterm friendships. In a world where so much is disposable and people don't care beyond the current millisecond, here we see a very skilled yet still ragtag group working together against the odds.
I loved how the film is filled with warm humour and charming sensibility to it. Sure, we get age jokes and appearance jokes, but they are never mean-spirited but instead rather truthful and tension breaking as they are carefully crafted throughout the film. I also loved the old gang versus the new blood vibe to the film, especially with Karl Urban serving as the straight laced young generation with a very adept, get it done and family man vibe to him.
The performances are spot across the board, bravely embracing the realities of the everyday just as much as the action and adventure. But was puts
Red
a cut above, is that the characters actually care about *other* characters in the film - something that is a rarely seen or achieved in a film about professional killers, and it one of the reason I liked it so much. Sure the characters are highly-skilled, larger than life and can take people out like it's nobody's business, but they also could be you, your aunt, the guy in front of you getting coffee or the person on the other end of a customer service call. The dual lives they lead we not only see as an adventure but also as a way we can help us find the adventure in our own lives. And that's a film that really gives us it all.
Shannon's Overall View:
I loved it
I'll buy it
I highly recommend it action and comedy fans
Return to Film Reviews
© Shannon Ridler, 2010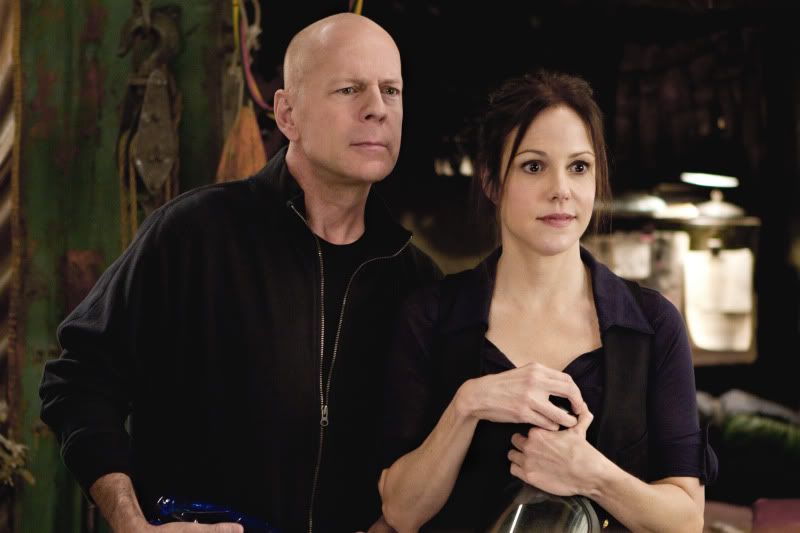 Photo credit Frank Masi © 2010 Summit Entertainment, LLC. All rights reserved Courtesy of eOne Films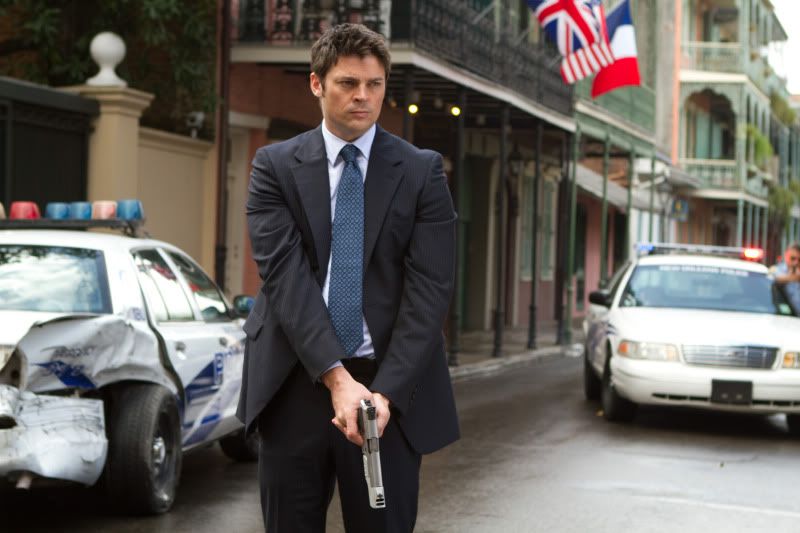 KARL URBAN stars in RED Photo credit Frank Masi © 2010 Summit Entertainment, LLC. All rights reserved Courtesy of eOne Films