Courtesy of eOne Films
Writer/Dir: Neil Marshall (Dog Soldiers, The Descent,
Doomsday
)
Cast: Michael Fassbender, Olga Kyrylenko, Dominic West, Liam Cunningham, Noel Clarke, Ulrich Thomsen, Imogen Poots
UK
,
2010
(DVD Release)
Reason to see:
Epic. Sword & Sandal-y. Awesome cast including Michael Fassbender. That's all good in my book!
Centurion
made my
Most Anticipated Films of the Year
list for 2010, and I put it on that list even though it didn't have a Toronto theatrical release. But it did play at the
Toronto After Dark Film Festival
and now makes it's way on to DVD for all to enjoy in it's glory and its interesting spin on an epic tale.
It's an epic sword and ... as there aren't sandals we can go with sword & snow tale, it stars Michael Fassbender (Hunger) as Quintus Dias, a Roman soldier whom is amongst the ranks fighting against a long and deadlocked struggle against the Picts. Olga Kyrylenko (The Quantum of Solace) stars as Etain, a fierce tracker and hunter that's a real force to be reckoned with and I have to say she was extremely impressive, skillful and strong.
The film takes a step outside the comfort zone of the epic formula by choosing to focus on a fairly contained time period and surrounding incidents, giving an epic style slice of life of a centurion where you really don't know what is going to happen. I have to give it kudos for going with something different, but, I did that left me wondering why tell *this* story? That question along with not being entirely sure who I wanted to cheer for, left me a little off kilter. In this set up I'd usually be cheering for the Picts, who are led by Ulrich Thomsen (
Fear Me Not / Den du frygter
) but they are so brutal that I couldn't cheer for them. I was also a little leery with the intermittent voice overs, which I cringe at in epics as they tend to be used to help the audience make sure we know where we are but I found here it was clear enough by the story they were showing us and therefore a little too much.
But, the films is gorgeous to watch from a visual perspective, with many a sweeping overhead shots along with bloody and brutal battles along the way. The acting is strong overall and the casting was great. I although I found the Picts to be brutal, I did love the looks & feel of their ferociousness as well as the fact that they had several women warriors amongst them.
DVD Extras:
Feature Commentary with director Neil Marshal, production designer Simon Bowles, special make-up effects designer Paul Hyett and director of photography Sam McCurdy

- quite an enjoyable commentary that has a jovial and entertaining tone including lots of stories on the challenges of the film, changes to the story and structure of the film during the film making process including the reasons behind why some things were changed and the fight to keep others things in along with quite a bit on the production side of things in terms of locations, make-up and effects. Sidenote: Sam McCurdy comes into the commentary at 52 minutes into the film.

Blood Fire & Fury: Behind the Scenes of Centurion (4 Behind the Scenes, 26 minutes)

Flip clips, behind the scenes footage and interviews with writer/director Neil Marshall, actors Michael Fassbender, Dominic West, JJ Feild, David Morrissey, Olga Kyrylenko, Dave Legno and Axelle Carolyn, producer Robert Jones, cinematographer Sam McCurdy, production desinger Simon Bowles, special effects designer Paul Hyett, prosthetics technician Demetris Robinson, stunt coordinator Paul Herbert on a variety of subjects including the legend of the Ninth Legion, the Picts warfare style and dialect choices, getting around on locations, the down & dirty visual style, creation or sets on location and creation of the special effects, gore, fighting, stunts and battle sequences.

Centurion Featurette (3 minutes)

film clips behind the scenes, interview with writer/director Neil Marshall, producer Robert Jones and actors Dominic West, Michael Fassbender, Olga Kyrylenko, Noel Clarke & Axelle Carolyn, on the story of the Ninth Legion, the Picts, the inspiration behind the film, the focus of the film and the characters of Quintus, Titus and Etain.

Deleted Scenes with Commentary by director Neil Marshall (8 minutes)

6 deleted scenes with optional audio commentary discussing reasons behind why scenes deleted, what the scenes brought, if wanted to keep it in or take it out.

Interviews with Cast and Crew (24 minutes)

Interviews with writer/director Neil Marshall (5 minutes) producer Robert Jones (5 minutes), actors Michael Fassbender (4 minutes), Dominic West (4 minutes), Olga Kyrylenko (3 minutes) and Noel Clarke (3 minutes) including the inspiration behind the film, story the Ninth Legion, draw to the film, the characters, what the actors brought to the film, working together, the overall visual style of the film and what will attract people to the film. The Dominic West interview is particularly entertaining.

Selected Clips (11 minutes)

10 clips from the film.

Production Design Photo Gallery (4 minutes)

slide show of photos from the models to locations to creation of sets on location to cast on set all shown to music.

Outtakes (6 minutes)

several outtakes ranging from mistakes to goofs to gags.

B-Roll Footage (11 minutes)

B-roll footage of preparation and filming of several of the battle sequences and locations.
Centurion
is available on DVD as of November 2, 2010. Check it out over at
Amazon.ca
&
Amazon.com
Shannon's Overall View:
I enjoyed it
I'll watch it again, repeatedly
I recommend it for fans of epics
Return to Film Reviews
or see more
DVD Reviews
© Shannon Ridler, 2010
Originally reviewed during the Toronto After Dark Film Festival - August 19, 2010
Courtesy of eOne Films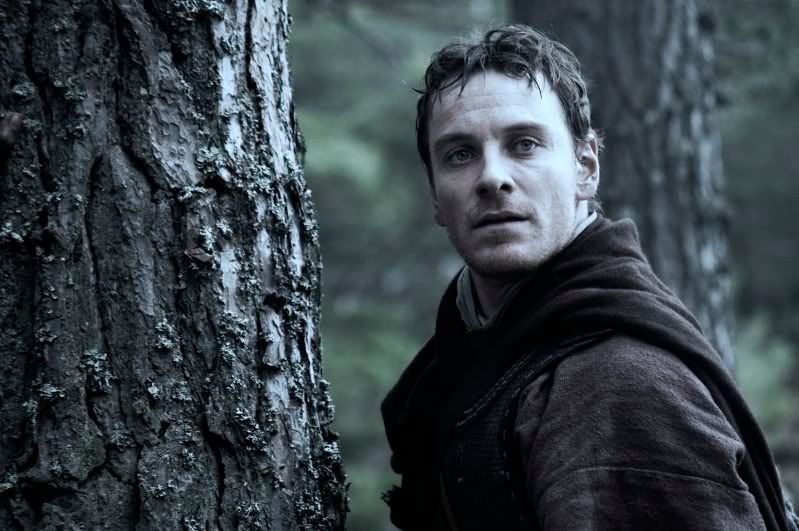 Courtesy of eOne Films - Michael Fassbender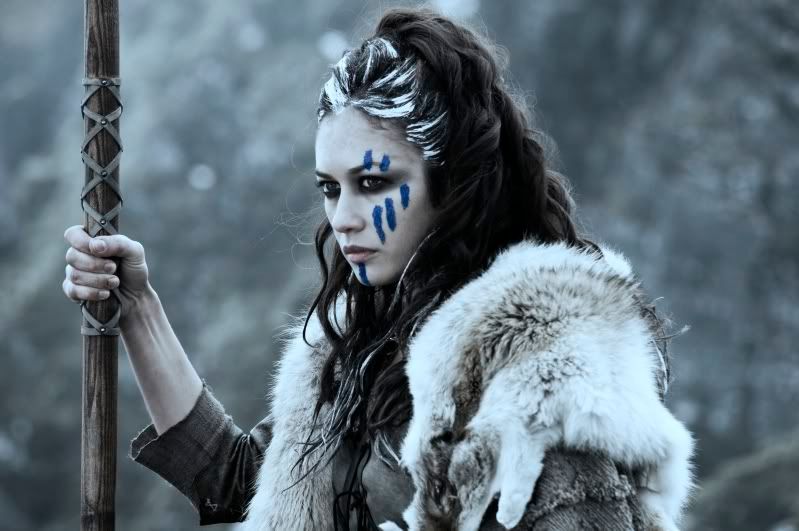 Courtesy of eOne Films - Olga Kurylenko