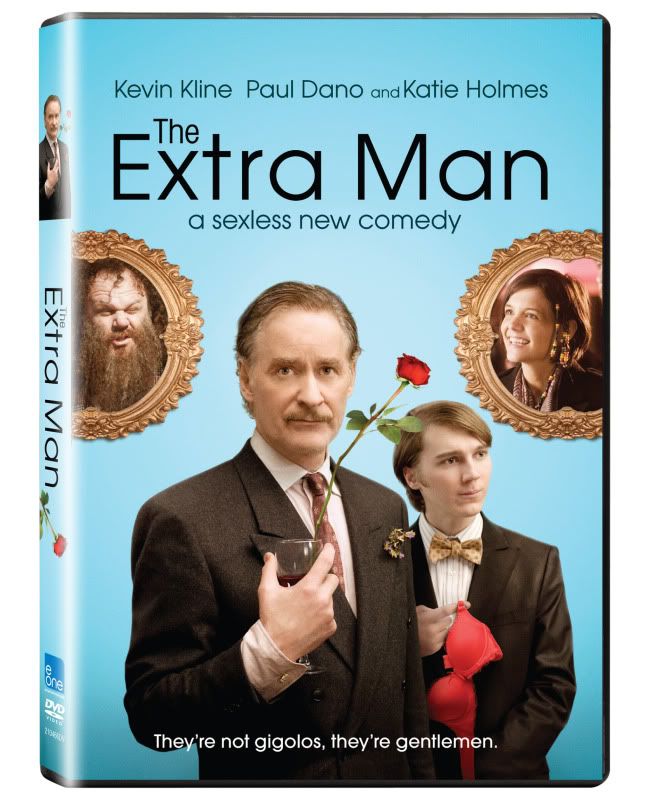 Courtesy of eOne Films
Dir: Shari Springer Berman & Robert Pulcini (The Nanny Diaries, American Splendor)
Cast: Paul Dano, Kevin Kline, Katie Holmes, John C. Reilly, Celia Weston, Lynn Cohen
USA
/
France
,
2010
Reason to see:
Been continually impressed with Paul Dano (
Little Miss Sunshine
, There Will Be Blood).
In
The Extra Man
we follow Louis Ives (played by Paul Dano) in an inadvertent journey of self-discovery. Louis is a man who is enchanted by the whimsical nature of the past and classic stories and storyteller. He ends up rooming with Henry Harrison (Kevin Kline), whom at first appears to be exuberant eccentric but in fact also prides himself on being a social escort for woman to artistic functions and dinner parties. We see Louis partake in several unconventional relationships, as he builds a mentor like relationship with Harry, as well as has his eye on co-worker Mary (Katie Holmes) while he awkwardly tries to not grow and change into too much different from he person he is and the nostalgic ideas and ideal he holds.
What I found the most intriguing in the film, was Louis' journey of self-discovery, one more awkward than any other journey in the film (which is really saying something!) as it's layered with confusion as well as the reinforced ideas and morals of the 1920s', a period highly present in the film in terms of overall visual style. In this sense, it's rather interesting and unusual to see a male protagonist on a 'fly the coop' journey, trying to find his feet or rather place his feet where the think they aught to be over trying out different possibilities. Although I didn't always agree with all of the choices, including but not limited to the pull towards women's clothing (not on premise, but it just didn't sit right for me), although it was essential to Louis' journey, I did enjoy the visual style, several of the daring choices, and Louis' sweet sensibility. There was a beautiful naïveté to his character that was very unusual and enjoyable.
DVD Extras:
2 Feature Commentaries:

1) with co-directors Shari Springer Berman & Robert Pulcini, production designer Judy Becker, costume designer Suttirat Anne Larlab and journalist/moderator Lisa Collins 2) with actor Kevin Kline and author Jonathan Ames (author of book on which the film is based and also co-writer of the screenplay)

Behind-the-Scenes Score Footage (8 minutes)

composer Klaus Badelt and additional composer Christopher Carmichael walks us through the story, characters, the process of writing the score, inspiration and themes through interviews and film clips.

HDNet: A Loot at The Extra Man (4 minutes)

- featurette with film clips and interviews co-directors Robert Pulcini and Shari Springer Berman and actor Paul Dano on the characters, their stories, on casting the film ad the idea and definition of the extra man.

Delete Scene (1 Scene, 2 minutes)

Cartoon Clip Voiceover Recording (1 minute)

Bruce Winant and Jennifer Perito voicing Gary Leib's cartoon for The Extra Man
The Extra Man
is available on DVD as of November 16, 2010. Check it out over at
Amazon.ca
&
Amazon.com
Shannon's Overall View:
I didn't love it, but I did enjoy it
I'd watch it again
I'd recommend it to fans of period-value personal journeys
Return to Film Reviews
or see more
DVD Reviews
© Shannon Ridler, 2010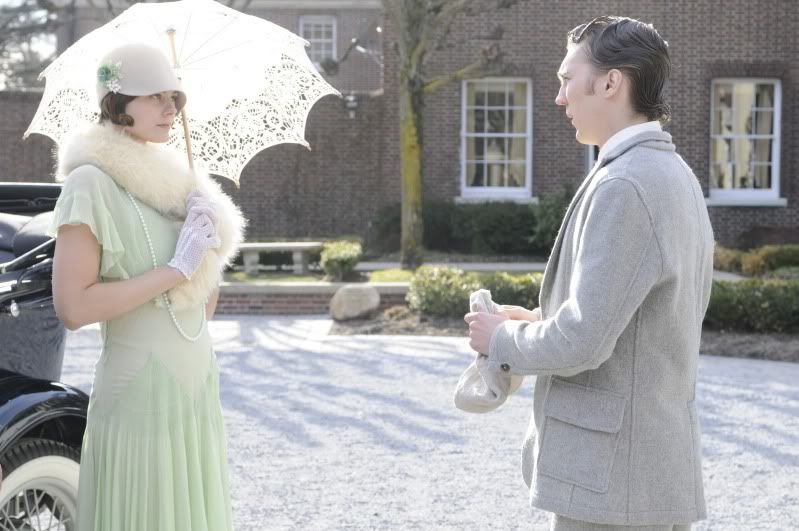 Katie Holmes & Paul Dano - Courtesy of eOne Films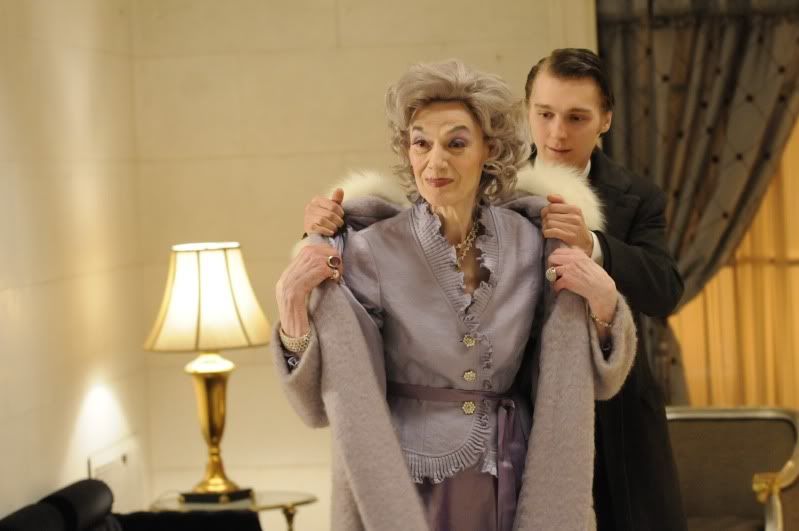 Marian Seldes & Paul Dano - Courtesy of eOne Films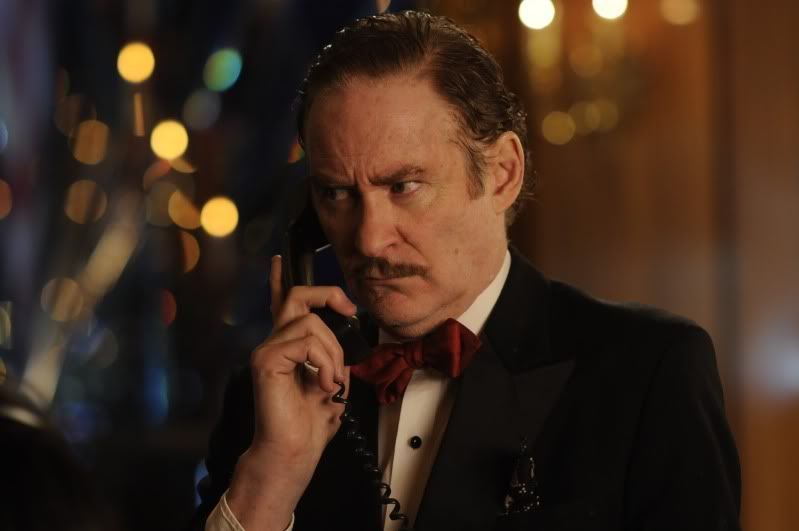 Kevin Kline - Courtesy of eOne Films