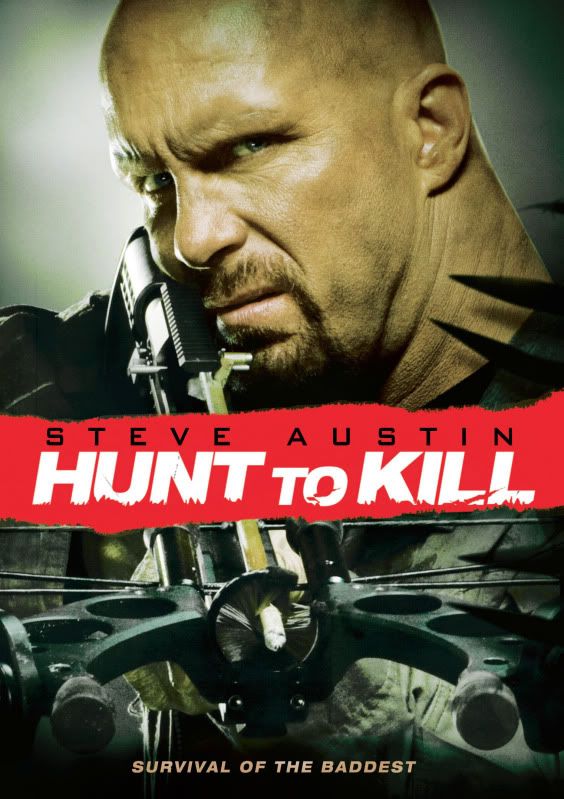 Photo - Courtesy of Anchor Bay Entertainment
Dir: Keoni Waxman (The Keeper, The Suspect, The Highwayman)
Cast: Steve Austin, Gil Bellows, Marie Avgeropoulos, Michael Eklund, Emilie Ullerup, Gary Daniels, Michael Hogan, Adrian Holmes, Eric Roberts
Canada
,
2010
(DVD Release)
Reason to see:
I've rekindled my love of action films
I have to love the directness of the title of
Hunt to Kill
and the fact that Steve Austin graces the DVD cover with a menacing, knowing look and pointing a crazy looking weapon you know exactly the kind of film you are getting into. It's old school action with great one lines, great fight sequences and fantastic stunts.
We follow Jim (Steven Austin) as he tries to make do his best with bringing up daughter Kim (Marie Avgeropoulos) but inadvertently becomes wrapped up with some big baddies run by Banks (Gil Bellows) and his heist crew including the twitchy techie Geary (Michael Eklund) and Jensen (Gary Daniels) through the wilderness. Steve Austin is great as the action star here, with a great sense of timing and of course he is great in the action sequences. I also loved the heist team baddies who have a kind of funny dysfunction family spirit to them which is really entertaining. We also great really strong performance by Gil Bellows who is great as the big bad and Michael Eklund who is stellar as the entertaining and eccentric Geary.
Hunt to Kill
is awesome in the way that it captures the spirit of an action films without having kind of weird throw back nostalgia. It's all the good things about old school action, but doesn't resort to bad effects in key moments. In fact, it's refreshing to see that almost all of the effects practical or enhanced. I didn't realize that until after the fact, and truthfully only know due to listening to the entertaining and insightful audio commentary, but I realized that's what has thrown me out of whack with so many action films which have lots of lead up and tension and then... BIG CGI EFFECT! Not here. The Hunt to Kill explosions are real explosions! I'm not usually one to yee-haw and explosion, but I was. They are yee-haw level explosions. Plus, we also get beautiful scenery and sweet jaw-dropping fighting which had me scrambling for the remote to watch it again.
Action fans need to check out
Hunt to Kill
. And that goes double for Canadians who are action film fans, I know you are out there! I could tell pretty quickly that this film must be Canadian with the familiar, gorgeous BC scenery (although the film is set in Texas) and familiar faces of great actors Gil Bellows (
Toronto Stories
) and Michael Eklund ("Intelligence"), and this completely added to my enjoyment of the film. It's a great action film and quite a find.
DVD Extras:
Behind the Scenes (8 minutes)

behind the scenes footage, film clips and great interviews actors Gil Bellows and Gary Daniels on their characters, the fight sequences, the challenges and bonding during film and what it was like working with Steve Austin.

Audio Commentary with director Keoni Waxman and actor Michael Eklund

- really entertaining commentary that highlights how many of the effects and stunts were practical, the awesomeness of the cast and the camaraderie of the people involved in the film. Also notes when sections of dialogue were improvized or written very quickly - none of which I wold have picked up on because they work so seamlessly in the film. I can honestly say this was one of the most fun spirited commentaries I've listened to in a long time and I was just beaming listening to this guys chat about the film.

Trailer
Hunt to Kill
is available on DVD as of November 9, 2010. Check it out over at
Amazon.ca
&
Amazon.com
Shannon's Overall View:
I loved it
I can't wait to watch it again
I highly recommend it action film fans
Return to Film Reviews
or see more
DVD Reviews
© Shannon Ridler, 2010