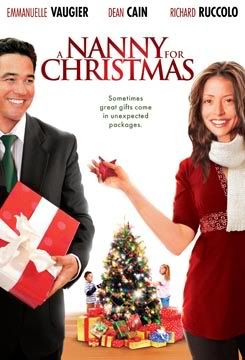 Photo - Courtesy of
Anchor Bay Entertainment
Dir: Michael Feifer (The Dog Who Saved Christmas, A Christmas Proposal, Dear Me)
Cast: Emmanuelle Vaugier, Richard Ruccolo, Cynthia Gibb, Sierra McCormick, Jared Gilmore, Sarah Thompson, Dean Cain
USA
,
2010
(DVD Release)
Reason to see:
In
A Nanny for Christmas
, Emmanuelle Vaugier stars as Ally, a down-on-her-luck ad exec looking for her next job ends up thinking she's found a great job from Samantha (Cynthia Gibb), when it turns out the actual job is nannying Samantha's well mannered, flax-eating, yoga practicing kids (Sierra McCormick & Jared Gilmore).
A strong theme here is little white lies and the trouble they can get you into, as Ally takes the nannying job she still keeps a toe in the ad world and as she does the little white lies start to spin faster and faster and into different areas of Ally's life where the ad world and nannying gig butt heads. We also the contrast of the tight-ship run kids with their strict schedule to the more relaxed and carefree style of Ally's nannying, which allows them to open up and see things with a little more hope and openness. The kids learn their rigidness of regime from the mom, Samantha who's very no-fuss, no-muss in family life and in her business life - a style that couldn't be more different from the hoping to get an in Ally.
The film has a very sweet spirit and whimsical nature to it, great for light holiday viewing. Emmanuelle Vaugier is very charismatic in the lead role (and I only knew her from a werewolf episodes of "Supernatural") and you are really cheering for her to get through the hard times and be recognized to the stellar ad exec she really is. I also really enjoyed Sarah Thompson, who plays her friend Tina and Cynthia Gibb is fabulous as the stone cold Samantha. Fair warning for Dean Cain fans, he's not in the film all that much, but he certainly shines and creates awe from those around him. It's sweet nature and timely story make it a safe bet for holiday viewing if you are looking to add something new to the roster.
DVD Extras:
Audio commentary with director Michael Feifer, actors Emmanuelle Vaugier & Richard Ruccolo, writer/co-producer Peter Sullivan and executive producers Barry Barnholtz & Jeffrey Schenck

- very lively commentary with lots of shout outs to folks in and involved with the film, notations of locations and a lot of stories of funny things that happened during filming & on set.

Trailer
A Nanny for Christmas
is available on DVD as of November 23, 2010. Check it out over at
Amazon.ca
&
Amazon.com
Shannon's Overall View:
I thought it was sweet
I may watch it again during the holidays
I'd recommend it if you are looking for a light holiday film
Return to Film Reviews
or see more
DVD Reviews
© Shannon Ridler, 2010