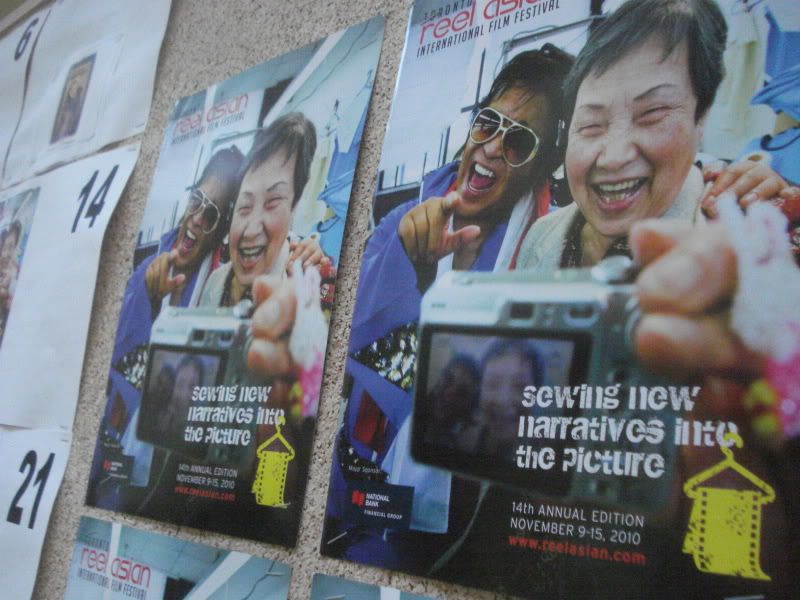 Exploring family, heritage and asking questions were there themes of the afternoon on Day 6 of the
Toronto Reel Asian International Film Festival
with the screenings of the Japanese drama
Dear Doctor
and documentaries
Marker
and
One Big Hapa Family
from Japanese Canadian directors. As day turned to night the festival location shifted from Innis to The Royal as the festival finished with day with the closing Gala screening of
Au Revoir Taipei
and awards ceremony.
Dear Doctor
Dir: Miwa Nishikawa
Cast: Tsurube Shofukutei, Eita, Kimiko Yo, Kaoru Yachigusa
Japan
Set in a Japanese village of 1,500 aged residents, Dear Doctor follows the stories in and around the disappearance of the village doctor Osamu Ino (played by Tsurube Shofukutei). Using a storytelling style that weaves perspective changes and occurrences between the villagers, Osamu himself, the new medical intern Keisuke Soma (played by Eita), and resistant patient Torikai-san we see many different sides of Osamu and the village itself. A captivating story that gentle unfolds and presents interesting questions surrounding health, happiness and knowledge. n With it's compelling dramatic nature, beautiful locations and stunning look into human nature, it's no surprize that
Dear Doctor
is a multiple award winning film. In fact, since the screening at Reel Asian it's already added another award to the mix with the award from Reel Asian for Astral's Harold Greenberg Fund Best Feature Film or Video Award.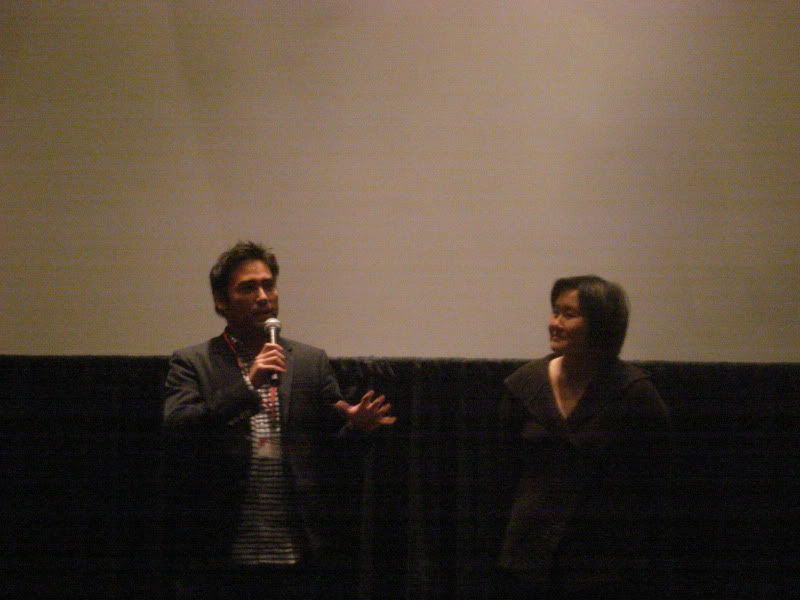 One Big Hapa Family director Jeff Chiba Stearns and Marker director Louise Noguchi
Marker
Dir: Louise Noguchi
Canada, 28 minutes
A fascinating exploration through travels to shrines of martyrs in North America & Japan, delving into their stories, histories, the effect and reactions of people affected by them then and now. Very interesting exploration.
One Big Hapa Family
Dir: Jeff Chiba Stearns
Canada
, 48 minutes
I absolutely adored this documentary! As a personal journey and exploration, director Jeff Chiba Stearns notices that in his own family tree everyone in his Japanese Canadian family married interracially after his grandparents. Starting with that as a departure point and delving into the family history but expands further into question and reality of the high percentage of interracial marriages of Japanese Canadians, as well as the experience and perception of multiracial identities and interracial marriages. There's a beautiful openness and curiosity that drives the film, which is always honest and respectful but also charming and funny throughout. It was a breath of fresh air and a true celebration of spirit. Filled with family interviews, a huge archive of family photos and videos and fantastic animations sections, this film kept me interested, engaged, informed and happily smiling throughout. A stellar and inspiring documentary.
See more or buy the DVD for
One Big Hapa Family
here.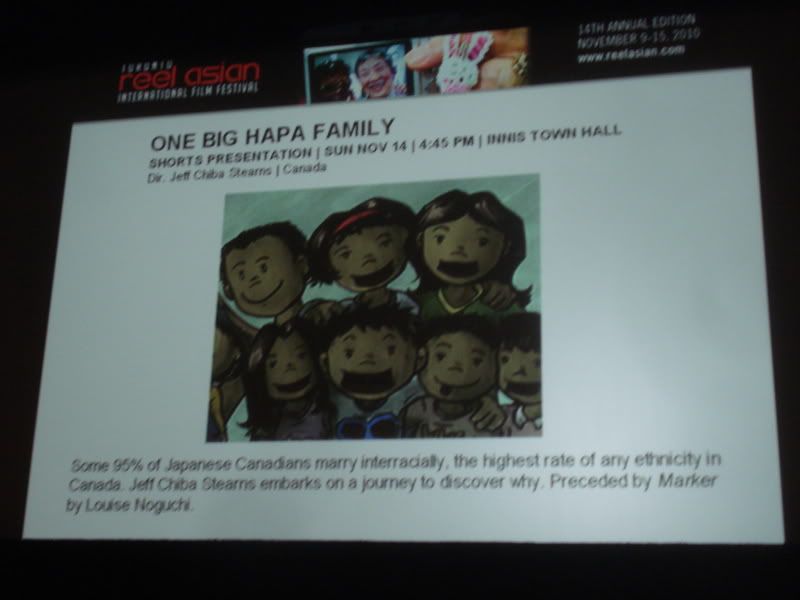 The
Toronto Reel Asian International Film Festival
2010 runs from November 9 - 15, 2010 in Toronto, Ontario, Canada