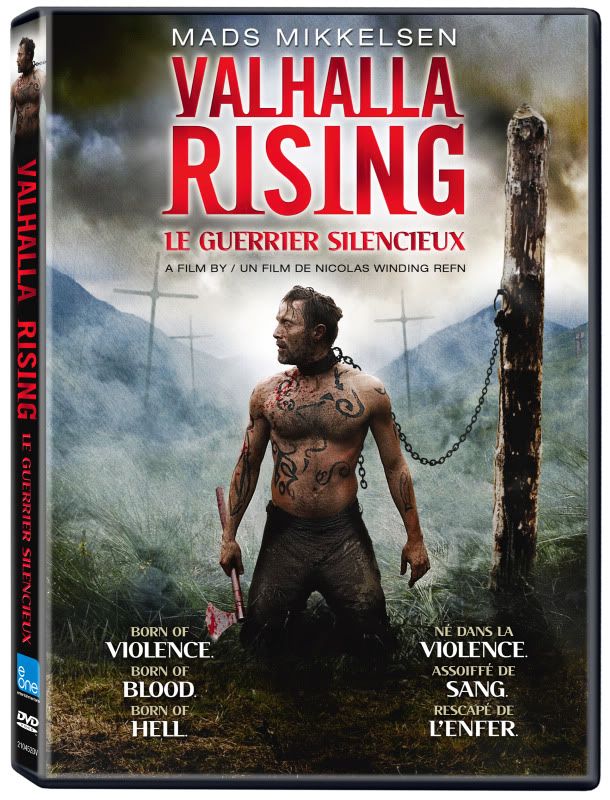 Courtesy of eOne Films
Dir: Nicolas Winding Refn (Pusher Trilogy, Bronson)
Cast: Mads Mikkelsen, Maarten Stevenson, Gary Lewis, Ewan Stewart, Andrew Flanagan
Denmark
/
UK
,
2010
Reason to see:
I'll see anything, ever, by director Nicolas Winding Refn or actor Mads Mikkelsen. Having them work together makes it even more than a must see.
Valhalla Rising is a film that's a bit of a challenge to review because my first instinct is just to say: see it. It's phenomenal and unlike any other film I've see. It transports you. It's on a completely different scale of epic, being all-encompassing, but it's also brutally violent with minimal dialogue. I truly want everyone I know so see it, although I know it isn't everyones cup of tea.
Personally, I enjoyed every single moment of the film. It's bold, imposing and takes no prisoners, including it's audience as the hypnotic tone pushes past regular film watching to creating an experiential setting. I was drawn in that at a point it left me feeling like I was in a trance. I've never had that happen in a film before, never.
It is very much an experience and journey to be taken, one that that can feel out of time and out of place, although upon second viewing and after chatting about it with people I saw more of a narrative in there but not knowing was just as if not more powerful than knowing. I loved being transported away into this world of ominous darkness and restraint. The imagery is spectacular and haunting from the locations that look not of this earth to nightmare-like montages and all complimented by heavy duty music. All this and it's a viking film to boot!
Mads Mikkelsen delivers an astonishing performance in the lead role of One-Eye, with physically presence and intensity that is in a whole other realm. His adeptness, strength and skill in his character feels like a parallel to the perfection of vision and execution by director Nicolas Winding Refn who created this masterpiece.
Valhalla Rising
was easily the most extraordinary film I saw during
TIFF in 2009
, and I've been waiting with baited breath since then to see it again and share the love for this brutal beauty.
It's more than a film, a film experience. For that, I will treasure
Valhalla Rising
, always.
Warnings:
harsh violence
DVD Extras:
The "Making of" Valhalla Rising (22 minutes)

combination of interviews with director Nicolas Winding Refn, behind the scenes & on location footage and video diaries from directors assistant Saskia Pomeroy. This is a pretty cool making of, you really get a sense of how freaking far they went 'out there' for the locations, plus there is lots of gorgeous and gruesome footage of the locations, props, and preparation. The interview selections with director Nicolas Winding Refn are fascinating, he's got such a clear vision and artistry that it's always a treat to hear him talk.

Valhalla Rising
is available on DVD as of November 30, 2010. Check it out over at
amazon.ca
&
amazon.com
More Valhalla Rising at Movie Moxie:
Shannon's Overall View:
I loved it
I'll watch it again and again
I highly recommend it fans of epics and visionary works
Return to Film Reviews
or see more
DVD Reviews
© Shannon Ridler, 2010
See also original reviewed during TIFF 2009 - September 16, 2009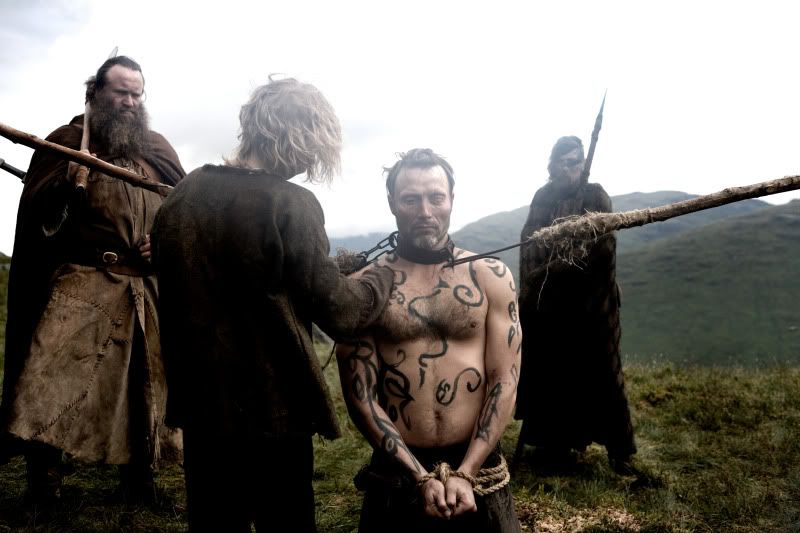 Mads Mikkelsen in Valhalla Rising, Courtesy of eOne Films

Maarten Stevenson and Mads Mikkelsen, as The Boy and One Eye, Courtesy of eOne Films
Director Nicolas Winding Refn, Courtesy of eOne Films