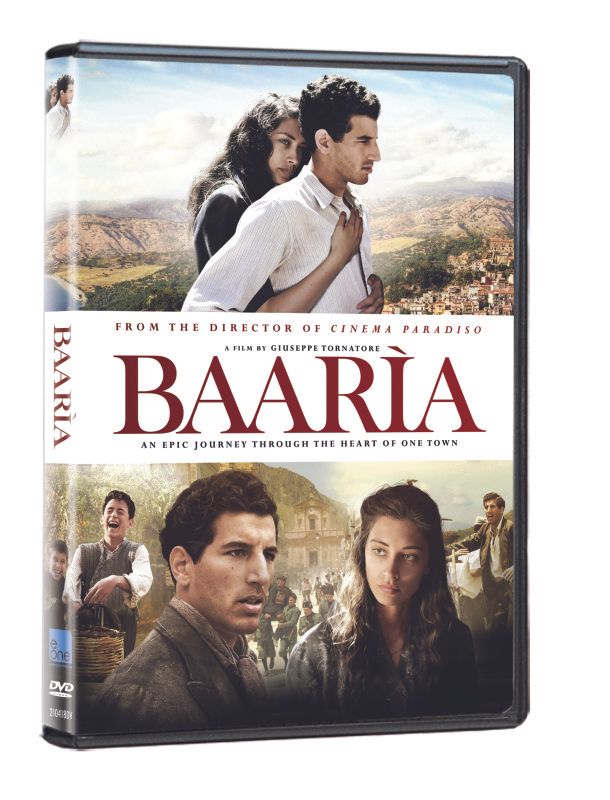 Courtesy of eOne Films
Writer/Dir: Giuseppe Tornatore (Cinema Paradiso)
Cast: Francesco Scianna, Margareth Madè, Raoul Bova, Giorgio Faletti, Enrico Lo Verso, Aldo Baglio, Salvatore Ficarra, Valentino Picone, Angela Molina, Donatella Finocchiaro
Italy
/
France
,
2009
Reason to see:
Compelling story and Golden Globe nomination
Baarìa
is a beautiful journey film through time, history and memory. Set in the town of Bagheria (aka Baarìa), Italy, it loosely follows Peppino Torrenuova (played by Francesco Scianna) through many stages of life but the amazing thing the film does it that it also follows the stages, changes and history of the entire town and it's inhabitants at the same time. Although one could argue that Peppino is the protagonist, the film creates such an interconnect feeling that everyone and anyone feels just as important as the next. What has happened before, is likely to happen again although to different people and different times, yet the same stage.
It's a wonderfully woven, very full and rich tale that spans epic proportions in time, history and character. Often along the way we have beautiful hints of magical realism or folklore which add a beautiful and mysterious yet all-knowing element to the stories and happenings to the townfolk. There is also a strong sense of separation and tension between different people from different classes and political standpoints. It's amazing that with such heavy content, there films still maintains a lightness to it that is refreshing and wondrous.
I was rather impressed at the scale of the stories it packed in, and it flies by even at it's 2 1/2 hour running time. There is so much in there to enjoy and explore, so many stories, so many histories, so much joy, pain and passion. You really feel like you honestly know the people, their histories and lives after spending so much time with them. Quite a feat.
DVD Extras:
Behind the Scenes (14 minutes)

behind the scenes footage including set construction, filming, director/actor interaction, film footage and interviews with writer/director Giuseppe Tornatore, composer Ennio Morricore and many of the actors: Francesco Scianna, Margareth Madè, Raoul Bova, Michele Placido, Aldo Baglio, Salvatore Ficarra, Valentino Picone, Lollo Franco and Nicole Grimaudo. Fascinating interview with writer/director Giuseppe Tornatore where it's the first time ever I've heard someone say they wanted to wait to do the film later, but the producers keep on him to make it! Wow. That really marks a a story people want to have heard.

Trailer
Baarìa
is available on DVD as of January 4, 2011. Check it out over at
amazon.ca
.
Shannon's Overall View:
I enjoyed it
I'd watch it again
I'd recommend it as fans personal history toned dramas
Return to Film Reviews
or see more
DVD Reviews
© Shannon Ridler, 2011