Above:
Prima della rivoluzione
I was overcome with a wave an emotion while delving into the films of Bernardo Bertolucci for the upcoming Fashion, Fascists and F**king: The Films of Bernardo Bertolucci program at the TIFF Cinematheque. The gorgeous use of shadow. The adept use of contrasting colours. The emotionally intense dialogue that is so evocative I believe I understand Italian so I stop reading the subtitles. I don't, but it's easy to get caught up in the moment. And there is always political commentary, film references and of course gorgeous women and handsome men. It's quite a treat to see so many fantastic and racy films included in the program which starts January 6, 2011 with The Conformist (also a part of their Essential 100 series) at the Lightbox Theatre.
Prima della rivoluzione / Before the Revolution
Dir: Bernardo Bertolucci
Cast: Francesco Barilli, Adriana Asti, Allen Midgette, Morando Morandini, Cecrope Barilli
Italy
,
1964
I loved Prima della rivoluzione right off the bat. I loved how it looked, how it felt, how it sounded. I loved it so much that it took me a while to be really watching it beyond simply letting it wash over me. Eventually I noticed that it's a bittersweet coming of age story following Fabrizio (Francesco Barilli), and his involvement with the unpredictable, older and stunning Gina (Adriana Asti). The emotional and relationship arc of the film is parallelled to the pre-revolution time and set with the tone of those who didn't live it, don't understand. It's a brilliant parallel as with the romance we see, we can't know it but we still get it, and then in essence although we may not be able to understand the time they are showing, we still have the ability to get it. The beauty, emotion, retrain and chaos are things that shine through brightly giving us an engaging tale to connect to on many levels.
Prima della rivoluzione
screens on January 14, 2011. See more
information here
.
The Conformist
Dir: Bernardo Bertolucci
Cast: Jean-Louis Trintignant, Stefania Sandrelli, Dominique Sanda, Gastone Moschin, Enzo Tarascio
Italy
/
France
/
West Germany
,
1970
Out of all the Bertolucci films I watched, I have to admit
The Conformist
was the one I understood the least as it's heavily steeped in the politics and plots. But, I like to go in blind to films so sometimes that happens and in this case I still enjoyed it immensely for being stunningly beautiful. The shadows alone, are worth watching the film for. I would hold up my hands and sigh at the beautiful in this film. The content was certainly harsher than I expected and centred on conspiracy and often steeped in the notion of limited or no choices - which is a hard place to be. It also has a fair amount of sustained fear but also hopelessness, again another hard place to be. But I did enjoy it and would certainly re-watch it, especially after delving into some of the history. This one certainly has the strongest political commentary and focus of the three, so if that is your cup of tea it should go straight to the top of your list!
Dominique Sanda as Anna Quadri
The Conformist
screens on January 6, 8 and 14, 2011. See
more information here
.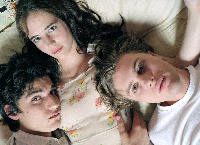 Above:
The Conformist
,
The Dreamers
The Dreamers
Dir: Bernardo Bertolucci
Cast: Michael Pitt, Eva Green, Louis Garrel
Italy
/
France
/
UK
,
2003
The Dreamers
is truly a film for film buffs and enthusiasts, referencing film history and expressing the joy, impact and connection that film creates in the world and in specific relationships. The Dreamers is set in late 1960's Paris, and follows student Matthew (Michael Pitt) and his relationships with brother/sister duo Isabelle & Theo (Eva Green & Louis Garrel), all of whom are massive film buffs, and all have difference levels of eccentricities and quirks. The eccentricities hold a lot of the fun and friskiness of the film, of which there is plenty. We get great characters, conflicts, intrigue and exploration. In a time where it feels like there are few boundaries to push, it finds ways to do so. The performances are key here, and they are done so well especially Eva Green (
Casino Royale
,
The Golden Compass
,
Franklyn
) for which the films is her first on screen appearance. I was a little bit suprized that I did feel a bit pushed of the film, not due to the pervasiveness but rather all the film references. I know many are essentials, and lots of film buffs have seen and love them all but I'd say it's required viewing to have seen at least the majority of the
20+ films referenced, quoted and featured
within the film. For the spoiler sensitive, you want to see them all because they discuss them in detail, including key moments, quotes and endings. It's weird how in one way I feel like I'm the complete target market for the film, and then in others I felt shut out because I didn't want to know the end of another big, important film. I did enjoy watching it, and will happily revisit it once I've seen more of the references.
The Dreamers
screens on January 14, 2011. See
more information here
.
The Fashion, Fascists and F**king: The Films of Bernardo Bertolucci
program begins January 6, 2011 at the at the TIFF Cinematheque. Along with the above titles they are also screening
La commare secca, The Spider's Stratagem, Last Tango in Paris, Luna, La via del petrolio
and
Love and Anger
. Find out more information about
individual titles
or
buy tickets here
.