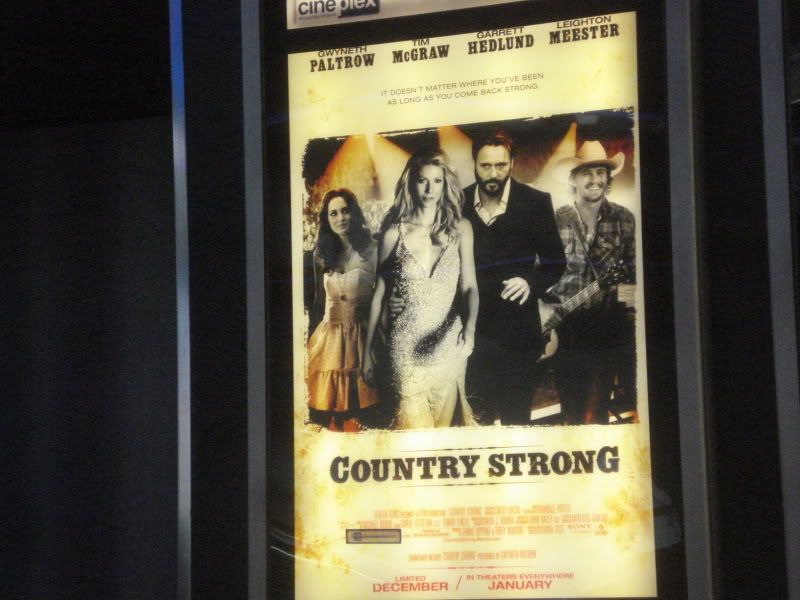 Dir: Shana Feste (
The Greatest
)
Cast: Gwyneth Paltrow, Garrett Hedlund, Leighton Meester, Tim McGraw
USA
,
2011
Seen:
January 8, 2011
Reason to see:
The
trailer
hooked me in with the whole singer down-on-their-luck vs younger-up-and-comer vibe
Country Strong
stars Gwyneth Paltrow as Kelly Canter, a rehab-ing country singer dealing with several issues as she tries to get back in the swing of the music business life with her husband/manager James (Tim McGraw), while being surrounded by up-and-comers Chiles Stanton (Leighton Meester) and Beau Hutton (Garrett Hedlund from
TRON: Legacy
).
I had such a powerful experience watching
Country Strong
. I was excited but slightly skeptical of the premise as we've see this story of the down-and-outer trying one more time (
Crazy Heart
, A Star is Born - several versions), but it just tells you the reason some stories are told over and over - because they are such good stories. I really appreciated the emotional journey we take with the characters which can be from messy and heartbreaking to fresh and heartfelt. It also is a interesting choice to go with an ensemble cast, although I think if Kelly Canter's character was a guy we'd see this as a male-protagonist film, but in truth it's an ensemble as all the characters has personal journeys that are interconnected but separate and unique to each individual. That was something I really appreciate, seeing similar scenarios with different takes and different choices. Although if we were gauging the film on the power of charisma, Garrett Hedlund would win hands down. He lights up the screen every time he is on and I'm sure is melting the hearts of millions.
Although the emotional connection and the music were the strongest elements of the film, I did get a sense that there might be an undercurrent of old school C&W versus New Country vibe, but being unfamiliar with the genre outside biopics and listening to lots of Johnny Cash, I'm not sure what or if there was a message in there. I also have to mention that the editing at times has a little jarring, leaving me thinking more than once "How did we get there?" or "How did they have time to do that?", but it really was just a few moments and didn't take that much away from the overall experience.
I was happily surprized with the film, although I know it's likely not for everyone. It doesn't always paint a pretty picture of life in a fame-centric industry, but it certainly gives you a lot to think about. The songs in the film are amazing, many of which are performed by the cast (although the soundtrack isn't alway the cast singing them), and I added them to
my playlist
and have listened to them many times on repeat, in particular Silver Wings, Give Into Me & Me and Tennessee.
Shannon's Overall View:
I loved it
I'll buy it
I'd recommend it to fans of emotional journey films
Return to Film Reviews
© Shannon Ridler, 2011