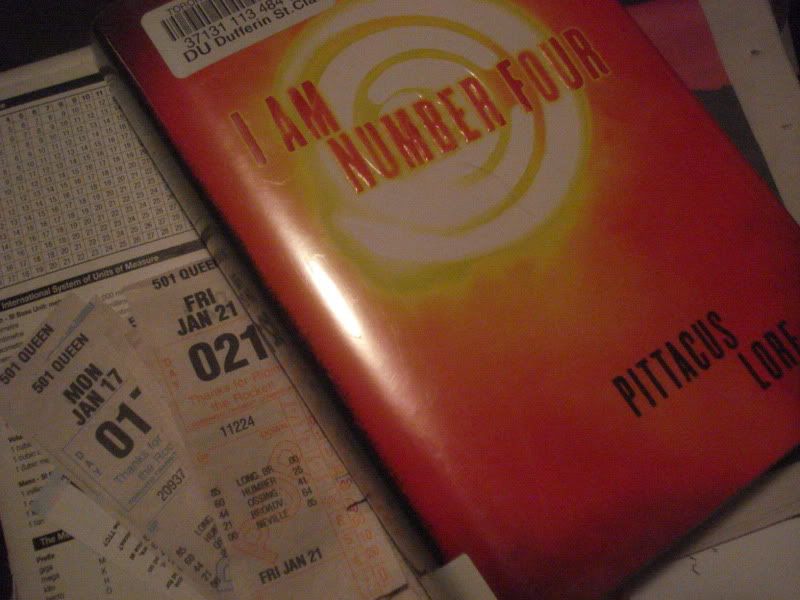 Reason to Read:
January book selection for the
Book to Film Club
!


I Am Number Four
is a young adult science fiction book following 15 year-old John Smith and his guardian Henri who move from place to place and do their best to live under the radar for very important reasons. The after one move John starts to settle into a sleepy town more strongly than the ones before and at the same time begins to come into his own in a unique way.
I really liked the characters of John and Henri, and their dog Bernie Kosar. I liked the family dynamic they created and new spin on the new-kid-in-town story. I also really enjoyed how visual the book was and I could really see what they were describing, which I don't always find an easy thing with science fiction. It was pretty light in the relationship department and I did often feel like I knew where it was going but that is easily in part from hearing general chatter on the book and seeing the
trailer
(which is hugely spoiler-y if you plan on reading the book) while I was in the middle of reading it. I was a little worried it might go in the 'we're different and different is better' kind of message, but it's wasn't overly definitive. I do hope they will keep the series going, and am very curious how they will handle the 'possible 6-book series' aspect as they translate it to a film.
In terms of a reading experience, it was really nice to start the year off with a book that completely absorbed my attention and didn't want to put down. I read it mostly in transit and during breaks, and really looked forward to each moment I could get back to the book. I found it quite a quick read, which isn't surprizing given that it's a young adult title. Overall I found it engaging, energetic and delightful.
The casting for the film looks great. I think both Timothy Olyphant (
High Life
, "Deadwood") as Henri and Dianna Agron (Quinn on "Glee") as Sarah are perfect. It's also easy to see Jake Abel (Luke from
Percy Jackson & The Olympians: The Lightning Thief
, Adam on "Supernatural") as the bully-ish Mark, but judging from pictures along looks like they are going for a different vibe for the Sam with Callan McAuliffe. For me the big question lies in the hands of our protagonist John played by Alex Pettyfer, whom I've only see so far in
Wild Child
, where he was good but it wasn't a huge role. We will be seeing more of Alex Pettyfer in the very near future as he'll be starring in the lead role in Beastly (March 4, 2011) which is a modern re-visioning of Beauty and the Beast, another adaptation this time of the book
Beastly by Alex Flinn
.
I Am Number Four will be our February Film selection. The film will be released Friday February 18, 2011.