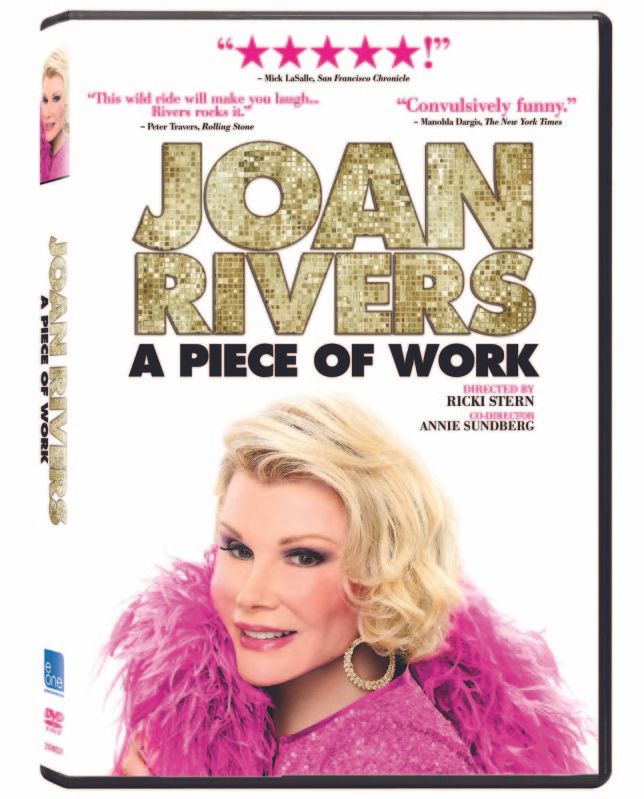 Courtesy of eOne Films
Directors: Ricki Stern & Annie Sundberg
Documentary
USA
,
2010
Reason to see:
I couldn't resist a documentary about the one and only Joan Rivers
A stunning and open documentary focusing on a year in the life of Joan Rivers: actress & comedienne extraordinaire. Anyone who has heard her will not be surprized that this that not only is she very funny, she's extremely frank about her life as well.
With an uncompromising drive to work and paper datebook that wants to be filled, we spend lots of time with her as she discusses the ups and downs of her career and life. It floored me to see the reminder that even after her wealth of experiences that each and every performance comes with the emotions of "Will they like me?" I always feel for artists, especially performing artists, that this must be such a weight to bear and we see here that it just keeps weighing but Joan is brave enough to just keep at it. She was always willing to do the work. Always. For that alone, she's an inspiration.
Joan Rivers: A Piece of Work
made my
2010 Perfect List
, reserved for films that meet the singular qualifier of perfection.
DVD Extras:

Commentary

with Joan Rivers and director Ricki Stern very colourful, funny, and honest commentary full of even more jokes, commentary on people in the doc and most interesting is even more context and insights to several of the incidents/happenings in the film including Celebrity Apprentice.

Deleted Scenes (9 scenes, 29 minutes)

these were great additions to the DVD and although I can totally understand why they weren't included and appreciate the films 85 minute running time, I really enjoyed getting to see more of Joan in action - in particular a scene where she goes to vote was great.

Sundance Q&A (12 minutes)

Another great DVD extra with Joan taking questions from the audience at Sundance Film Festival ranging from personal to professional from if there was anything she didn't want filmed to how she deals with specific situations. Great Q&A.

TV Spots (1 minute)

2 TV spots

Trailer
Joan Rivers: A Piece of Work
is available on DVD as of January 11, 2011. Check it out over at
Amazon.ca
&
Amazon.com
Shannon's Overall View:
I loved it
I'll watch it again
I highly recommend it to comedy fans and to anyone whose worked in/interested in the performing arts
Return to Film Reviews
or see more
DVD Reviews
© Shannon Ridler, 2010 - 2011
Also see selections from the
Joan Rivers - A Piece of Work

Intro and Q&A with directors Ricki Stern and Annie Sundberg
during Hot Docs 2010
Originally reviewed during Hot Docs 2010 - May 4, 2010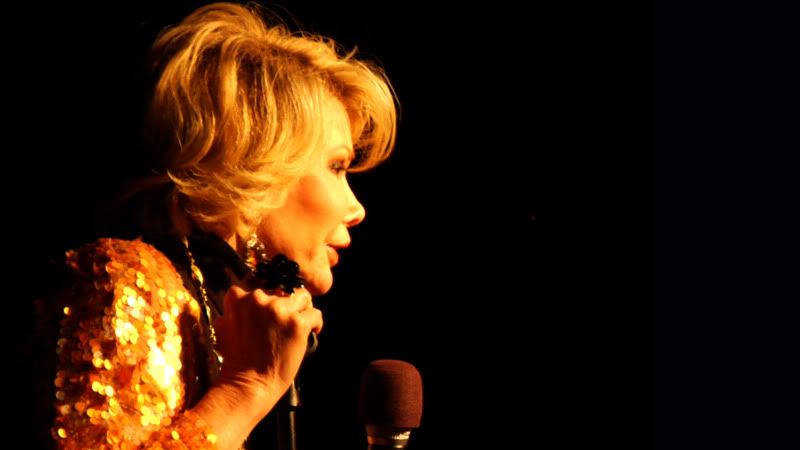 Joan Rivers in JOAN RIVERS – A PIECE OF WORK. Photo Credit Charles Miller Courtesy of eOne Films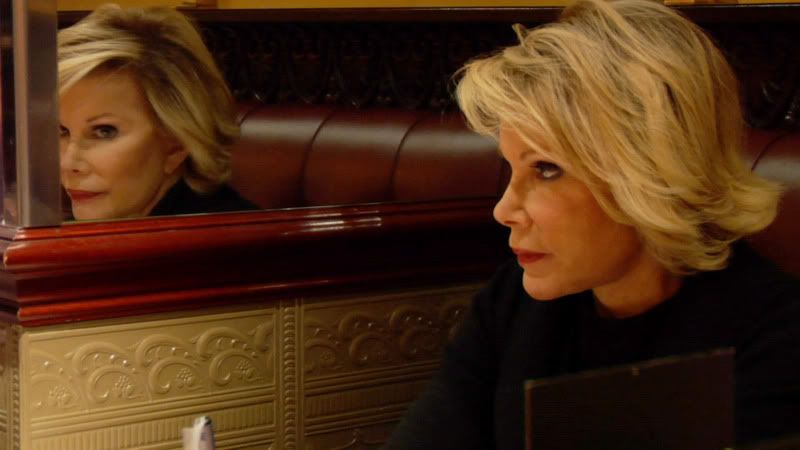 Joan Rivers in JOAN RIVERS – A PIECE OF WORK. Photo Credit Charles Miller Courtesy of eOne Films