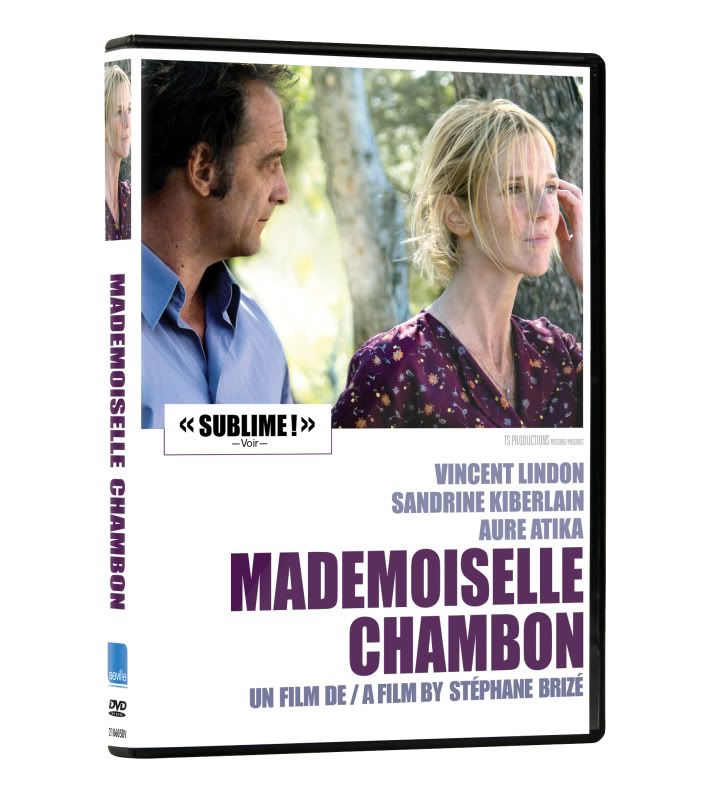 Courtesy of eOne Films
Dir: Stéphane Brizé (Entre adultes, Je ne suis pas là pour être aimé, Le bleu des villes)
Cast: Vincent Lindon, Sandrine Kiberlain, Aure Atika, Jean-Marc Thibault, Arthur Le Houérou
France
,
2009
Reason to see:
Nomination for the
26th Annual Spirit Awards
(for 2010 films). It's also #
24 in Metacritics Best Reviewed Films for 2010
.
What an absolute treat
Mademoiselle Chambon
is. An unexpected and emotionally powerful journey for the characters and viewer alike. The film follows married couple Jean (Vincent Lindon) and Anne-Marie (Aure Atika), who both work labour jobs but are happy as they spend time together bringing up their Jérémy (Arthur Le Houérou).
All seems find and good in their balanced life, although things start to shift when Jérémy's teacher Véronique Chambon (Sandrine Kiberlain) enters the picture, and the film every so gracefully leans in a different direction. It's rather amazing how subtle it is, and it's so refreshing to see the time taken to let the story and relationships develop slowly but beautifully. I found it so real that I would literally sigh out loud at the beauty.
The film has an naturalistic quality that acts like an equalizer, breaking down barriers between the characters themselves and also portraying situations that feel simplistically real and everyday, but can swiftly pace the emotional punch of high drama. It's a beautiful molding of tones and feelings that are so vivid they feel tangible. The emotional pull here is so real, so potent, that I can easily recommend it to anyone who is looking for a film to touch their heart, becaase that is
Mademoiselle Chambon
does, it's a film that touches your heart.
DVD Extras (French Only):
Entretien avec Stéphane Brizé (31 minutes

) extensive interview with director Stéphane Brizé, in French with no subtitles.

Scènes coupées (9 scenes, 11 minutes)

, 1 minute introduction with director Stéphane Brizé, plus 9 scenes. Well worth checking out even though the scenes are not subtitled, but you still always get the emotions they were trying to convey and so much of the film is an emotional journey there isn't even tons that would be subtitles from these scenes.

Mademoiselle Chambon
is available on DVD as of January 11, 2011. Check it out over at
Amazon.ca
&
Amazon.com
Shannon's Overall View:
I loved it
I'll watch it again
I highly recommend it to fans of emotional dramas
Return to Film Reviews
or see more
DVD Reviews
© Shannon Ridler, 2011