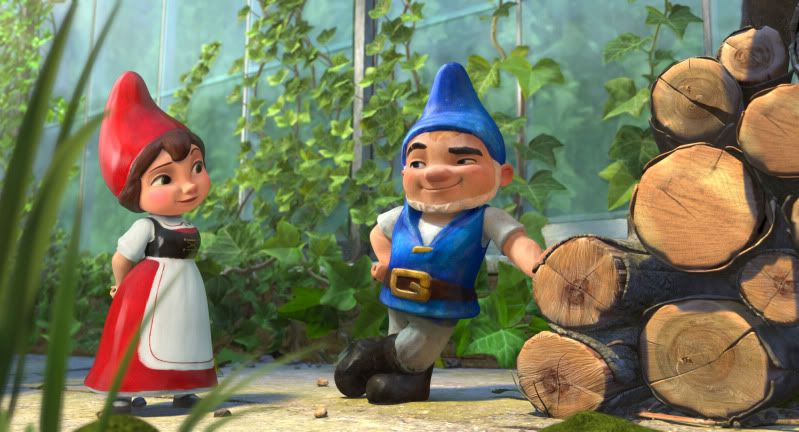 Juliet (voiced by Emily Blunt) and Gnomeo (voiced by James McAvoy) in Gnomeo & Juliet 3D Courtesy of eOne Films
Dir: Kelly Asbury (Shrek 2, Spirit: Stallion of the Cimarron)
Voices: James McAvoy, Emily Blunt, Michael Caine, Jason Statham, Maggie Smith, Patrick Stewart, Ashley Jensen, Stephen Merchant, Matt Lucas, Jim Cummings, Julie Walters, Richard Wilson, Ozzy Osbourne
UK
/
USA
,
2011
Reason to see:
Love the cast & the
trailer
made me smile
Gnomeo and Juliet
is a delightful animated romance that takes Shakespeare's Romeo and Juliet, and re-invents it with garden gnomes. Yes, garden gnomes. When I heard the premise I was a little skeptical, but the trailer was cute which got me curious enough to give the film itself a try and I'm glad I did as it completely won me over.
The Capulet and Montague houses are transposed to the greenery of garden gnomes from rival lawns and are easily distinguishable by being either "a red" (Capulet house, Redbrick gnomes) or "a blue" (Montague house, Bluebury gnomes). Add a sporting event to the mix and I settled comfortable into the understanding of seeing a British football analogy and sensibility which was delightful & unexpected. But it's more than just fun and games, as the heart of the story is the sweet lawn-cross'd romance between our little scrapper Gnomeo and the adventurous Juliet.
There are so many things I enjoyed about
Gnomeo and Juliet
. I loved that they were aware of and acknowledged that it's a story that's been told time and again, but then ran with it in a new, fresh direction. I love how adventurous Juliet is, how she doesn't take no for an answer and actually has her own ambitious, thoughts and ideas even though there is the overbearing father figure, who being voice by Michael Caine is hard not to love in spite of his overly protective nature. I also loved the sweet romance between Gnomeo (James McAvoy) and Juliet (Emily Blunt), who even though we know their story still keep the romance fresh and exciting to watch unfold. I was also completely taken aback by how clever it was to use gnomes as a analogy to the challenges of being inflexible. This is brilliant as garden gnomes, like any figurines, have a distinct fragility to them. I really loved this in concept and how they used it in the film.
The film has a lovely supporting cast that fill it with enthusiasm including Featherstone the flamingo (Jim Cummings), a cute-but-mute Shrums and villainous Tybalt (Jason Statham) as our resident love-to-hate character. The film also has several musical numbers with music from Elton John that adds to the liveliness.
Overall I found
Gnomeo and Juliet
a lot of fun and a film that really stuck with me over time and I've thought about a suprizing amount since I've seen it. It's a great choice for a Valentine's Day weekend release with it's sweet romance, lively spirit and all-around good nature.
See also:

Gnomeo & Juliet
DVD Review
Shannon's Overall View:
I really enjoyed it
I look forward to seeing it again
I'd widely recommend it
Return to Film Reviews
© Shannon Ridler, 2011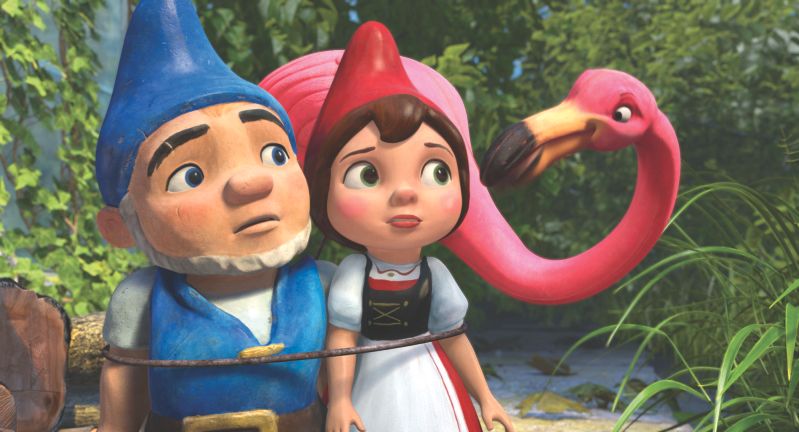 Left to Right James McAvoy (voice of Gnomeo), Emily Blunt (voice of Juliet) and Featherstone (Jim Cummings) Courtesy of eOne Films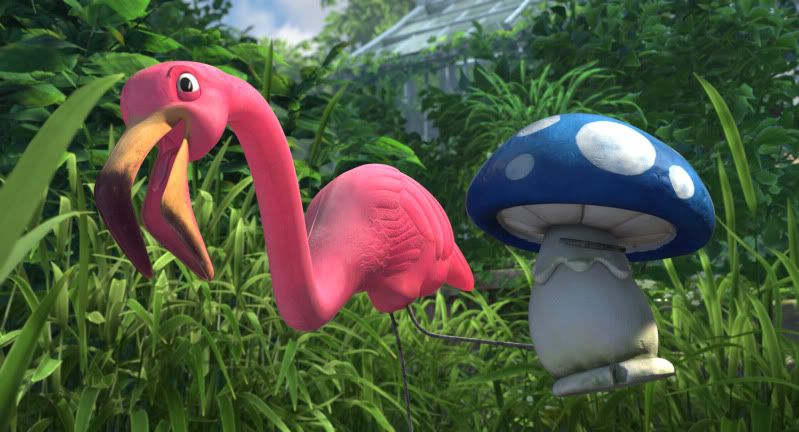 Featherstone (voiced by Jim Cummings) and Shrums in Gnomeo & Juliet 3D Courtesy of eOne Films