Photo: Courtesy of eOne Films
Writer/Dir: Adam Green (Hatchet,
Frozen
)
Cast: Danielle Harris, Kane Hodder, Tony Todd, Kathryn Fiore, Parry Shen, Tom Holland, AJ Bowen, R.A. Mihailoff, David Foy, Colton Dunn.
USA
,
2010
Reason to see:
I'll admit the fact that it got pulled from theatres after it's
release last year
got me more than curious, plus I loved Adam Green's
Frozen
.
First up, I'm going to admit something. I've never seen
Hatchet
. There, I've said it, got that out of the way. I didn't see it as I didn't anticipated needing to see it to understand
Hatchet II
, and you don't, because they totally understand how horror sequels work and that you tell the story of the first film. That being said, I could easily tell that
Hatchet II
is 100% made for fans of the first film, which I happen to think is awesome.
The film has all the elements you need for a slasher flick, with Marybeth (Danielle Harris) as our often scared but driven woman on a mission, Reverend Zombie (Tony Todd) the man of elusive knowledge to see us through the journey, slasher himself Victor Crowley (Kane Hodder) and a rowdy group of characters to love and hate for use to cheer and cringe as mostly they are there to meet a bitter, bloody end. And boy, do they every. The blood, guts and gore really take it farther than you'd ever expect it to go - which is completely intentional. It's gruesome and over the top, but the fact that it goes so far takes it to a different level where you just have to laugh because it's so crazy and shocking. It's not suppose to feel real, it's suppose to take you away and freak you out and it does on every level.
I'm a huge fan of horror films, although slashers are my second least favourite (least being torture porn), in part because they always seem to have a disproportionate amount of female nudity and we get that here as well. It's interesting to listen to the commentary about this element to the film, and it really makes me wonder if I would be the only person who would miss it if it wasn't there because it seems like the overwhelming majority seem to want it or feel the need to include it. But again, this one is for the fans so it's there for them.
Overall, I was impressed with the film. It knows what it's going for and delivers on every front, and has a lot of fun doing it. I'm glad to see that it's getting an unrated DVD release after the bumps it's had along the way, so people can have access to it in the way it was meant to be seen. If you are a slasher fan, you will love
Hatchet II
.
Warnings:
violence, gore and buckets of blood
DVD Extras:
Crew Audio Commentary with writer/director Adam Green, cinematographer Will Barratt and make-up effects supervisor Robert Pendergraft

lots and lots on content on this commentary, it's connection to the first one including lots of easter-egg like info, nods and shout outs, great discussions on the deciding factors to go with different or the same from film to film the awkwardness of shooting nudity, the complexity of some of the kills and lots of great stories and shout outs.

Cast Audio Commentary writer/director Adam Green, actors Kane Hodder & Tony Todd

Another really great commentary here, the guys are really interesting, have great stories from and also from being around the fandom of the first film and horror in general, also goes diplomatically into the details of controversies around the film, including getting pulled from theatres as well as completely takes a stand on piracy (yay!). Side note: I could just listen to Tony Todd forever, what a beautiful voice he has!


Hatchet II: Behind the Screams (33 minutes)

behind the scenes, film footage and interviews with writer/director Adam Green, producer Sarah Elbert, director of photography Will Barratt, co-producer/second unit director Jason Miller, producer Derek Curl, Fey SFX Make-Up Jenn Rose and actors Kane Hodder, Danielle Harris, Tony Todd, Parry Shen, Tom Holland, AJ Bowen, R.A. Mihailoff, David Foy & Colton Dunn. Lots of fun stuff here from slash cams with dailies of death sequences and several side-by-side storyboards to actual film footage, as well as extensive interviews with Adam Green, Sarah Elbert and Kane Hodder on bringing the band back together and working together as a team, the difference in working on the first film to the sequel, working with Dark Sky and lots of great stories.

TV Spot (33 seconds)

Radio Spot (30 seconds)

Trailer

Teaser Trailer
Hatchet II
is available on DVD as of February 15, 2011. Check it out over at
Amazon.ca
&
Amazon.com
Shannon's Overall View:
I enjoyed it
I'll watch it again
I'd recommend it to fans of slasher films, it is 100% truly for the fans
Return to Film Reviews
or see more
DVD Reviews
© Shannon Ridler, 2011
Photo: Danielle Harris as Marybeth in Hatchet II. Courtesy of eOne Films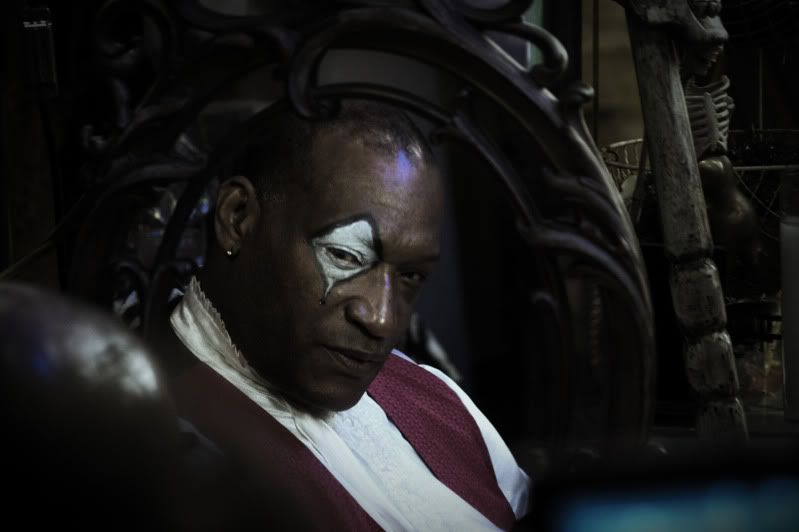 Photo: Tony Todd as Reverend Zombie in Hatchet II. Courtesy of eOne Films