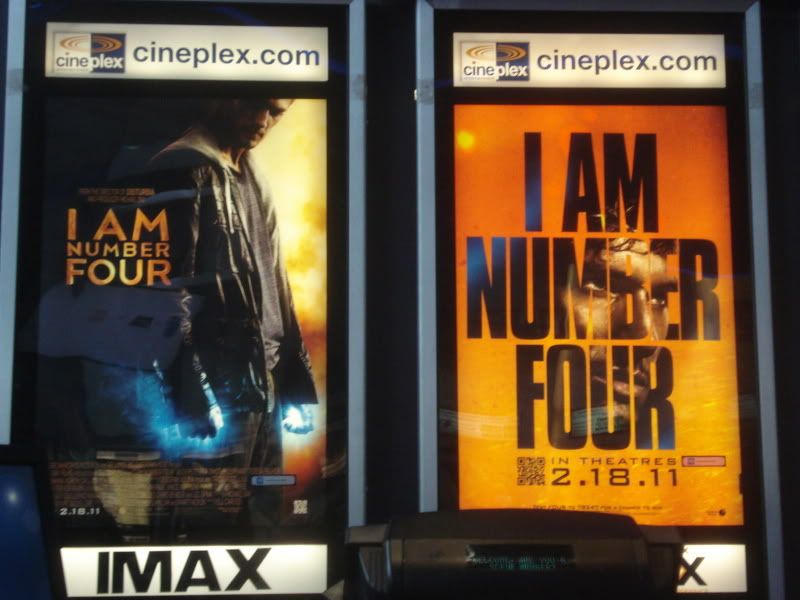 Dir: D. J. Caruso (Eagle Eye, The Salton Sea)
Cast: Alex Pettyfer, Timothy Olyphant, Dianna Agron, Callan McAuliffe, Teresa Palmer, Kevin Durand, Jake Abel
USA
,
2011
Seen:
February 19, 2011 at Scotiabank in AVX with my sister Jamie & her husband who are fellow Book-to-Film Clubbers!
Reason to see:
It's the
February Film Selection
for the
Book to Film Club Selection
on #12 on my
Most Anticipated Films of 2011
I think
I Am Number Four
was the first film of the year that I was really, really excited for. It's my #12 on my
Most Anticipated Films of 2011
but more importantly it's the first film in the Movie Moxie 2011
Book to Film Club
! It's based on the young adult science fiction novel
I Am Number Four by Pittacus Lore
, which I read and really enjoyed last month. It was a fun, quick read with a interesting characters, story and quite visual storytelling that you really could see while reading so it's no question it's a good choice for a film adaptation.
I Am Number Four
stars Alex Pettyfer (
Wild Child
, Beastly) as John, a teen whose moved around a lot and continual asked to say under the radar by Henri (Timothy Olyphant of
High Life
). Although there certainly is the strong sense of the importance to blend it, being the new kind in a small town never lets folks off that easy and that in combination with teenage rebellion, it doesn't seem likely John will pull that off. That being said, John really a nice guy who is just trying to live his life the best way he's knows how and the film really does a great job of putting together the teen angst energy with the science fiction elements of the story, while also bringing in the regular trials and tribulations of different social circles and events.
It was interesting to see a teen focused film that has a sense of appreciation of everyday family life. I think most of my favourite moments were centred in this and the character chemistry either between John and Henri, or Sarah's family. The film really got a clear great slice of life take on both really normal and more unusual daily lives and routines. I also enjoyed the overall design of the film, the special effects were great and many of the scenes felt exactly how I pictured them in my head when I was reading the book. I also loved the character design of the Mogadorians, although some of the moments with them was way harsher than I expected and had a few very disturbing ideas and moments.
In terms of a book to film adaptation, I though they did a really good job of capturing the visuals and science fiction elements as described in the books, as well as the spirit of the character relationships. There were changes and alterations, several of which I felt played out to be a smart balancing act for character development, plot and focus but some of the other changes I was surprized at and didn't love, although I could see how they were perhaps more dynamic and "action-y". I would recommend reading the book first, mostly because it's a lot of fun. I'm trying to imagine what it would be like seeing the film without having read the book and it's really hard to put myself in those shoes. I do think that the film holds up on it's own though, but there were just moments that I liked in the book and would have enjoyed seeing in the film.
Overall I though the book was a lot of fun and the film was a lot of fun too. It was great to see such a strong performance from Alex Pettyfer (especially as we'll be seeing him soon in Beastly), as well as great chemistry and performances with Timothy Olyphant, Dianna Agron and Teresa Palmer. The book series does already have #2 looking like it will be released
in the fall
, and I'll happily continue on the adventures of these stories in print and on screen.
I'm very curious to hear fellow
Book to Film Clubbers
reaction to the film, and also to see reactions of folks who haven't read the book as well.
Shannon's Overall View:
I really enjoyed it
I'll buy it
I'd recommend it fans of fun science fiction films
Also see:
2011 Book to Film Club
,
2011 Book to Film Adaptations
,
Most Anticipated Films of 2011
and
All Film Reviews
© Shannon Ridler, 2011