s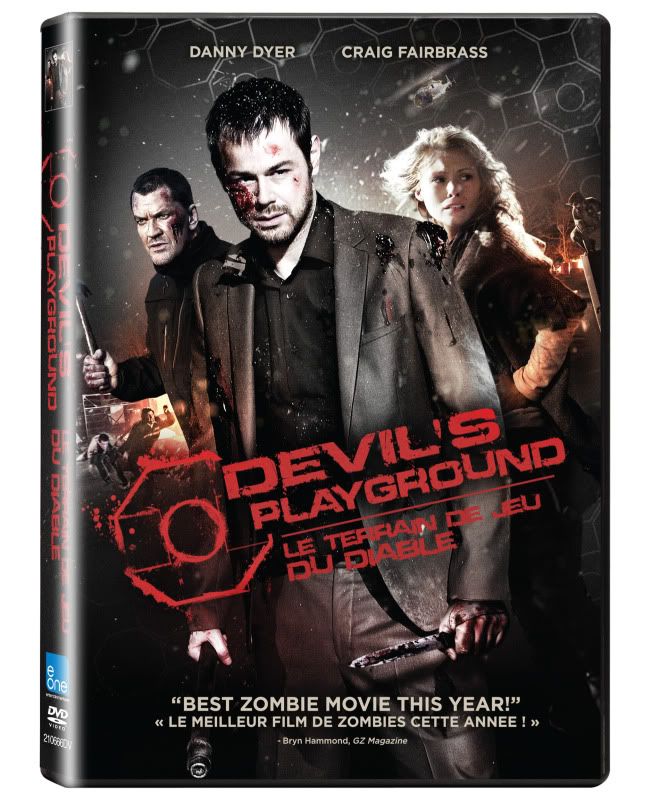 Image: Courtesy of eOne Films.
Dir: Mark McQueen - feature film directorial debut
Cast: Craig Fairbrass, Danny Dyer, MyAnna Buring, Jaime Murray, Sean Pertwee, Shane Taylor
UK
,
2010
Reason to see:
Zombies are always a yes and British zombies are even more of a yes!
Wow,
Devil's Playground (2010)
really threw me for a loop. I went in thinking just for a zombie-good-times, and had no idea i was in for a freaking slick-looking, well-acted, human condition examining, compelling film with complex characters. Oh, and lots of zombies too. Freaking awesome! Action, acting and zombies. It's a win-win-win scenario. Well, for the viewer at least. Not sure how many zombie movies are win-win-win!
Set during a medically-centric zombie apocalypse in London, we are treated to several different spins than zombie enthusiasts may be used to, and most of them serve the film very well. I loved the setting and that it looked freaking slick at all times from the stunning exteriors to snazzy labs to unlikely hideout havens. The film takes a strong step in the human reaction direction over out & out zombie action, but there is plenty on both sides to go around.
The big surprize for me while watching the film was how compelling I found the characters. We have Danny Dyer (
Doghouse
) as Joe, the cop just released from prison and Craig Fairbrass as Cole who has the all-in attitude of a mercenary but with a heart of regret that pulls you easily into his story. The complexity of their characters keeps you curious, on edge and always wanting to know more. But characters are just ideas on the page and what makes them so special here is the performances by Danny Dyer & Craig Fairbrass who were both charismatic, enigmatic, but completely different energies on the screen. They both blew me away and I'm certainly going the keeping and aggressive eye out for their work in the future. I would have loved for one of the female characters to be as interesting an complex as Joe & Cole were, and although we do see a great performance from MyAnna Buring as Angela, her character storyline just wasn't as inventive as the guys.
I loved the human nature elements in the film, although paired with the brutal & bloody zombieness I'm not sure could easily recommend it to the non-zom fan. Which is a way is alright, because zombie fans are the most fun! Overall, I absolutely adored
Devil's Playground (2010)
and it is a welcome addition to the zombie genre.
DVD Extras:
Audio Commentary with director Mark McQueen and actors Danny Dyer & Craig Fairbrass

extremely entertaining and engaging commentary to the film and I had a blast listening to it, although fair warning on the frequent and expressive colourful language throughout. Lots of shout outs and love for fellow cast members, great discussions about acting, choices, zombies and the film making process.

Behind the Scenes (14 minutes)

includes behind the scenes footage, film clips and interviews with director Mark McQueen, writer/actor Bart Ruspoli and actors Danny Dyer, Craig Fairbrass, MyAnna Burning and Craig Conway on what the film is about, the making the film, the actors discuss their characters and also the choice on different take on the zombies and how it was used in the film.

Deleted Scenes (4 scenes, 4 minutes)

Really interesting set of deleted scenes that I enjoyed watching as they provided interesting insights into the characters of the film, a great addition to the DVD.

The Devil's Playground
is available on DVD as of March 15, 2011. Check it out over at
Amazon.ca
& Amazon.com
Shannon's Overall View:
I really enjoyed it
I'll easily watch it again
I'd recommend it fans of horror, especially horror films that examine the human condition
Return to Film Reviews
or see more
DVD Reviews
© Shannon Ridler, 2011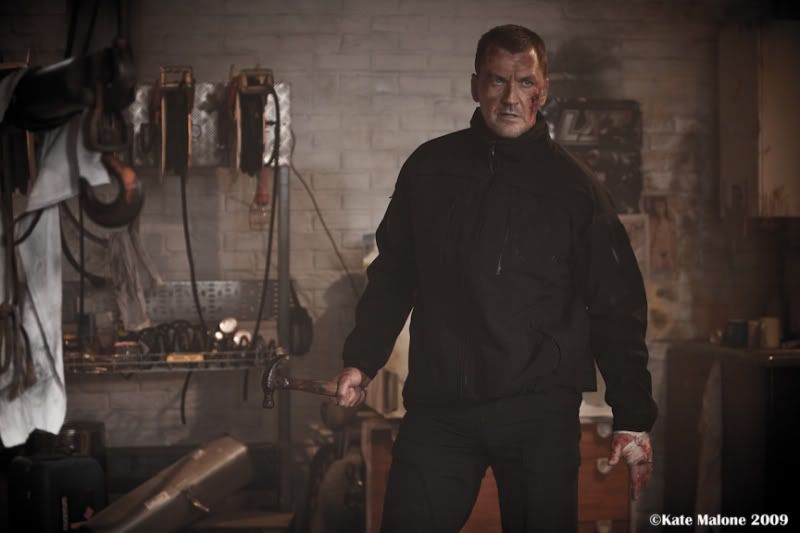 Image: Craig Fairbrass as Cole in Devil's Playground. Courtesy of eOne Films.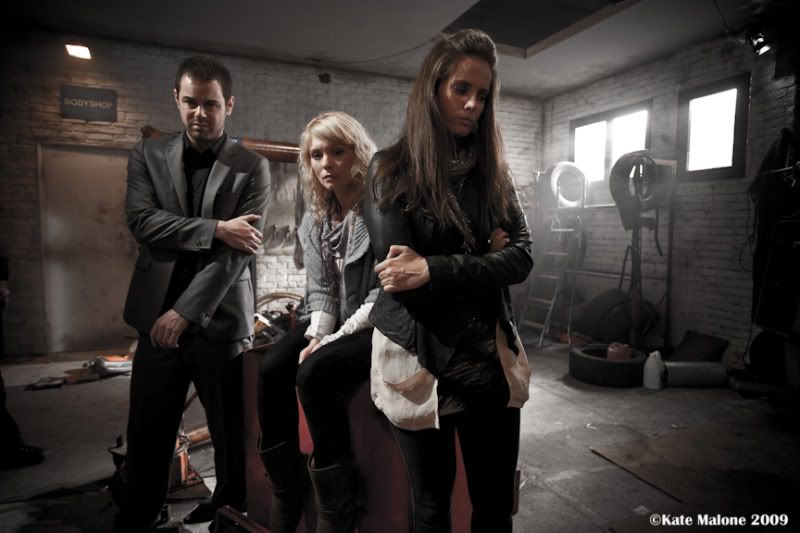 Danny Dyer, MyAnna Buring and Lisa McAllister in Devil's Playground. Courtesy of eOne Films.