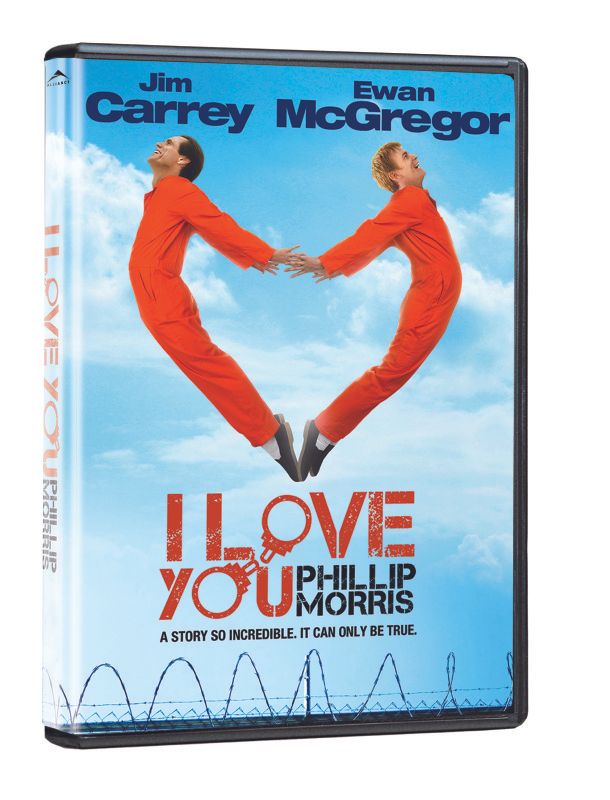 Image: Courtesy of Alliance Films
Legal Line ©2009 Europacorp. All Rights Reserved. Distributed Exclusively in Canada by Alliance Films. All Rights Reserved.
Dir: Glenn Ficarra & John Requa - feature film directorial debut
Cast: Jim Carrey, Ewan MacGregor, Leslie Mann, Rodrigo Santoro
USA
/
France
,
2011
Reason to see:
The trailer got me curious on this on, which was played tons last year but and I missed the very limited theatrical run earlier this year.
Every once in a while a film comes around and the premise seems so crazy you are surprized to even hear it, like what we have with
I Love You Phillip Morris
where con man Steven Russell (played by Jim Carrey) creates all kinds of craziness from fraud to staging personal injury accidents to keep cash flow coming in to keep happy times flowing with his kept boyfriend Phillip Morris (played by Ewan MacGregor). And then the words "Based on a True Story" come up and you have to do a bit of a double take.
Based on the book I Love You Phillip Morris: A True Story of Life, Love, and Prison Breaks by Steve McVicker, this is actually a biopic that's in the vein of a it's so-crazy-it-can-only-be-true point of view. In the film we follow con man Steven Russell (Jim Carrey) who falls in love with a fellow inmate Phillip Morris (Ewan MacGregor) in prison. What I love about the film is that embraces the craziness of Steven and the bizarre lengths he will go to to make money. But even more amazing, is that in the calm centre of this vortex of lunacy there is a beautifully, touching romance between the two amazing men. The film is carefully crafted in that it draws you with it's outlandish premise and flamboyant behaviour, and before you know it you care deeply about the people involved and cheering for them to make it through, come clean or both. Jim Carrey and Ewan MacGregor have fantastic chemistry in the film and together bring this compelling story alive.
I really enjoyed how the film could flip between tones from comic to serious, and the music really highlights this as it's got a wondrous, quirky and whimsical spirit to it that really brings the whole film together. I loved listening to the audio commentary which pinpointed some of the most bizarre moments were some of the most truthful ones. A engaging, beautifully-spirited romcom that literally is like no other. I highly recommend
I Love You Phillip Morris
, a tale of love, lies and lengths people will go to for both.
DVD Extras:
Audio Commentary with writers/directors Glenn Ficarra & John Requa, producers Andrew Lazar & Far Shariat, chief lighting technician Max Pomerleau and director of photography Xavier Pérez Grobet

Very entertaining commentary that covers many different aspects of the film from which things that are true to their real lives of the people involved from actual lines and ideas and also things that were really real but wouldn't or didn't quite work in the film, the challenge of creating a film that's shot in two tones, structure of the film, repeating visual montages plus technical infomration on specific shots & techniques, what they are called, how they achieved and the choice to use them.

The Making of I Love You Phillip Morris (11 minutes)

included behind the scenes footage, film clips and interviews with writers/directors Glenn Ficarra & John Requa, actors Jim Carrey, Rodrigo Santoro, Leslie Mann, Ewan McGregor on how the film is based on amazing true story, reactions to the story and script, the character of Steven Russell, research for the film and creating their individual characters and on working together.

Deleted Scenes (7 scenes, 16 minutes)

combination of extending and deleted scenes, mostly focused on the Steven Russell (played by Jim Carrey), that give interesting insight and depth, especially emotionally, to that particular character

Red Band Internet Trailer

Green Band Theatrical Trailer

Red Band Theatrical Trailer
I Love You Phillip Morris
is available on DVD as of April 19, 2011. Check it out over at
Amazon.ca
&
Amazon.com
Shannon's Overall View:
I really enjoyed it
I'll easily watch it again
I highly recommend it to fans of relationship dramas with a healthy dose of comedy included
Return to Film Reviews
or see more
DVD Reviews
© Shannon Ridler, 2011