Image: Courtesy of Alliance Films
Legal Line © 2010 Somewhere LLC. All Rights Reserved. Distributed exclusively in Canada by Alliance Films. All Rights Reserved.
Dir: Sofia Coppola (Marie Antoinette, Lost in Translation, The Virgin Suicides)
Cast: Stephen Dorff, Elle Fanning, Chris Pontius, Michelle Monaghan
USA
,
2011
Reason to see:
I want to love Sofia Coppala's work
I was rather hesitant going into
Somewhere
. I've been on-again/off-again with connecting to Sofia Coppola's work and I didn't think a male-protagonist, actor-centric, Hollywood set film would be the one to reel me back in. But it was. It really, really was.
Somewhere
is a film that just like it's title, you think you may need to think really hard about it, but you don't. Just settle into it and let it run it's course in it's relaxed pace and experiential tone. Let it wash over you and as you steal the moments of time with it's characters actor/celeb Johnny Marco (Stephen Dorff) who unexpectedly has a sudden influx of time with his preteen daughter Cleo (Elle Fanning). I loved how
Somewhere
defied my jaded expectations going into the film. I expected to hate Johnny and be annoyed at his living the fast lane lifestyle, but instead I found it easy not to judge him but rather empathize with the craziness of his world that had both intimate connections and bizarre close-but-distant and then fleeting meetings. I thought I would be all up and arms about the imbalance of the father/daughter relationship, but instead I found it quite touching to see an unusual but somehow balanced relationship which was certainly imperfect but still full of caring and kindness.
It's a film that brings a wild surrealness to light, especially of the fleeting and fast moments that get swept under carpets or left out for someone else to clean in a rote, regular way. It's a film that you just have to roll with as it's a journey film where the next destination is somewhere just over the next hill or round the next corner. Even when it's not going somewhere, you still feel it moving which is quite an amazing way to capture the passage of time and way that life can just trickle by. I was very impressed by where it went, and how it got there.
DVD Extras:
Making Somewhere (17 minutes)

, it's amazing that this behind this making of very much carries the minimalist tone of film in the inclusion of a lot of behind the scenes footage, as well as brief interviews with writer/director Sophia Coppola on idea and inspiration on the film, and several interviews including with producers Roman Coppala & G. Mac Brown, cinematographer Harris Savides, costume designer Stacey Battat, sound designer Richard Beggs, production designer Anne Ross and actors Stephen Dorff, Elle Fanning & Chris Pontius on working with Sophia Coppola, the tone of the film, the locations, costumes and preparation for the film.
Somewhere
is available on DVD as of April 19, 2011. Check it out over at
Amazon.ca
&
Amazon.com
Shannon's Overall View:
I enjoyed it
I'll watch it again
I'd recommend it as an art house/experiential film
Return to Film Reviews
or see more
DVD Reviews
© Shannon Ridler, 2011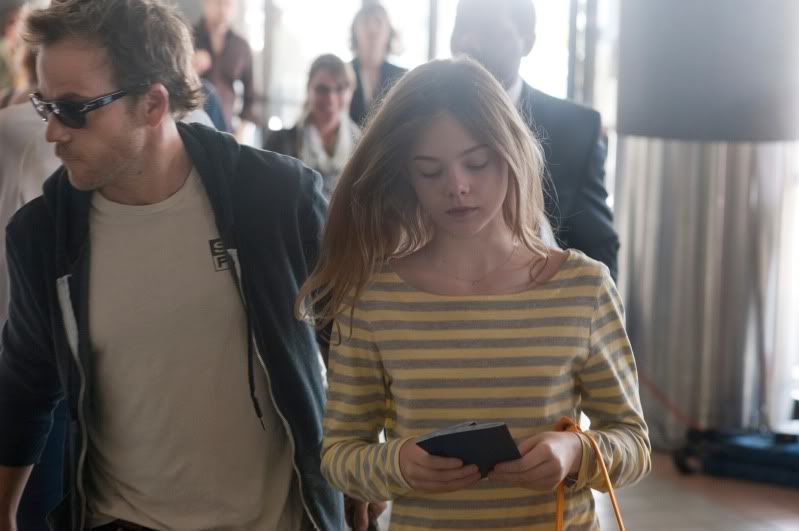 Stephen Dorff (left) and Elle Fanning (right) star in Sofia Coppola's SOMEWHERE, an Alliance Films' release. Photo Credit: Merrick Morton -
Image: Courtesy of Alliance Films
Stephen Dorff (left) and Elle Fanning (right) star in Sofia Coppola's SOMEWHERE, an Alliance Films' release. -
Image: Courtesy of Alliance Films