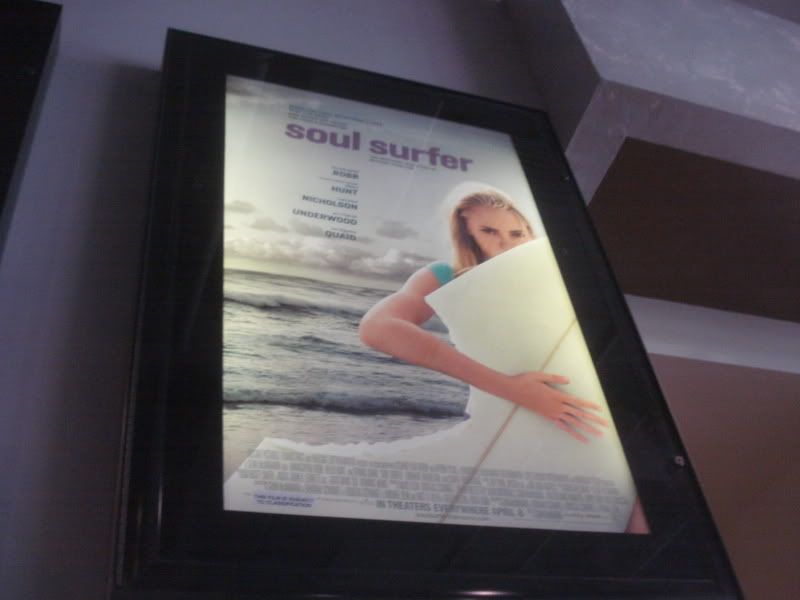 Dir: Sean McNamara (Bratz, Raise Your Voice)
Cast: AnnaSophia Robb, Helen Hunt, Dennis Quaid, Lorraine Nicholson, Ross Thomas, Kevin Sorbo, Carrie Underwood, Cody Gomes
USA
,
2011
Seen:
April 9, 2011 at AMC
Reason to see:
Looked inspiring, based on a true story and a girl surfer. That's a yes-yes-yes!
I'm a huge fan of
Gidget
(It's a lock on my top 5 films list), so it should come as no surprized that I raced out to see
Soul Surfer
, a biopic on surfer Bethany Hamilton who faces some pretty extreme challenges in her surfing career which is much as I can say and keep this spoiler-free, something of an extra challenge with biopics!
Bethany is played by AnnaSophia Robb (
Race to Witch Mountain
), who does a great job of presenting her as a positive, inspiring youth surfer who even during trying times maintains an amazing outlook that was one of the key factors in winning me over in the film. I was completely over-the-moon happy to be watching a film that's a female-protagonist biopic on an athlete. I wish we saw more films with this focus, I know I would go to them!
Now, the film has two semi-warnings that I feel the need to mention and that is one to just lightly say that some of the issues are difficult to see which sadly often goes hand-in-hand with inspiring film, but in this case I totally felt it was worth it as it feels like it really honours Bethany's story. I also feel the need to mention that there is some religious content in the film, also something that goes hand in hand with inspiring film, but it didn't feel overbearing for those who are of different faiths. Again, it felt fairly presented and important to the film, but I know it can be something either reels in or repels viewers, and in this case I felt like it will be an added bonus for like minded believers, but doesn't push out anyone who follows a different beliefs.
I loved the story of the film, the honesty of Bethany's journey which including both vast challenges as well as a wealth of support from her family and the family dynamic really won me over, it felt very true and very tender. I also think Bethany's journey is so inspiring and really touched me, and it's one that I think people can really benefit from hearing and seeing what she went though. It may read a bit sweet for some people, but can't we all use a little more sweetness in our lives? I know I can.
See also:
Podcast review of Soul Surfer
Shannon's Overall View:
I loved it
I already want to watch it again
I'd recommend it for fans of inspiring films, sport films and female protagonist films
Also see:
All 2011 Films Reviewed
and
All Film Reviews
© Shannon Ridler, 2011