Image: Courtesy of eOne Films
Dir: Michael Winterbottom (The Killer Inside Me, A Mighty Heart, 24 Hour Party People)
Cast: Colin Firth, Catherine Keener, Willa Holland, Perla Haney-Jardine, Hope Davis
UK
,
2009
Reason to see:
Looks like a touching family drama with a possible supernatural flare
A Summer in Genoa
is a touching drama centred on the family after they have endured a tragic accident. The change of scenery and decision to spend the summer away provides a change of pace that allows each family member to react, reflect or just live day by day in the wake of the tragedy.
I really enjoyed the understated and relaxed atmosphere of the film, which really allowed you to feel like a completely non-invasive fly on the wall while watching the daily family life unfold. The beauty of the film is in it's subtly, not only in the fantastic performances but also in the gentle pacing and emotional realness that honestly captures family dynamics in trying times. It's always emotional, but never showy or over the top We really get to see the gentle shifting and family reformation as everyone tries to resist the new family shape or try to fit back in where they've always been.
There is lots of beautiful and complex moments that speak emotional truths, especially between the Kelly and Mary (played by Willa Holland and Perla Haney-Jardine) who play sisters on opposite ends of the teens which can lead to lots of opportunity for the need for independence conflicting with the need to hang out together. I also really enjoyed Colin Firth as the understated Joe, and he really gets across the gentle touch on holding the family together through trying times.
I had hoped there would be a bit more of the supernatural feel to the film, but at it's heart the films focus is firmly centred on the overall family experience and how the same experience can effected different people and different ways.
A Summer in Genoa
speaks multiple emotional truths, from haunting to joyful, from strange to strained, but always authentic. It's quite a feat and that beautiful authenticity takes the viewer on quite a fascinating journey..
DVD Extras:
Cast & Crew Interviews (20 minutes)

insightful interviews with director Michael Winterbottom, producer Andrew Eaton and actors Colin Firth, Catherine Keener, Willa Holland, Perla Haney-Jardine and Hope Davis on the personal nature of the film, plot & background, characters, filming in Genova, method of working and a summary of the experience of the process and working together.

Behind the Scenes (6 minutes)

behind the scenes footage of preparation for and the actual first day of shooting in Genova as well several outdoor location scenes.

Trailer
A Summer in Genoa
is available on DVD as of April 12, 2011. Check it out over at
Amazon.ca
&
Amazon.com
Shannon's Overall View:
I enjoyed it
I'll watch it again
I'd recommend it to fans of family dramas with strong emotional centres
Return to Film Reviews
or see more
DVD Reviews
© Shannon Ridler, 2011
Image: Colin Firth, Perla Haney-Jardine and Willa Holland. Courtesy of eOne Films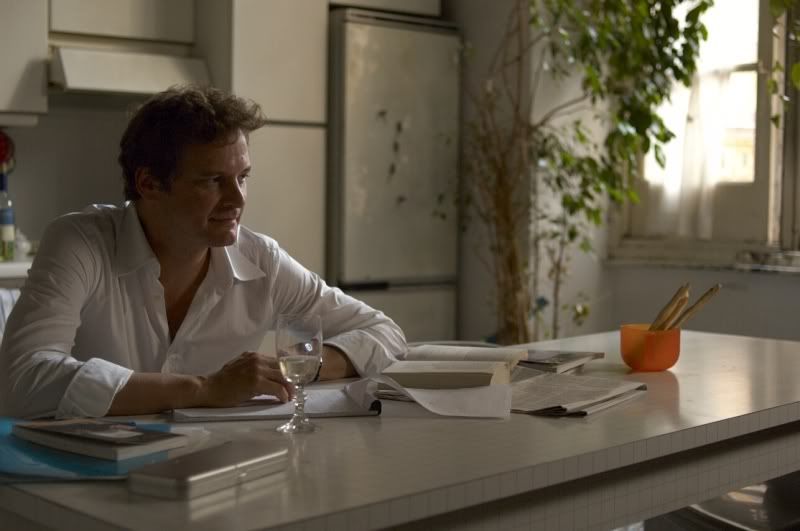 Image: Colin Firth in Summer in Genoa. Courtesy of eOne Films