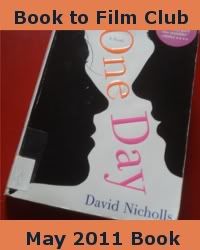 It's almost the end of the month, how has your reading been going? Our May Reading Selection is One Day by David Nicholls and I hope you have been enjoying it. I just finished it on Friday and found it engaging and emotional from start to finish.
One Day by David Nicholls
The book follows 2 people on the same day every year.
Here are some questions to consider about the reading experience. Feel free to write a review, journal about them or voice them in any way that feels right.
Things to ponder on the book:
Did you enjoy reading it?
Was it what you were expecting?
What did you know about the book before reading it?
Did you enjoy the format?
What did you think about the writing style?
What did you take away from reading the book?
Is there anything you would change about the book?
Who would you recommend the book to?
About the upcoming film adaptation:
How do you feel about the casting of the film (Anne Hathaway as Emma and Jim Sturgess as Dexter)?
What do you hope to be the focus of the film?
What do you think is essential to keep from the book in the film?
What do you think they can trim away from the book to the film?
What do you think the challenges of the adaptation may be?
Do you have any hesitations on the adaptation?
What are you most looking forward to about the film adaptation?
If this was a re-read:
How did reading it this time compare with your previous time reading it?
Did you notice anything different this time round?
Did your interest and focus stay on the same characters and moments, or shift?
If you choose to shelf this out one:
Was there a barrier (genre, focus, reception) ?
Would you consider trying it later?
Have you already read it?
Will you join us again in June for On the Road? (I hope you will!)
Book reviews from Book to Film Clubbers:

Film Adaptation
The film version of One Day will star Anne Hathaway (Devil Wears Prada, Rachel Getting Married) and Jim Sturgess (Across the Universe, Heartless), directed by Lone Scherfig (An Education) and although the original release date as will be released on July 8 (and it really, really should have been July 15 and is only understandable in the context that it's the release date of the final Harry Potter aka 7.2 film), it looks like it will be out on August 19, 2011. Sigh. I don't want to have to wait that long! You can check out the trailer for the film if you need a morsel of what we have to look forward to.
Film Release date:
August 19, 2011
If you haven't yet joined the
Book to Film Club
, you can hop on the fun train at any time!
Sign up for updates here
.