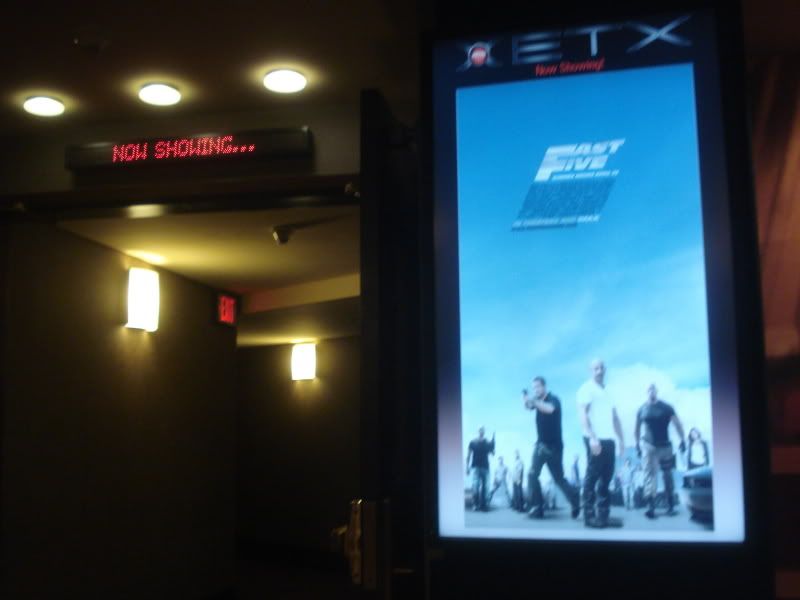 Dir: Justin Lin (The Fast & The Furious: Tokyo Drift, Fast & Furious,
Finishing the Game
, Better Luck Tomorrow)
Cast: Vin Diesel , Paul Walker, Jordana Brewster, Dwayne Johnson, Tyrese Gibson, Ludacris, Sung Kang
USA
,
2011
Seen:
April 30, 2011 at AMC in ETX
Reason to see:
It's on my list of
Most Anticipated Films of 2011 (#25)
and I am ridiculous fond of the first film.
I remember clearly when
The
(first)
Fast and The Furious
came out back in 2001. I was very exited about it as it starred two of my favourite new kick butt actors in it from being hot off the heels of of
Pitch Black
with Vin Diesel and
Girlfight
with Michelle Rodriguez. I enjoyed the first film in the series that was all fast cars, muscles and hotness, but I never would have guessed that 10 years later we would be still at it with the 5th film in the series.
Although I never saw Tokyo Drift (#3) and barely remember 2 Fast 2 Furious (#2), it's easy to slip back into this series of law-avoiding, fast-driving world that also drives home the "family is the most important" feel almost as often as it shows muscular guys in tight t-shirts.
In
Fast Five
we follow the adventures of Dominic Toretto (Vin Diesel), Brian (Paul Walker) and Mia Toretto (Jordana Brewster) with a one-last-heist vibe and a gaggle of characters from the previous films as they avoid the hard and fast muscled arm of the law Hobbs (Dwayne Johnson). I think it was smart to play the heist card here as the format works well along with lots of car action and stunts. I also found myself being nostalgic and cheering for the central trio work to their goal as it as clear the long journey of life in the fast lane has taken it's toll.
One of the things I really appreciate about the films in this series is that they don't take themselves too seriously. The stories are good, the acting is solid, the relationships believable and it's all in the service of delivering cunning action in fast cars, tight shirts and short skirts. And there are way more tight shirts than short skirts - which I appreciated. In fact, I was very surprized as I looked around the almost exclusively male-dominated audience at the theatre because I realized, this film felt like it was entirely directed to me. I loved it from start to finish, and I don't even like car chases. I can barely follow them. But I loved a lot of action and really did enjoy the character and performances - particularly Paul Walker as the still-earnest-after-all-these-years Brian. But I think it was the combination of Vin Diesel and Dwayne Johnson being in the same film that totally won me over and had me smiling like a total goofball during the film. I can't help it, I just love those guys.
All and all,
Fast Five
it's a really fun film that I enjoyed it from start to finish and it's got me wanting to revisit the entire series. Did I mention the tight shirts?
Shannon's Overall View:
I enjoyed it
I'll happily watch it again - in fact, now I want the whole dang series!
I'd recommend it to anyone who enjoyed any of the previous Fast & Furious films
Also see:
All 2011 Films Reviewed
and
All Film Reviews
© Shannon Ridler, 2011