Image: Courtesy of eOne Films.
Writer/Dir: Gregg Araki (Smiley Face, The Doom Generation)
Cast: Thomas Dekker, Haley Bennett, Juno Temple, Chris Zylka, Roxane Mesquida, Nicole LaLiberte, James Duval, Kelly Lynch, Andy Fischer-Price
USA
/
France
,
2011
Reason to see:
This one got really positive buzz
I was slightly hesitant going into
Kaboom
, as it looked like a college-set druggie/sex comedy and that isn't quite my thing but there was just something about it that keep making me curious. I'm so glad I did as it is hilarious and pretty freaking smart to boot.
Kaboom
stars Thomas Dekker as Smith, a new college student balancing life between lightly lusting after new roommate Thor (Chris Zylka), have crazy dreams & visions, all the while keeping up to date with the love life of his awesome & sarcastic best friend Stella (Haley Bennett). And that barely scratches the surface. We also have the very direct London whose interested in just about everything and everyone, and played brillantly by Juno Temple, Stella's crazy new girlfriend Lorelie (Roxane Mesquida) and Smith's bizarre visions of mysterious Red-Haired Girl (Nicole LaLiberte). Kaboom is a film that you keep thinking you don't believe what you are seeing, because it's just so out there, but you can't take your eyes off if. Better than watching a train wreck, but rather a mish mash of adult sized tinker toys gracefully placed together and then wildly run amok. I never knew what was going to happen next, and if fact I wasn't even thinking about what would happen next because I was so engaged and bewildered by what was actually happening.
It was beautiful and ridiculous all rolled up in to one happy package that arrives when it isn't even your birthday. You just accept it, keep going and hope for more. And there kept being more. It was a hell of a lot of fun and is well worth the ride.
Kaboom
is trippy, it's sassy and it's gutsy as all get out. Believe me, this is one crazy ride that you'll want to tell your friends about. See
Kaboom
.
DVD Extras:
No DVD Extras
Kaboom
is available on DVD as of May 31, 2011. Check it out over at
Amazon.ca
&
Amazon.com
Shannon's Overall View:
I loved it
I'll watch it again
I highly recommend it as a cheeky & wacky comedy
Return to Film Reviews
or see more
DVD Reviews
© Shannon Ridler, 2011
Thomas Dekker, Haley Bennett and Roxane Mesquida in KABOOM. Courtesy of eOne Films.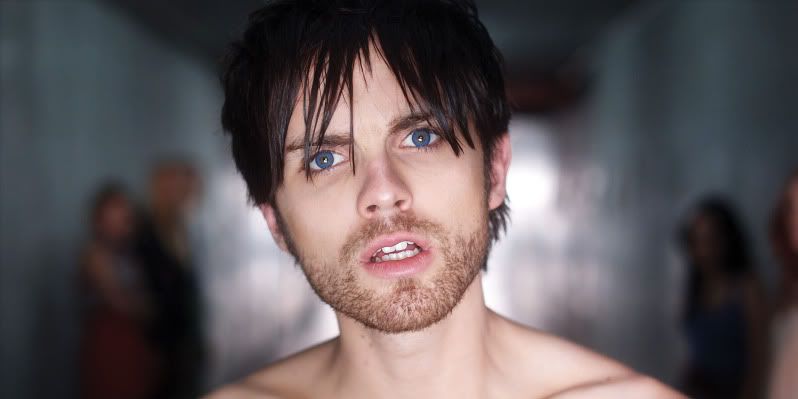 Thomas Dekker in KABOOM. Courtesy of eOne Films.