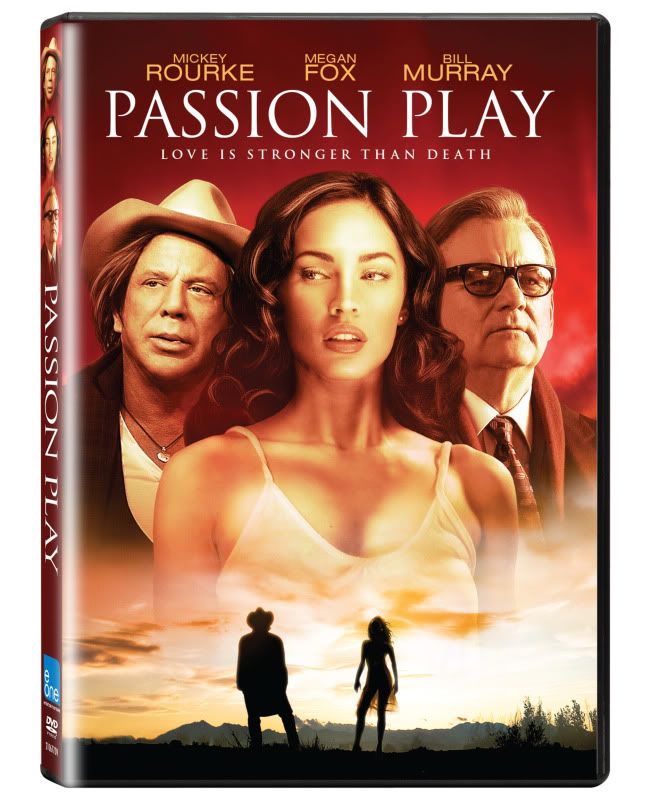 Image: Courtesy of eOne Films
Writer/Dir: Mitch Glazer - feature film directorial debut
Cast: Mickey Rourke, Megan Fox, Bill Murphy, Kelly Lynch, Rhys Ifans, Jerry Sawyers
USA
,
2011
Reason to see:
Western/carnival feel with possible supernaturalness (Megan Fox with wings!) was enough to hook me!
In
Passion Play
we follow Nate Pool (Mickey Rourke), a washed-up trumpet player that seems to be very close to the end of his luck until he stumbles across Lily (Megan Fox), a carnival worker with wings. Yes, wings. Ah... I love that. Speaking of love, is this what we see in Nate & Lily's eyes? Love or perhaps redemption? Or even just the possibility of escape. But escape from whom, or escape to what? Two lost and broken souls who the world has given a boatload of bad luck find each other, and possibly another chance.
I was very happily impressed with
Passion Play
. I dances the fine line of emotions and opportunity very well, and I loved the unconventional relationship between Nate & Lily. I loved the western-feel and the carnival stylings which balanced out the oppressive and ominous stories of the characters. The acting was across the board solid with not only Mickey Rourke and Megan Fox, as well as Bill Murray who plays the dark-but-often-funny gangster Happy Shannon.
I did find at times there felt like a few missing pieces in terms of the setting and the effects range from great to just okay, but there was always an air of otherness that made me think you are just suppose to go with it. It mostly felt like the real world, but every once in a while it made me wonder. And I like to wonder, so I did just go with it. As a relationship drama with a supernatural spin, I thought it was quite lovely and touching. I'm already looking forward to watching it again.
DVD Extras:
Passion Play
is available on DVD as of May 31, 2011. Check it out over at
Amazon.ca
&
Amazon.com
Shannon's Overall View:
I enjoyed much more than expected it
I'll watch it again
I'd recommend as relationship dramas with a supernatural flavour
Return to Film Reviews
or see more
DVD Reviews
© Shannon Ridler, 2011