Image: Courtesy of eOne Films.
Dir: Antoine Blossier - feature film directorial debut
Cast: Bérénice Bejo, Grégoire Colin, Isabelle Renauld, François Levantal, Joseph Malerba, Fred Ulysse
France
,
2010
Reason to see:
You had me at French Monster Movie
Set in the countryside and following an family in the pesticide business,
Prey/Proie
presents us with a lot to play with the the horror genre. From the mix of man vs nature to nature vs man and throws lots of human to human tension in the mix. It's pretty manly all around, but we also have a Claire (Bérénice Bejo) whose boyfriend is an easily not welcome in the male-heavy family and even though the romantic relationship feels strong there is still an unnerving disalignment when everyone is together. This gets pushed to the max with all the fellas head out to the forest to see if they can solve the mystery of the wildlife going a little too wild.
I really enjoyed the nature setting, human relationships and playing with the idea of consequences to actions that
Prey/Proie
really brought to the forefront. The tension swells pretty high and the editing was great, giving quite a heightened sense of emotions for the horror of the situation. I think I've been watching a lot of the more comedy/wacky monster films like
Sharktopus
and
Dinoshark
, because it took me a bit to adjust to the serious tone of
Prey/Proie
and well as the sensing the monsters through tension, tone and editing over seeing them all to much.
Although this was done very well and the film looked gorgeous, I did want to see a little bit more. With the serious nature of the monsters, human drama and moral issues this one ended up being quite different and darker than I expected. Still a nice addition to the monster horror mix, but more for the serious thriller/horror fans over the popcorn crowds.
DVD Extras:
No DVD Extras
Prey / Proie
is available on DVD as of May 31, 2011. Check it out over at
Amazon.ca
&
Amazon.com
Shannon's Overall View:
I wanted to enjoyed it more
I'll likely give it another shot
I'd recommend as a non-comedic monster film for thriller & horror fans
Return to Film Reviews
or see more
DVD Reviews
© Shannon Ridler, 2011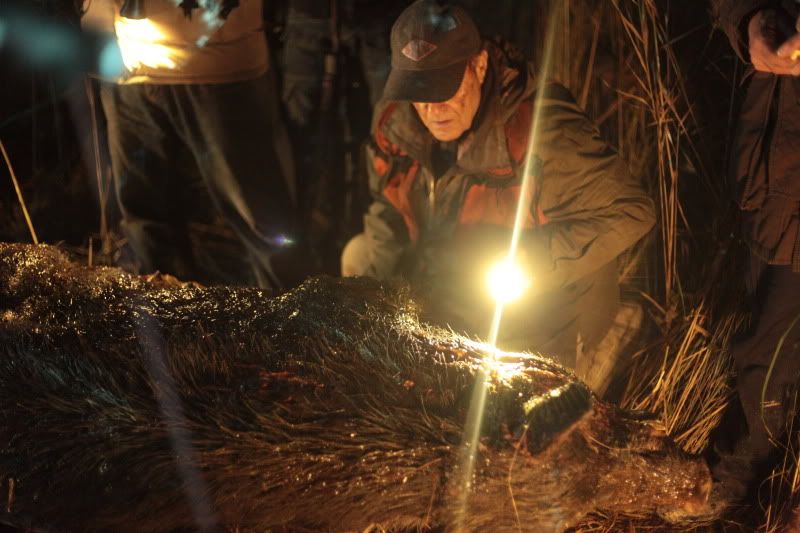 PREY. Courtesy of eOne Films.
François Levantal in PREY. Courtesy of eOne Films.