DVD Review of urban fantasy film Beastly, starring Alex Pettyfer and Vanessa Hudgens based on the book Beastly by Alex Flinn, a modern day a re-imagining of Beauty and the Beast.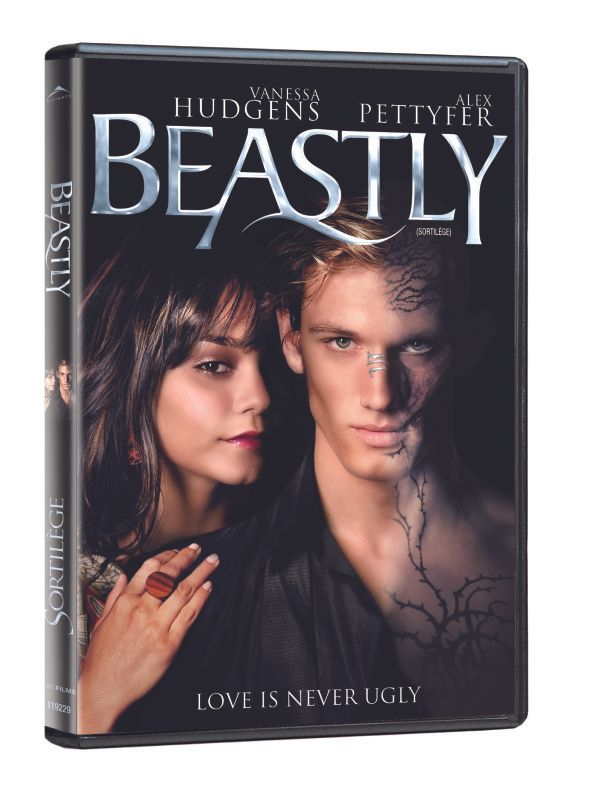 Image: Courtesy of Alliance Films
Legal Line © 2011 CBS Films Inc. All Rights Reserved. Distributed exclusively in Canada by Alliance Films. All Rights Reserved. © 2011 CBS Films Inc. Tous droits réservés. Distribué exclusivement au Canada par Alliance Vivafilm. Tous droits réservés.
Dir: Daniel Barnz (Phoebe in Wonderland)
Cast: Alex Pettyfer, Vanessa Hudgens, Mary-Kate Olsen, Neil Patrick Harris, Peter Krause, LisaGay Hamilton
USA
,
2011
Reason to see:
It was on my
Most Anticipated Films of 2010 List
(before it got shifted to 2011 release).
Based on the books
Beastly by Alex Flinn
, the film
Beastly
is a modern day a re-imagining of Beauty and the Beast following a high schooler who has everything Kyle (Alex Pettyfer of
I Am Number Four
) but miffs off the wrong girl and then he has to face the challenge of his own ugliness come to light.
I was a little leery when the release date of the film shifted from 2010 to 2011, and I remained leery going into the film but always hold out hope for seeing urban fantasy come to life on screen. The film certainly had it's challenge, the primary one of the story and film is the representation of 'ugly' in the context of vanity and social acceptance in contrast with love and inner beauty. Perhaps I'm showing my 90's club card when I say that the look of tribal tattoos and lack of hair is more unattractive than not, but the addition of scars that look like burns kind of creep every one out. Speaking of creepy, there is a very high creep factor in the films that does carry over from the book and original story involving entrapment that I think you just can't accept in the modern day. The blending of urban and fantasy was unfortunately not very successful, and although I could often buy into the fantasy of the transformation I never bought into the urban realities presented, especially anything involving city living, safety or general out and about behavior. The film also had huge pacing issues, which is tragic considering the story is so strongly centred in the passage of time and although I like how they threaded some of the time overall it felt unbalanced with certain moments coming to quickly and others having no sense of build up when that was desperately needed to gain potency over time.
There were a few unexpected surprizes of enjoyment in the film including performances from Mary Kate Olsen as Kendra and Neil Patrick Harris as the Kyle/Hunter's tutor, both of whom are involved in some witty dialogue that genuinely make me laugh. But with the logic issues and creep factor it overall was a bit of a painful watch. The biggest challenge when taking on this kind of transformation story it feels like the message is that it's all about what you do and who you are, but there still seems to that note of 'but also be attractive too'. Maybe that's intrinsic to the fantasy element of the film, but it just didn't sit right with me. Even with a sweet romance and good chemistry between Alex Pettyfer and Vanessa Hudgens at the heart of it, I wasn't feeling the logic behind the love, and I think you need that just as much.
DVD Extras:
2 Featurettes: A Classic Tale Retold: The Story of Beastly (10 minutes)

film clips and interviews with director/screenwriter Daniel Barnz, novelist Alex Flinn (author of Beastly), actors Alex Pettyfer, Vanessa Hudgens, Mary-Kate Olsen and Neil Patrick Harris, on the book, the message, the effect and focus on looks and vanity, the setting of starting in high school, the casting, the characters of Kyle, Lindy, Kendra & Will, symbolism, themes, the development of Hunter & Lindy relationship and seeing the beauty of life.

Creating the Perfect Beast (5 minutes)

concept designs, behind the scenes on filming and images of the process, film images, film clips and interviews with director/screenwriter Daniel Barnz, special make-up effects and prosthetics Tony Gardner, actor Alex Pettyfer & Vanessa Hudgens on the design of the beast, decisions and consideration of what would be considered ugly, the process of creating the look, the effect of being in the make up and a time delay of the 3 1/2 hour process of make up application

Alternate Ending (10 minutes)

Lengthy and quite a different feel this alternative ending takes, which manages to be more dark as well as kind of corny. It has some pretty cool effects and there were some things I like better, but I think they went with the right choice with the theatrical version. Maybe a combo of the two would have been perfect.

Deleted Scenes (3 scenes, 4 minutes)

combination of extended and deleted scenes, these actually have some quite nice moments in this selection of scenes several of which have Hunter waling around town and I actually think that most of these should have been kept in the film at least in part but there are a few moments that are way to familiar moments reminiscent of other films so I can see why they wouldn't be included.

"Be Mine" Music Video by Kristina & The Dolls (3 minutes)

Plus: Limited Edition Magnetic Picture Frame
Beastly
is available on DVD & BluRay as of June 28, 2011. Check it out over at
Amazon.ca (DVD)
&
Amazon.com (DVD)
Shannon's Overall View:
I was very disappointed by it
Oddly, I would watch it again
It's hard to recommend, only for die-hard fantasy/romance fans and/or fans of the book I think would get something from it
Return to Film Reviews
or see more
DVD Reviews
,
Beastly reviewed on the Movie Moxie Podcast
© Shannon Ridler, 2011
Vanessa Hudgens as Lindy and Alex Pettyfer as Kyle in BEASTLY, an Alliance Films release.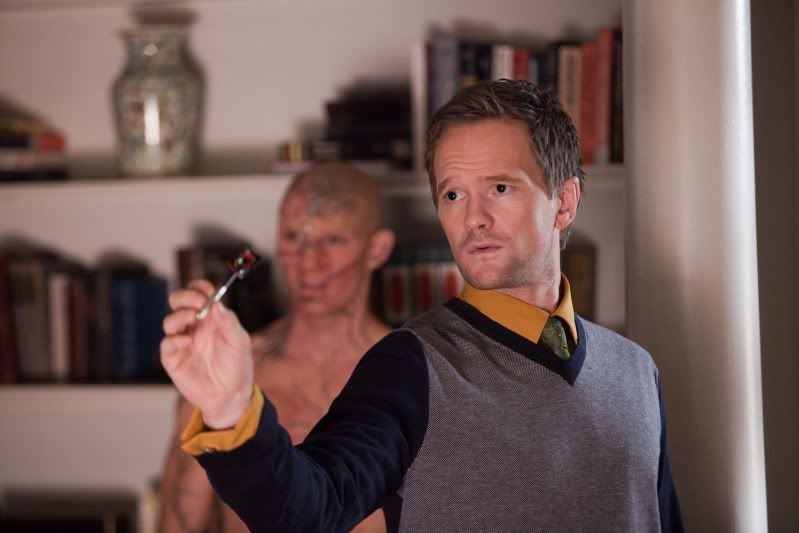 Alex Pettyfer (as Hunter) and Neil Patrick Harris (as Will) star in BEASTLY, an Alliance Films' release.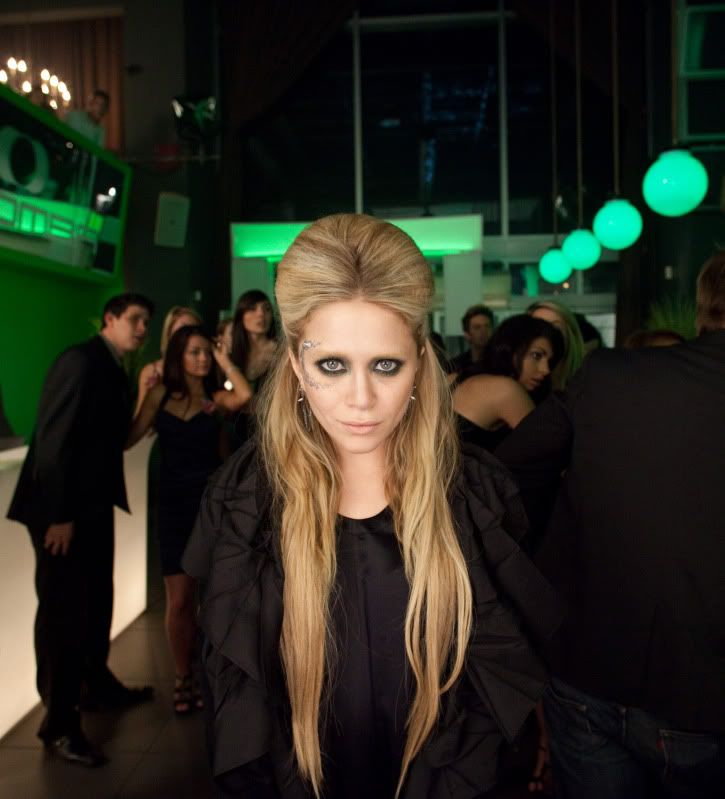 Mary-Kate Olsen stars as Kendra in BEASTLY, an Alliance Films' release.