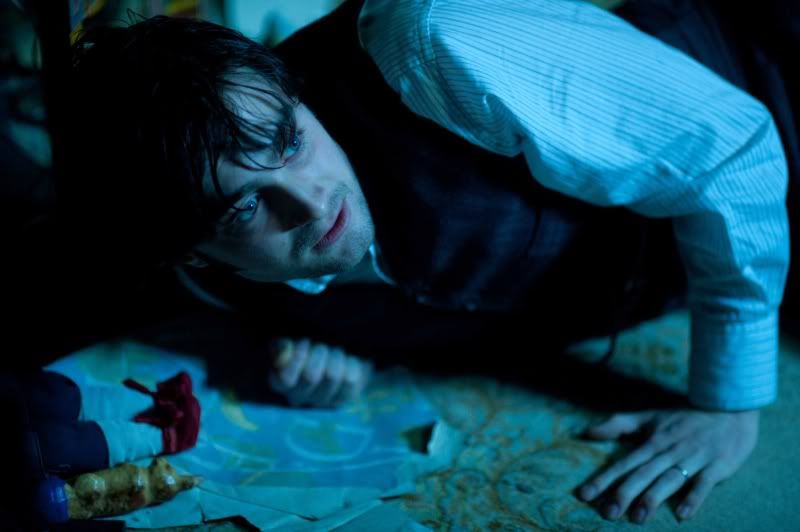 Image: Daniel Radcliffe in The Woman in Black
Book to Film Selection The Woman in Black: Image, Trailer & Release Date
I love this image release for the upcoming film
The Woman in Black
. The films is a supernatural thriller follows a young lawyer who goes to small town which has a menacing spectre and stars Daniel Radcliffe (
Harry Potter
series), Ciarán Hinds (
The Eclipse
) and Janet McTeer, directed by James Watkins (Eden Lake). The Woman in Black is part of the
Movie Moxie Book to Film Club
, and we will be reading the book by Susan Hill in the near future, and the film will be released on February 3, 2012. See more information about the film at the
Official Website
&
Facebook Fanpage
.
Woman in Black Official Teaser Trail:
Tinker, Tailor, Soldier, Spy
- Trailer Released!
Trailer popped up for this espionage story set during cold war and following George Smiley an intelligence expert pulled out semi-retirement. Film stars Gary Oldman, Tom Hardy, Colin Firth, Mark Strong, Ciarán Hinds (The Eclipse), directed by Tomas Alfredson (
Let the Right One In / Låt den rätte komma in
) and is based on the novel Tinker, Tailor, Soldier, Spy by John le Carré. This one almost made this years book to film club but we didn't hear a release date until very recently - too bad as it would have been great timing for it's November 18, 2011 (North American), September 16, 2011 (UK) releases.
More Book to Film Goodness Among New TIFF 2011 Titles
TIFF announced lots and lots of titles earlier
in the week from Cuban zombies to Japanese monster flick, but these book to film adaptations were the ones that popped out of the mix to me:
Wuthering Heights

from director Andrea Arnold (Red Road, Fish Tank) starring Kaya Scodelario and James Howson. I read the book last year and found it a challenge but I'm very curious to see the adaptation.

Killer Elite

, will have it's World Premiere at TIFF, it's an action flick starring Jason Statham, Clive Owen, Yvonne Strahovski, Robert De Niro and Dominic Purcell directed by Gary McKendr. The film is an adaptation of The Feather Men by Sir Ranulph Fiennes and is centred on assassinations of members of the SAS an there iscontroversy over the 'based on true events' aspect of the novel it is noted here as "based on a true story". Regular release date for The Killer Elite is September 23, 2011

The First Man,

an adaptation of Albert Camus' autobiographical novel with from director Gianni Amelio.
One Day in Theatres From August 19, 2011
And of course we have one of our August Book to Film Club Films in theatres this weekend with One Day. I've pulled together some questions to ponder for
book to film clubbers here
, and I'm still in pondering the film myself, mostly in how much I liked it and felt it kept true to the book. You can share your thoughts on it
here
.
Love Book to Film Adaptations?
It's never to late to join the
Book to Film Club
! We are currently reading
The Three Musketeers
by Alexandre Dumas and will be watching it next when it hits theatres in October 2011.
Our Fall reading & watching schedule will be announced this week.
Check back here or
sign up for updates here
.