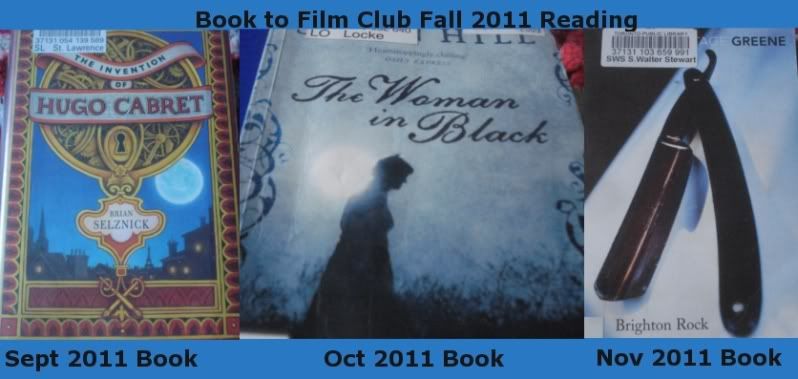 Time to share what we'll be reading for this Fall for the
Book to Film Club
! By process of elimination you've know the titles as they are the last three from the original list, but here is the reading order:
September 2011 Book: The Invention of Hugo Cabret by Brian Selznick
In anticipation for the film
Hugo
from director Martin Scorcese (Shutter Island, The Departed, Gangs of New York, Goodfellas). This is the only book to film where they've changed the title on us, but at least it's very recognizable transition. It's also a bit different as the book is a combination written & illustrated book and was inspired by "Georges Méliès, his surviving films, and his collection of mechanical, wind-up figures called automata. (
source
)". I hope the film keep sthat kind of feel! The film stars Asa Butterfield, Chloë Moretz, Michael Pitt, Jude Law, Ben Kingsley and Sacha Baron Cohen
Film Release Date: November 23, 2011
October 2011 Book: The Woman in Black by Susan Hill
A supernatural thriller followsing a young lawyer who goes to small town which has a menacing spectre. I can't wait for this one! Stars Daniel Radcliffe (
Harry Potter
series), Ciarán Hinds (
The Eclipse
) and Janet McTeer, directed by James Watkins (Eden Lake). I'm really excited because information (including stills & trailers) have started to be released and a North American release date has also been confirmed, this one was a bit of a gamble and looks like it will pay off - we'll read it in spooky October and have a few months to process before it hits the big screen.
Film Release Date: February 3, 2012
November 2011 Book: Brighton Rock - by Graham Greene
The book is a crime thriller set in the 1930's, and the film adaptation shifts the setting to the 60's. Film stars Sam Riley (Control,
Franklyn
), Andrea Riseborough, Andy Serkis, John Hurt and Helen Mirren and is directed by Rowan Joffe. I think I used up all my guessing luck on release dates with The Woman in Black as Brighton Rock continues to elude us, unless you are in New York & LA where it will open August 26, 2011.
Film Release Date:
Feb 4, 2011 (UK), Opens in New York & LA August 26, 2011. Still awaiting confirmation on wider North American release date.
And that rounds out the year for
Book to Film Club
as we'll take December off as intended, giving us a tally of 11 books read this year. Not all our books had their films come out on screen and some release dates were pushed to 2012, but I'm sure we'll keep our fingers crossed to see them on the big screen soon.
It's never to late to join the
Book to Film Club
! Feel free to join us at any time by hopping into this months read of
The Three Musketeers
by Alexandre Dumas or joining us in September with
The Invention of Hugo Cabret
by Brian Selznick. You are welcome at any time.
Sign up for updates here
.