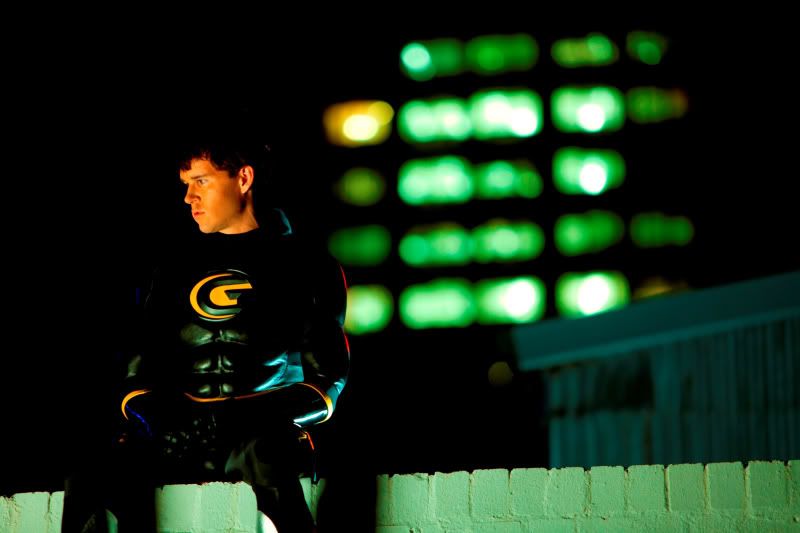 Writer/Dir: Leon Ford - feature film directorial debut
Cast: Ryan Kwanten, Maeve Dermody, Patrick Brammall, Toby Schmitz
Australia
,
2011
Reason to see:
I was really curious to see Ryan Kwanten ("True Blood") in a different role, especially a superhero.
Griff the Invisible
, follows Griff (played by Ryan Kwanten of "True Blood") a withdrawn customer service rep by day and flash neighbourhood protector by night, although he might annoy the neighbours as much as he works to protect them. Griff has a strong sense of justice and believes whole-heartedly in what he is doing and will go to extensive lengths to keep an eye one the neighbourhood and enhance his superhero prowess.
We've been seeing a lot of superhero movies recently, from big budget films like
Thor
to documentaries like
Superheroes
as well as fiction films where everyday folk take a stand like in
Kick-Ass
,
Defendor
and
Mirageman
. Is there room for more with
Griff the Invisible
? Yes. Yes, there is.
Griff the Invisible
takes a different tone and I want to say it stands out, but just like its protagonist Griff it eludes us to being something a little different that it (and he) appears. It's a human drama with a sweet emotional tone resonance that speaks to and for people that don't quite fit in. We see Griff handle this in different ways including resistance tolerance of badgering in the workplace to hiding in plain sight to taking on the baddies head to head while donning his superhero digs. But who really 'see's' Griff? Do his co-workers, family or even the people he saves 'see' him? Does the audience? And which Griff is the 'real' Griff? It presents us with really interesting and very sensitive questions to ponder alongside campy superhero references and quirky comedy between the characters.
What I really didn't expect from the film, and really appreciated was its sweetness. There is a wonderful openness that the characters create, even given the oddly of the situations which could easily be brushed off. There is also something very beautiful about the connections between the characters, and the hope in finding connections even against the odds and with oddball cards proudly on display. I was also really impressed with Ryan Kwanten's performance, whom I'd only previously seen in him "True Blood", and here he shows a great range here and I anticipate seeing much more from him in the future. I also enjoyed the performances from Patrick Brammall who plays Griff's straight-laced brother Tim and Maeve Dermody as the lovely and strange Melody.
Griff the Invisible
is a welcome addition to the superhero genre, providing a beautiful emotional tale, sweet romance and highlights the importance of being 'seen'. The hint of magical realism from a scientific perspective was icing on a cake that I was already completely enjoying. Well worth checking out.
Griff the Invisible
opens in Toronto, Ontario, Canada on August 19, 2011 and will open in Vancouver on September 9.
Shannon's Overall View:
I enjoyed it
I'll watch it again
I'd recommend it as a sweet natured superhero film, and to anyone who likes films about being a little bit different
Also see:
All 2011 Films Reviewed
and
All Film Reviews
© Shannon Ridler, 2011