DVD Review of the Disney coming of age film Prom starring Aimee Teegarden & Thomas McDonell.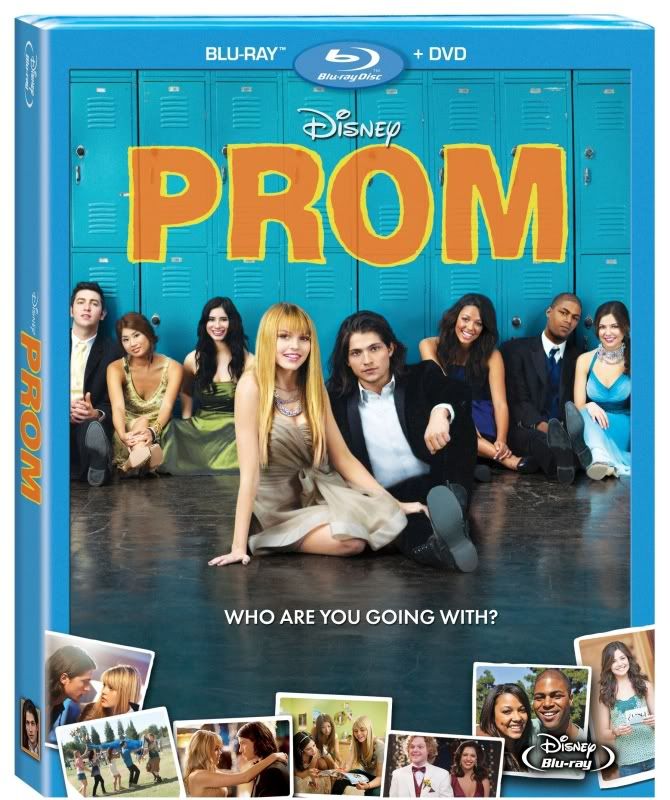 Dir: Joe Nussbaum (Sydney White)
Cast: Aimee Teegarden, Thomas McDonell, De'Vaughn Nixon, Danielle Campbell, Yin Chang, Kylie Bunbury, Nicholas Braun, Jared Kusnitz, Jonathan Keltz, Joe Adler
USA
,
2011
Reason to see:
Trailer easily piqued my interest
I've wanted to see
Prom
from the very first trailer I saw for it. It's hard to resist the teen drama angst, super sweet tone and the perpetual question of "Who will *you* go with?".
In the film we follow Nova Prescott (Aimee Teegarden) prom organizer extraordinaire, who is committed to giving the senior class the best, most important and last dance of the year. To do lists in hand and a trusty team of helpers, it looks like all is going according to plan. But life, nor prom, seems to ever go according to plan. Part of the non-plan comes into play with bad boy Jesse (Thomas McDonell), a very non-interested-in-prom guy gets roped into helping out with the grand event and of course him & Nova don't get along. Tensions mount as Prom gets closer and closer and we get closer and closer to understanding Nova and Jesse, and they to understanding each other.
Both Nova & Jesse are character with stories we are familiar with, but what I loved about the film is that it knows we are familiar with them and therefore can play with the type a little bit and get away with it. Don't get me wrong, it's not super out of the box and stays pretty risk-free but it does demonstrate the power of choice and the effect that choice has. The film does take the opportunity to get a little more out of the box while the supporting cast though, as we follow stories from eternally forever together couple Mei & Justin (played by Yin Chang & Jared Kusnitz), the popularity couple Tyler & Jordan (played by De'Vaughn Nixon & Kylie Bunbury), and a trio of sophomores including music obsessed best friends Lucas & Corey (played by Nolan Sotillo & Cameron Monaghan) and cutie Simone (Danielle Campbell) whose lives intertwine with senior prom goers in different ways. From them we experience a lot of romance drama, conflicting expectations and the tip of the iceberg of cascading decisions that they know will ripple over into the rest of their lives. And those are just the power-couples! Personally, I loved the polar opposite stories of Lloyd (Nicholas Braun) on the continual quest to find a prom date and the very relaxed Rolo (Joe Adler) whom isn't phased by all the hoopla around the prom takes everything in stride.
There is a huge emphasis on the lengths people will go to being asked, and it's sweet to see all the ways. I've always found the allure and emphasis on prom a bit elusive as here in Canada it's not as big a deal (and we call it the Formal), although any opportunity to get pretty and dance is something I support.
Prom
is heart warming and sweet, and even puts a toe forward onto some pretty safe but still new ground in terms of bucking the norm and getting out there. I had a blast watching it and could easily recommend it for pure smiles, laughs & all-around fun.
DVD Extras:
Putting on Prom Featurette (6 minutes)

film clips, interviews with producer Justin Springer, writer Katie Wech, director Joe Nussbaum and actors Yin Chang, Joe Adler, Nolan Sotillo, Nicholas Braun, Janelle Ortiz, De'Vaughn Nixon, Kylie Bunbury, Aimee Teegarden, Thomas McDonell, Raign Rodriguez, Danielle Campbell on the inspiration for the story, the characters, casting - especially the choice of going with mostly new actors, peoples experiences with prom, the effect, impact & importance of prom and working together on the film.

Bloopers (2 minutes)

really funny collection of bloopers from physical blunders to line screw ups to all around goofing around.
BluRay Extras:
All New Short: Last Chance Lloyd following the character of Lloyd (Nicholas Braun) on his quest to find a date
Bloopers
4 Deleted Scenes
Putting on Prom Featurette
7 Music Videos including Allstar Weekend—"Not Your Birthday", Neon Trees—"Your Surrender", Moon—"Time Stand", Nolan Sotillo—"We Could Be Anything" (English version), Nolan Sotillo—"Juntos Lo Haremos Bien" (Spanish version), Those Dancing Days—"I'll Be Yours" and Girl In A Coma—"Come On, Let's Go"
& more
Prom
is available on DVD as of August 30, 2011. Check it out over at
Amazon.ca
&
Amazon.com
Shannon's Overall View:
I enjoyed it
I'll happily watch it again
I'd recommend it to fans of high school set films & teen dramas
Return to Film Reviews
or see more
DVD Reviews
© Shannon Ridler, 2011