DVD review of the post apocalyptic vampire film Stake Land from director Jim Mickle (Mulberry Street), starring Nick Damici, Connor Paolo, Kelly McGillis, Danielle Harris and Michael Cerveris.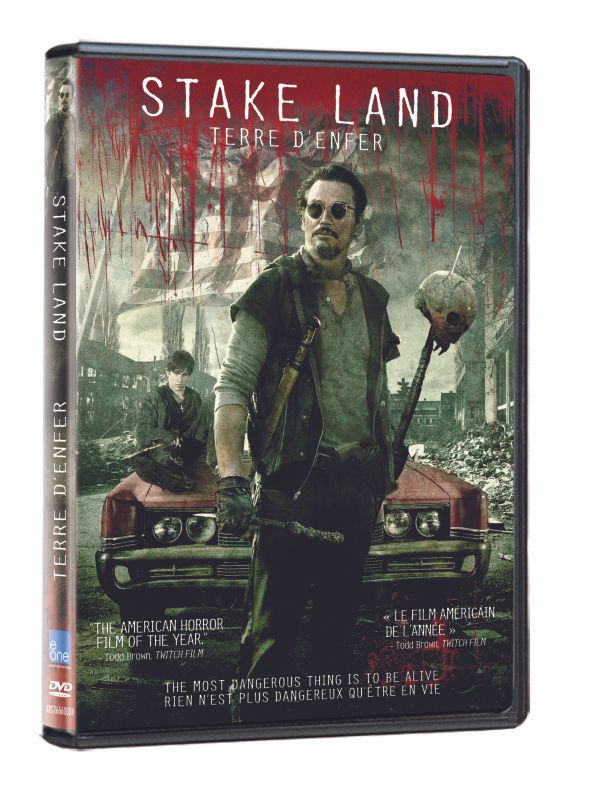 Image Courtesy of eOne Films
Dir: Jim Mickle (
Mulberry Street
)
Cast: Nick Damici, Connor Paolo, Kelly McGillis, Danielle Harris, Michael Cerveris, Sean Nelson
USA
,
2011
Reason to see:
I loved
Mulberry Street
from director Jim Mickle
I was super excited to finally see
Stake Land
after missing it at the Toronto International Film Festival in 2010. A post apocalyptic vampire film from Jim Mickle who brought us Mulberry Street (the first film I ever saw at Toronto After Dark back in 2007), I was hooked, and seeing that co-writer & lead actor Nick Damici was also involved the excitement grew even more.
Painting a dark picture in a post apocalyptic world, or really actually feels like the during the moments of creation of apocalypse with barren lands and hardened survivors whose guards are up so often it's hard to see who or what they were before, we follow Mister (Nick Damici) and young Martin (Connor Paolo), an unlikely duo who fight their way though lands now populated with vampire. Although the vampires aren't your everyday vamps, and the film is more survivalist that post-apocalyptic, it feels a little like
The Road
meets
The Walking Dead
especially given that the initial concept was to be a web series, although to be fair
The Walking Dead TV series
came after and I didn't pick out the episode paces until listening to the DVD commentaries.
I wanted to like it more, a lot more. It's a good film with an interesting concept, great characters and amazing effects, but it so very male. Not so much that I couldn't enjoy it or that I felt excluded, but enough so that I couldn't really get into it. I did love the haunting score and the fabulous art director, effects and weaponry and could appreciate the mentor-like relationship between Mister and Martin. I loved the careful building of Martin's character which I think is the heart of the film as it creates an amazingly gradual coming of age story in a post apocalyptic context, which is brilliant and easily the reason I can feel the resonance of the film with many of my male friends.
I enjoyed listening to (both) commentaries that accompany the 2-Disc Special Edition, and you can really feel the heart and soul that went into the film and really translates to the screen. It's a treat to get to see a full scale view and insight into the creative process and hear a team that obviously works very well together. It's amazing how much was shot in outdoor locations and looks so good, plus the art direction and ingenuity really shine though. I just wish I had gotten more into the story.
DVD Extras on 2 Disc Special Edition:
Disc One: Film plus Two Feature Commentaries
Commentary 1 with writer/director Jim Mickle, writer/actor Nick Damici, actor Connor Paolo, producer/actor Larry Fessender and producer Brent Kunkle

discussing how the team and film came together, how it was initially started as a series of webisodes and the shifted to become a film, difference between the original concepts and finished piece including scene order, shooting on location, casting and long term commitment required by the cast to make the film happen, shout out to crew how serve as extras and smaller roles throughout the film, organic changes that happened out of chance along the way and how several of the effects & action sequences are done.

Commentary 2 with writer/director Jim Mickle, producers Peter Phok & Adam Folk, director of photography Ryan Samul, sound designer Grapham Reznick and composer Jeff Grace

with lots of location discussion as well as shout out to supporting cast/re-occuring crew and discussing their previous works, notations on connections of people who also worked on Mulberry Street, discussion the sound and score including the order in which things came together, how particular shots, effects and props were creative, decisions and influences on the score. I really enjoyed listening to this one, it's a really relaxed and conversational commentary.
Disc Two Special Features:
Going For The Throat: Making Of Stake Land (61 minutes)

behind the scenes from production start in 2009 with Jim Mickle, actor/writer Nick Damini, actor Connor Paolo, producer Adam Folk, and the crew creating, prepping, filming and reacting to many of the exterior shots, including some fight sequences, makeup heavy and stunt scenes, relaxing on set plus interviews with writer/director Jim Mickle, producer Larry Fessenden, writer/actor Nick Damici, actor Connor Paolo, on how the project started as webisodes and how it changed to aligned to have stronger social significance and the departure and difference of Stake Land to current climate vampire films (40 minutes from first 1/2 of shoot, and 20 minutes from second half of shoot).

Production Video Diaries (5 sections, 48 minutes)

includes pre-production (15 minutes) interesting format here to tell the story from idea to initial pitch, teasers, promo teasers, VFX tests, screen tests, finding locations, props and emails upon emails or script; storyboards (3 minutes) side by side comparison of storyboards to actual film footage with voiceover by director Jim Mickle; visual FX (2 minutes) step by step creation of several visual effects; post-production (4 minutes) music composition from creation to alongside finished film, voice overs and re-recording mixing; Toronto Film Festival World Premiere and Q&A including interviews with actor Connor Paolo & producer Larry Fessenden interviewed by Robert Mitchell and Q&A with director Jim Mickle and cast including Nick Damici, Connor Paolo, producer Larry Fessenden (24 minutes) at Midnight Madness.

Character Prequels (34 minutes)

for Origins, Sister, Jebediah, Willie, Belle, Martin & Mister. These are really cool additions that feature what looks like exclusively additional footage to provide insight into the characters and what made them become who they are as we see them in the film.
Stake Land
is available on DVD as of August 2, 2011. Check it out over at
Amazon.ca
&
Amazon.com
Shannon's Overall View:
I enjoyed it, but wanted to love it
I'll watch it again
I'd recommend it to for fans of dark drama/horror and male coming of age stories.
Return to Film Reviews
or see more
DVD Reviews
© Shannon Ridler, 2011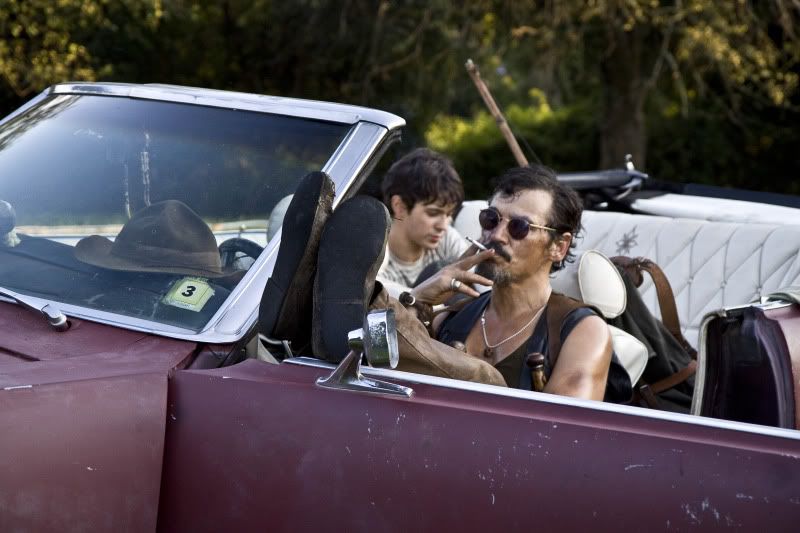 Connor Paolo and Nick Damici in STAKE LAND. Courtesy of eOne Films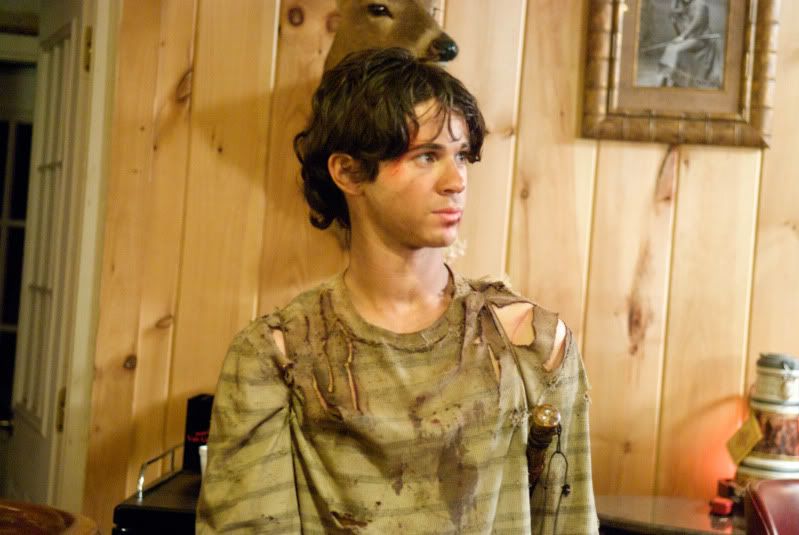 Connor Paolo in STAKE LAND. Courtesy of eOne Films.