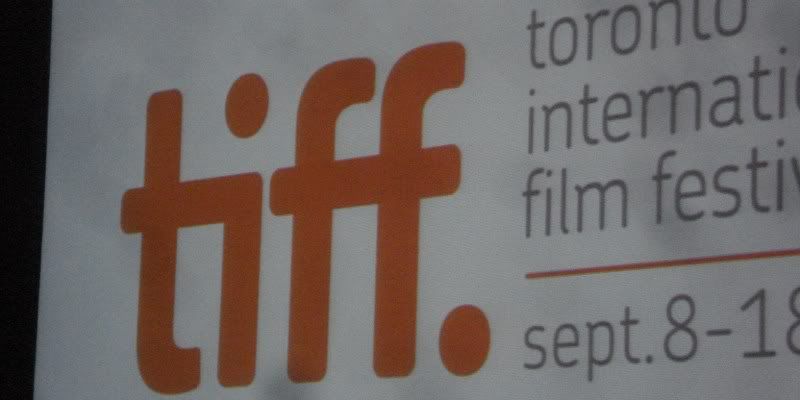 Today we are treated to more titles added to the 2011
Toronto International Film Festival
, with a hearty & healthy dose of Canadian Film from the strange & bizarre to historical & documentary. Announced features include additions to many of the festival programs including 1 Gala title, 8 Special Presentations titles, 4 Contemporary World Cinema titles, 1 Masters titles, 2 Real to Reel titles, 2 Vanguard titles, 7 Canada First! titles and the Canada Open Vault selection for the year.
One rockin' pairing for this year starts at going back in time with the Canada Open Vault selection of Bruce McDonald's
Hard Core Logo
which matches perfectly with Masters selection
Hard Core Logo II

.
Man. That's going to rock. Literally. Love Bruce McDonald's films and seeing
Pontypool
at TIFF a few years back was a huge highlight. I'm also thrilled to see a new work for one of my favourite directors, Guy Maddin (
My Winnipeg
,
Brand Upon the Brain!
), with the film
Keyhole
in the Special Presentations program described as a "a rousing gangsters-meet-ghosts sonata". Ah, only Guy Maddin would do something so strange and bizarre, I can't wait to see it. Keeping it spooky we have a few supernatural themed films including Paul Dylan Akio Smith and Kris Elgstrand's
Doppelgänger
in the Vanguard programme, kudos go out to delving into a very underused, but still freaky, supernatural theme. We also have
The Moth Diaries
from director
Mary Harron in the Special Presentation category and it's a film I keep hearing rustlings about but I don't want to know too much, it sounds creepy and stars Lily Cole and Scott Speedman, which is more than enough for me to be interested.
More exciting titles including Ingrid Veninger's
i am a good person/ i am a bad person

,
and I've been a fan of her beautifully naturalistic work featuring compelling characters from
Only
to
Modra
, and I can only imagine that were in for more of that here. Documentary fans will be intrigued by Léa Pool's new doc
Pink Ribbons, Inc
looking at where the money goes for 'the cure' of breast cancer (inspired by the book Pink Ribbons Inc.: Breast Cancer and the Politics of Philanthropy by Dr. Samantha King).
Plus, we have the entire
Canada First!
program featuring 7 titles from new Canadian filmmakers featuring films from Ontario, Quebec & BC. I love checking out films from the
Canada First!
programme as you may find filmmakers you love right from their very first film. That happened to me at TIFF back in 2007, after seeing both Denis Côte's
Nos vies privées / Our Private Lives
and Rafaël Ouellet's
Le Cèdre penché I knew I'd be hooked to their work, and I have been ever since. Who will hook you this year?
New Canadian Features Titles added to the 2011 Toronto International Film Festival
Galas
Starbuck
Dir: Ken Scott, Canada
North American Premiere
Just when David Wosniak (Patrick Huard) decides to finally take control of his life, this eternal 42-year-old teenager discovers that he's the biological father of 533 children. Suddenly, his life is much more complicated than he anticipated. Also starring Antoine Bertrand, Julie le Breton.
Special Presentations
Afghan Luke
Dir: Mike Clattenburg, Canada
North American Premiere
Disheartened when his story about Canadian snipers possibly mutilating corpses in Afghanistan is buried, Luke (Nick Stahl) quits his job but is even more determined to return to Afghanistan to get the real story. Starring Nicolas Wright, Stephen Lobo, Vik Sahay and Steve Cochrane.
Breakaway
Dir: Robert Lieberman, Canada
World Premiere
Breakaway is a cross-cultural hockey drama set in the Indo-Canadian community in suburban Toronto, Canada. It"s also a keenly observed cross-cultural drama with a hero caught between a family"s traditional expectations and a dream to make it big in the national sport of an adopted country. Breakaway is a fun, action-filled sports comedy bringing a dash of Bollywood entertainment to Canada"s favourite sport. Starring Vinay Virmani, Russell Peters, Anupam Kher, Gurpreet Singh Ghuggi, Sakina Jaffrey, Noureen Dewulf, Rob Lowe, Camilla Belle and Akshay Kumar.
Café de Flore
Dir: Jean-Marc Vallée
North American Premiere
Café de Flore is first and foremost an epic love story between a man and woman. And between a mother and her son. Two people from two different eras who live two extraordinary moments of passion that shake their lives. A mystical and supernatural odyssey on love, starring Vanessa Paradis.
Edwin Boyd
Dir: Nathan Morlando, Canada
World Premiere
Based on a true story, WWII vet and family-man-turned-bank-robber Eddie Boyd is torn between the need to provide for his family and an unfulfilled Hollywood dream. He starts robbing banks to satisfy both, but Eddie"s dream for stardom leads him down a path of danger and tragedy. Starring Scott Speedman, Kevin Durand, Kelly Reilly, Joseph Cross, Brendan Fletcher, Charlotte Sullivan and Brian Cox.
Goon
Dir: Michael Dowse, Canada
World Premiere
Goon is the story of Doug Glatt, a down-on-his-luck bouncer, who"s been touched by the fist of God. Upon discovering both his right hook and skates, he joins a hockey team destined for the cellar and inspires them into the playoffs. Starring Seann William Scott, Jay Baruchel, Liev Schreiber, Alison Pill, Marc Andre Grodin and Eugene Levy.
Keyhole
Dir: Guy Maddin, Canada
World Premiere
Keyhole is a rousing gangsters-meet-ghosts sonata in which dream and waking life are deliriously blended to arouse the eerie lusts and sadness that can slumber in an old home – in every home. Starring Jason Patric, Isabella Rossellini, Udo Kier, Louis Negin and Brooke Palsson.
Monsieur Lazhar
Dir: Philippe Falardeau, Canada
North American Premiere
Bachir Lazhar, an Algerian immigrant, is hired to replace an elementary school teacher who died tragically. While the class goes through a long healing process, nobody in the school is aware of Bachir's painful former life. Starring Fellag, Sophie Nelisse, Emilien Neron, Danielle Proulx and Brigitte Poupart.
The Moth Diaries
Dir: Mary Harron, Canada/Ireland
North American Premiere
Rebecca, haunted by her father's suicide, begins her junior year at an elite all-girls' boarding school, hoping for a fresh start. Her friendship with sunny Lucy is shattered by the arrival of Ernessa, a mysterious girl. As Ernessa consumes more of Lucy's attention, the latter"s body grows pale, thin and weak. Starring Lily Cole, Sarah Gadon, Sarah Bolger, Judy Parfitt and Scott Speedman.
Contemporary World Cinema
388 Arletta Avenue
Dir: Randall Cole, Canada
World Premiere
Seen entirely from the point of view of hand-held and surveillance cameras, 388 Arletta Avenue tells the story of a couple, Nick Stahl and Mia Kirshner, who do not realize they are being watched. The watching becomes a subtle manipulation which ultimately escalates into a deadly cat-and-mouse game.
Billy Bishop Goes to War
Dir: Barbara Willis-Sweete, Canada
World Premiere
In Billy Bishop Goes to War acting legend Eric Peterson and award-winning writer/composer John Gray reprise their iconic two-man play that has captivated audiences for three decades. Through raucous stories, haunting memories, and vibrant song, an aged Bishop (Peterson) recounts the triumphs and horrors of "the war to end all wars.
I'm Yours
Dir: Leonard Farlinger, Canada
World Premiere
I'm Yours, a sexy and irreverent two-hander, sees disillusioned Wall Street broker, Robert, kidnapped and blackmailed into taking a road trip with hot and free-spirited Daphne. A thought-provoking romantic comedy about two lost souls who learn what love ultimately means as the world around them comes undone. Starring Rossif Sutherland, Karine Vanasse.
Sisters&Brothers
Dir: Carl Bessai, Canada
World Premiere
A comedic exploration of the lives of four intersecting sister and brother relationships. A hard-done-by "entrepreneur" corrals a young girl and her sister into a trip to Los Angeles to chase the acting dream. A schizophrenic man and his pro-bono lawyer who lives in the woods cause problems with his sister. Starring Dustin Milligan, Amanda Crew, Cory Monteith, Gabrielle Miller and Kacey Rohl.
Masters
Hard Core Logo II
Dir: Bruce McDonald, Canada
Toronto Premiere
Fifteen years have passed since Bruce McDonald completed his infamous documentary that chronicled the demise of the punk rock outfit Hard Core Logo and captured lead singer Joe Dick"s on-camera suicide. Reluctantly, Bruce finds himself following the band Die Mannequin to a recording studio in a remote town after hearing that band leader Care Failure has claimed to be channelling the spirit of Joe Dick. As increasingly bizarre events unfold, Bruce tries desperately to connect with Care in the hopes of saving the young rock star from the same tragic fate as Joe. Starring Bruce McDonald, Care Failure, Julian Richings and Paul Shull.
Real to Reel
Pink Ribbons, Inc
Dir: Léa Pool, Canada
World Premiere
Every year, hundreds of thousands of people walk, run and shop for "the cure." Millions of dollars are raised in the name of breast cancer, but where does all the money go, and what is actually achieved? Award-winning Quebec filmmaker Léa Pool directs Pink Ribbons, Inc. which examines what many have called the "dream case" of cause-related marketing. Inspired by Dr. Samantha King's book "Pink Ribbons Inc.: Breast Cancer and the Politics of Philanthropy," the film juxtaposes footage from some of the biggest fundraising walks and runs in North America with uncompromising interviews.
Surviving Progress
Dir: Mathieu Roy and Harold Crooks, Canada
World Premiere
Ronald Wright'ss bestseller A Short History Of Progress inspired this cinematic requiem to progress-as-usual. Throughout human history, what seemed like progress often backfired. Some of the world's foremost thinkers, activists, financiers and scientists challenge us to overcome "progress traps," which destroyed past civilizations and lie treacherously embedded in our own.
Vanguard
Doppelgänger
Dirs: Paul Dylan Akio Smith and Kris Elgstrand, Canada
World Premiere
Following a near-death experience, Karl comes to believe that Paul is his doppelgänger. When Karl finally reveals himself to Paul, a unique and troubled relationship begins to form, a relationship that is severely tested when Karl grants Paul the privilege of reading his 20,000 page manuscript, A Book About How Much I Hate Myself. When Karl'ss book is published 17 months later in a vastly edited version credited to two other authors/doppelgängers, Karl and Paul hit the road to confront the plagiarists but end up confronting themselves instead. Starring Tygh Runyan, Brad Dryborough, Ben Cotton and Matty Finochio.
i am a good person/ i am a bad person
Dir: Ingrid Veninger, Canada
World Premiere
A mother and daughter duo, suddenly without each other as guides for their good or bad decisions, must confront their life changes alone, before returning home. Starring Hallie Switzer, Ingrid Veninger, Jacob Switzer, Mathieu Chesneau, Suzana Mikytova and Simon Reynolds.
Canadian Open Vault
Hard Core Logo
Dir: Bruce McDonald, Canada
Bruce McDonald's classic film is being re-struck in conjunction with the monograph on the film, co-published by the University of Toronto Press and TIFF.
Canada First! Programme
Wetlands /Marécages **Opening Night Canada First! Selection**
Dir: Guy Édoin, QC
North American Premiere
On a dairy farm in the Eastern Townships, in the middle of a drought, an accident will disrupt the life of the Santerre family. Forced to band together like never before, they will have to learn to forgive. Starring Pascale Bussières, Luc Picard, François Papineau and Gabriel Maillé.
Amy George
Dir: Yonah Lewis and Calvin Thomas, ON
Canadian Premiere
Thirteen-year-old Jesse wants to be an artist, but believes that his mundane middle class Toronto life has left him unprepared. After reading a book on what it takes to be a "true artist," he sets out looking for risk, ecstasy, wildness and women.
Leave It On The Floor
Dir: Sheldon Larry, ON
Canadian Premiere
This indie-narrative musical is set in the drag-ball community memorialized in the documentary Paris Is Burning. With 11 original songs by Beyoncé"s musical director Kim Burse and choreography by Beyoncé choreographer and "Mr. Single Ladies" Frank Gatson Jr., the film tells the story of a young African American thrown out by his narcissistic mother for being gay. He stumbles upon a competitive drag ball organized by runaways and throwaways where he ultimately finds a new home and family.
Nuit #1
Dir: Anne Émond, QC
World Premiere
Clara and Nikolaï meet at a rave. They return to Nicolaï"s apartment and make love. Afterwards, instead of parting, the two lovers divulge their deepest secrets to one another. Nicolaï is a beautiful loser. At the age of 31, he leads a simple and frugal life. He envisions big projects and has large ideas but, inevitably and despite himself, loses sight of them before they are realized. Clara, like Nikolaï, seems not to be made for this world. By day, she works as a Grade 3 school teacher; by night, she is a compulsive party-girl, sleeping with men, women or both at once. Starring Catherine De Léan and Dimitri Storoge.
The Odds
Dir: Simon Davidson, BC
World Premiere
In The Odds, a murder mystery set in the world of illegal teenage gambling, 17-year-old Desson Orr must find his best friend"s killer before the game is exposed.
The Patron Saints
Dir: Brian M. Cassidy, Melanie Shatzky, QC
World Premiere
The Patron Saints is a disquieting and hyper-realistic glimpse into life at a nursing home. Bound by the candid confessions of a recently disabled resident, the film weaves haunting images, scenes and stories from within the institution walls. Sidestepping conventional documentary methods for a heightened cinematic approach to storytelling, the film employs lyrical realism and black humour in its charged portrait of fading bodies and minds.
Romeo Eleven /Roméo Onze
Dir: Ivan Grbovic, QC
North American Premiere
Romeo Eleven is the intimate portrait of a shy young man looking for love in all the wrong places. A path of lies slowly catches up to him before leading the audience to a surprising and moving conclusion.
The
Toronto International Film Festival 2011
runs from September 8 - 18, 2011 in Toronto, Ontario, Canada.