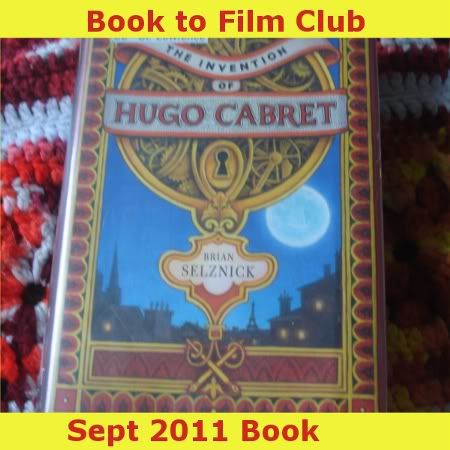 Movie Moxie Book to Film Club
September Selection: The Invention of Hugo Cabret by Brian Selznick
If you were leery last month about the tomb size of
The Three Musketeers
than don't get freaked out about the size of
The Invention of Hugo Cabret
. I'm actually quite looking forward to it's unique combination of illustration and text and am very curious to see how long it will take to read ... or look at. I think the first words appear not until around the 50 page mark. The book is a historically set fiction novel inspired by "Georges Méliès, his surviving films, and his collection of mechanical, wind-up figures called automata. (
source
)".
This is the only book for the
Book to Film Club
with a title change from book to the film, which is titled simply Hugo, but at least it's very recognizable transition. The film stars Asa Butterfield, Chloë Moretz, Michael Pitt, Jude Law, Ben Kingsley and Sacha Baron Cohen and is director Martin Scorcese (Shutter Island, The Departed, Gangs of New York, Goodfellas). See the
trailer here
.
Film Release Date: November 23, 2011
We are in the home stretch for the 2011 Edition of the
Movie Moxie Book to Film Club
, but it's never to late to join. This fall along with
The Invention of Hugo Cabret
we are also reading
The Woman in Black
&
Brighton Rock
and you are welcome at any time.
Sign up for updates here
.