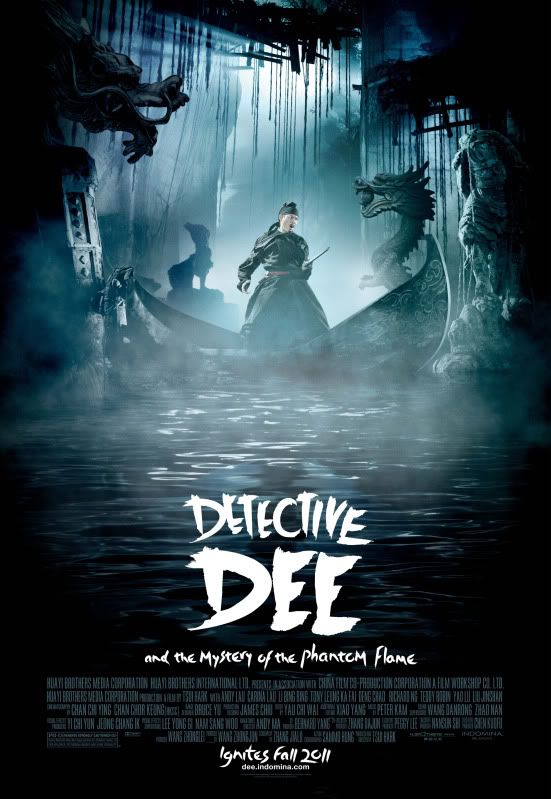 Dir: Tsui Hark (Once Upon a Time in China film series, Seven Swords)
Cast: Andy Lau, Bingbing Li, Carina Lau, Tony Leung Ka-fai
China
/
Hong Kong
,
2011
Reason to see:
Sounded like a totally cool Sherlock Holmes spin on historical martial arts film
I was totally psyched to see this mystery/Martial arts flick set during the reign of China's first female Emperor Wu Zetian and based on and actual person: Di Renjie (Detective Dee), a minister of state who was known for his ability to solve the complicated cases through knowledge of science and human nature plus a mastery of martial arts.
Detective Dee and the Mystery of the Phantom Flame / Di Renjie
stars Andy Lau (Infernal Affairs,
The Warlords / Tau ming chong
) as Detective Dee, who is recruited by Empress Wu Zetian (Carina Lau) to solve an very unusual case during the time leading up to her coronation. As it's a time of political transition there are eyes set on many as the culprit of the bizarre case that they show seen through different perspectives of forensics, to folk lore & superstitions. I loved how it showed the different perspectives and tones, because it alleviated my only concern about the film: that it would feel like CSI but during the Tang Dynasty. Thankfully, not so. It brings in the forensic investigational spirit but also has a great sense of adventure and an espionage paranoia element that piled all together in a mystery story makes for intensely engaging entertainment. The historical setting during the Tang Dynasty (618 - 907 AD) and around an Empress' coronation allows for a multitude of lush settings and events that are gorgeous to look at. Plus: action, because we can't leave out that aspect of a historical Asian film! It's the high flying, creative thinking and with flourishes action which completely aligns to the tone of the film. I was really impressed with how the film brings this all together without feeling overwhelming but rather always takes it to the right heightened level. I would have loved to see more of Empress Wu, and maybe we'll get more about her in future films.
A great story and a true mystery,
Detective Dee and the Mystery of the Phantom Flame / Di Renjie
delivers on many fronts from it's gorgeous look to compelling characters. I'd strongly recommend it to any fan of historical action films, and anyone who loves a good mystery and even those who like to delve in the supernatural. Pure entertainment value on so many levels, and a truly enjoyable film.
Detective Dee and the Mystery of the Phantom Flame / Di Renjie
opens in Toronto & Vancouver on September 23, 2011 and plays at the
Dark Bridges Film Festival
in Saskatoon on
Sunday October 2, 2011
Shannon's Overall View:
I enjoyed it
I'll watch it again
I strongly recommend it to fans of historical martial arts films
Also see:
All 2011 Films Reviewed
and
All Film Reviews
© Shannon Ridler, 2011
Andy Lau as Detective Dee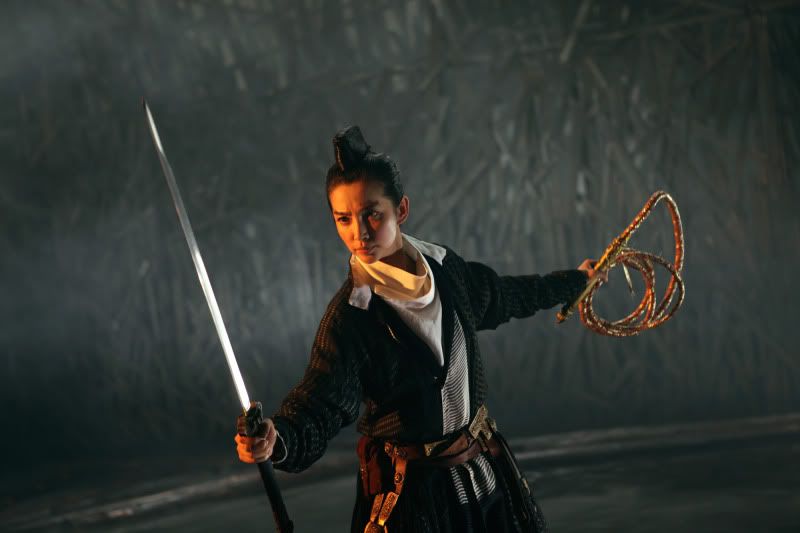 Li Bingbing as Shangguan Jing'er in
Detective Dee and the Mystery of the Phantom Flame / Di Renjie