DVD Review of the delightful film Frisson des Collines set in 1969 Quebec following a young boy determined to get to Woodstock.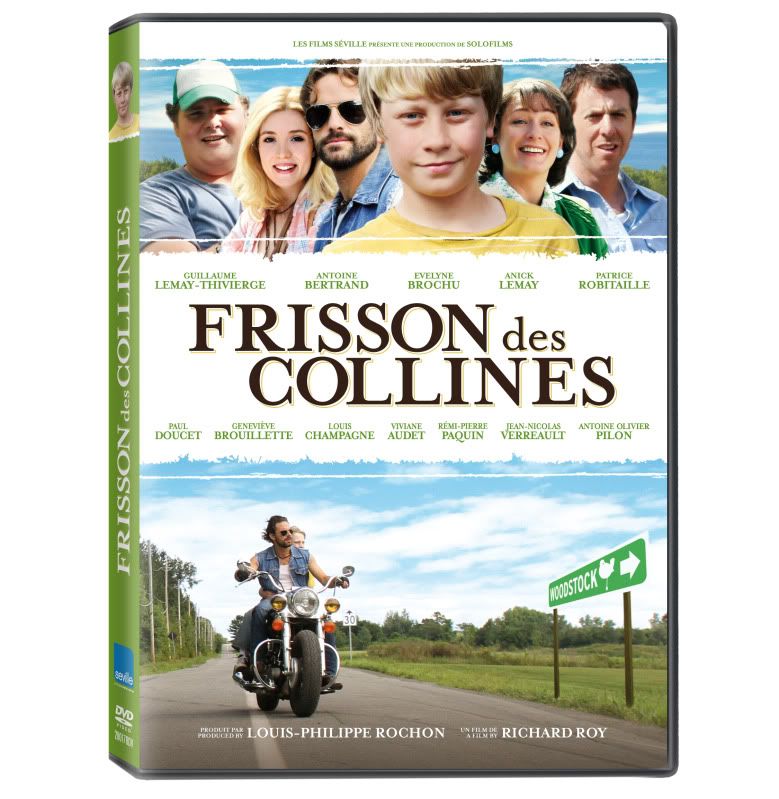 Image Courtesy of eOne Films
Dir: Richard Roy (Café Olé)
Cast: Antoine Pilon, Guillaume Lemay-Thivierge, Antoine Bertrand, Evelyne Brochu, AAnick Lemay, Patrice Robitaille, Paul Doucet, Geneviève Brouillette, Louis Champagne, Viviane Audet, Rémi-Pierre Paquin, Jean-Nicolas Verreault
Canada
,
2011
Reason to see:
It looked absolutely delightful and I always try and check out French Canadian films
Frisson des Collines
is a lovingly nostalgic film set in 1969 Quebec in the time leading up to Woodstock, a preteen boy Frisson (Antoine Pilon) dreams of attending the festival and meeting Jimi Hendrix. I do adore films set in this time and at this age, and even though it's before time I think there is something beautiful about the simple complexities of filling the summer days and a time of young coming of age. From bike rides and troublemaking on many levels, there is a beautiful free spirit nature to the time and the character, even though there is some pairing of hardships alongside the friendships and fun times.
I loved the friendships & relationships that Frisson creates and cultivates in the film, which range from school kids his own age to the adults be they locals or new to town. He has a generous openness alongside kindness and curiosity that seems to draw people in, and there is a beautiful sweetness to it even if we know he's continually attempting time and time again to find a way, anyway, to get to Woodstock. It's always a treat to see a young actor take the lead and hold a film, and Antoine Pilon really does that here. The supporting cast is fantastic as well, I particularly enjoyed the performances by Guillaume Lemay-Thivierge as Tom Faucher the local laid back lighter-upper and Evelyne Brochu as Hélène Paradis, the new teacher in town.
A truly charming film that steps bravely into optimism and liveliness even when things are looking down. It was a pleasure to escape into Frisson life and see the world from his perspective, especially as the film treated both the kids adventures and the adults happenings with the same emotional weight, relevance and importance. It takes fine tuned finessing to pull that off in a believable way, and it does it with ease. A real treat.
DVD Extras:
Frisson des Collines
is available on DVD as of September 27, 2011. Check it out over at
Anazon.ca
Shannon's Overall View:
I loved it
I'll watch it again
I widely recommend it
Return to Film Reviews
or see more
DVD Reviews
© Shannon Ridler, 2011