DVD Review of Hanna, action/thriller starring Saoirse Ronan, Eric Bana & Cate Blanchett; directed by Joe Wright.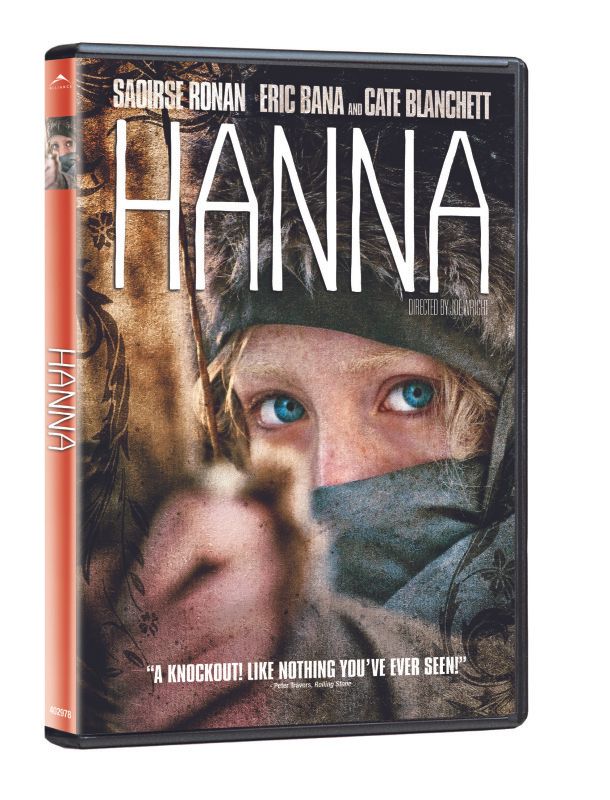 Image Courtesy of Alliance Film
Legal Line © 2010 Focus Features LLC. All Rights Reserved. Distributed exclusively in Canada by Alliance Films. All Rights Reserved. © 2010 Focus Features LLC. Tous droits réservés. Distribué exclusivement au Canada par Alliance Vivafilm. Tous droits réservés.
Dir: Joe Wright (Atonement)
Cast: Saoirse Ronan, Eric Bana, Cate Blanchett, Jessica Barden, Tom Hollander, Olivia Williams, Jason Flemyng, Vicky Krieps
USA
/
UK
/
Germany
,
2011
Reason to see:
Female protagonist action films are must-see films for me
Oh,
Hanna
. How I wanted to love you. I really did. An action film with a teenage protagonist played by the Saoirse Ronan who learns to fight & hunt by Eric Bana, plus it has Cate Blanchett? That's a recipe for awesome. I actually became hesitant about the film from the trailers which shows a very cutthroat tone to it, and revelled in that tone I got a little worried. Not that I expect teenage assassins to be cuddly & happy, but the element of realness comes through quite strongly and that was pretty disturbing. But, I wanted to still give it a chance because I love the cast.
The acting is one of the many stand outs in the film, Saoirse Ronan completely holds the film in the title role of Hanna in all aspects giving and amazing emotional range, being stellar in the action & chase sequences and is always believable as a teenage assassin. I also really enjoyed Eric Bana who is lovely as always as Erik and Cate Blanchett is a joy to watch as the evil Marissa, both of them are particularly in the action sequences, although I would have enjoyed more of them in the film. I was also impressed by the Jessica Barden who plays the young and peachy Sophie. She was a real treat. I adored the production design - the settings are gorgeous whether they are harsh and minimal, flamboyant and excessive, naturalistic or constructed, they are always perfect in terms of tone and saying so much about the lives of the characters that inhabit them.
So, if all that's great, why did I not love it? Well, there are several things. One glaring issue seems to be that they set up Hanna as this ultimate killing machine/teenage assassin/hunter, but as she has zero social skills she has no ability to assimilate into any kind of regular culture and therefore can't hide her tracks. Building on top of that, there is an emotional theme pulling the audience to a Pinocchio direction of 'wouldn't she really just rather be a regular girl, with regular girl worries' pink-tinted glasses viewpoint that just soured it for me. I ended up feeling like Hey! I wanted to see girl assassin, not like teen angst! And then it felt weird to be wanting to see more of the assassin-like behaviour. There are 2 other big reasons, one of which would have been solved by including one of the deleted scenes providing some steps through a leap of faith and unfortunately the second is a huge spoiler so I can't share that in my review, but may end up in an article I'm developing about strong female characters.
The soundtrack works really well and it's very cool that they got The Chemical Brothers to provide music for several for the action sequences which feel fully incorporated into the film. This is another thing I thought it was good but I really wanted to love it like I love the music from
Tron: Legacy
by Daft Punk. It feels unfair to compare the two, but I have both bands firmly cemented in my mind from the same point of time of nostalgia and it makes them inseparable. I would definitely love to pick up the soundtrack/score to
Hanna
, as I have a feeling I will come to love it and listen to it a lot.
Overall, the story of
Hanna
is interesting, the performances are great and although there wasn't as much the action as I'd like it's very well done and honestly way more brutal that I expected. The tone of the film is very much of a revenge film with a strong focus and vicious, precise action to get its results. For me, it lost me on believability of the character which was a big disappointment, and add to that the viciousness right beside sweetness was a tonal put off. I can see it resonating strongly with revenge film fans, especially if you can easily suspend your disbelief.
DVD Extras:
Feature Commentary with director Joe Wright

discussing the locations & countries they filmed in, inspiration for scenes and imagery in the film including what remained the same from from storyboard stage, the authenticity of sets created, the fact that the film is in essence a fairy tale, the dialogue styles, the creating of a soundscape that blurs the line between music, score and sound design, motifs used in the film, what is studio vs location and when CGI is used, casting - especially the supporting & extended cast, the archetypes of the different characters including a fair amount about the styling of Cate Blanchett's character, choices where the logic might have faired better to go with a different choice but admits to what they went with and overall he talks very openly about how he is more likely to talk about mistakes over great shots which might make the commentary a bit of a down (even though it wasn't a downer to listen to). Also does chat about keeping it to a PG-13 rating and some of the choices made to make that happen.

Alternate Ending (1 minute)

alternate ending as described in the commentary by director Joe Wright, interesting to see didn't feel logical.

Deleted Scenes (3 scenes, 3 minutes)

combination of deleted & extended scenes with character one of the scenes in particular I really would have loved to see in the film as it clarified a beef I had.


Anatomy of a Scene: The Escape from Camp G (3 minutes)

director Joe Wright walks us through a chase sequence where we see storyboards and the actual film footage, he discusses different techniques & styles used to create the disorienting effect plus discussing the integration of music from The Chemical Brothers.
Hanna
is available on DVD as of September 6, 2011. Check it out over at
Amazon.ca
&
Amazon.com
Shannon's Overall View:
I wanted to love it
I'd watch it again for certain scenes
I'd recommend it fans of revenge and harsher action films
Return to Film Reviews
or see more
DVD Reviews
© Shannon Ridler, 2011
Eric Bana (left) and Saoirse Ronan (right) star in Joe Wright's adventure thriller HANNA, an Alliance Films' release.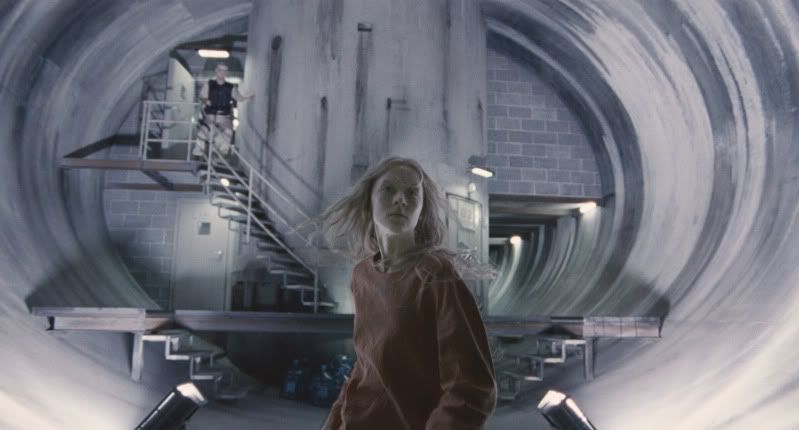 Saoirse Ronan stars as the title character in Joe Wright's adventure thriller HANNA, an Alliance Films' release.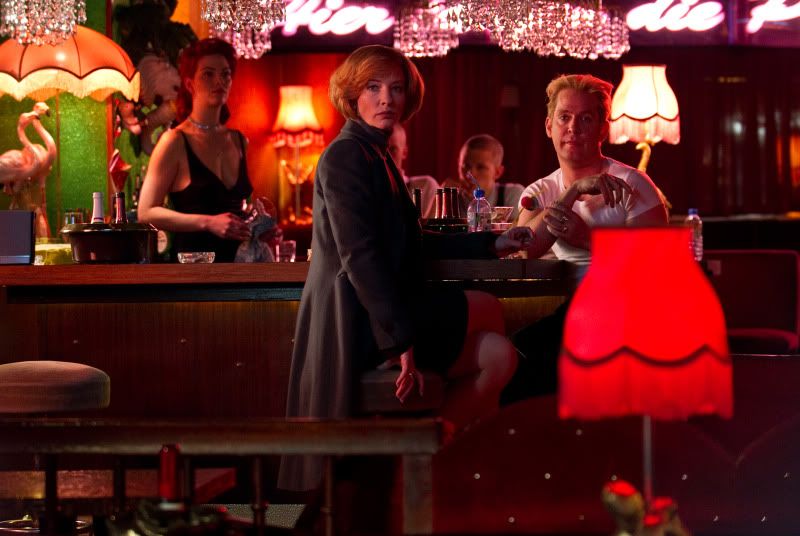 Cate Blanchett (left) and Tom Hollander (right) star in Joe Wright's adventure thriller HANNA, an Alliance Films' release. Photo credit Alex Bailey.