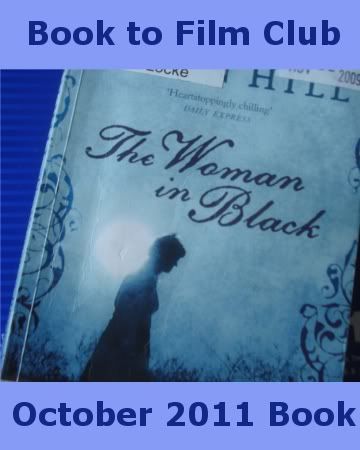 October 2011 Book Selection: The Woman in Black by Susan Hill

The Woman in Black
is a supernatural thriller following a young lawyer who goes to small town which has a menacing spectre and what better time than October to read a spooky story! I really enjoyed this one for several reasons, and I will admit it was refreshing to breeze through a less-than-200-pager after some of the tombs we've tackled. It was also an interesting change of pace to try a supernatural tale as well as a historically set book that was written fairly recently (1983).
Things to ponder on the book:
Did you enjoy reading it?
Was it a challenge to get through?

Was it what you were expecting?
What did you know about the book before reading it?
Did you enjoy the settings & time period? Can you tell it was written recently?
Did you find it scary?
What did you connect to with the book?
How did you feel about the length of the book?

What did you take away from reading the book?
Who would you recommend the book to?
About the upcoming film adaptations:
How do you feel about the casting of the film?
What do you hope to be the focus of the film?
What do you think is essential to keep from the book in the film?
What do you think they will add anything new to the film?
What do you think the challenges of the adaptation may be?
Do you have any hesitations on the adaptation?
If you've seen other film/TV/play adaptations, how do you think this one will be different?

What are you most looking forward to about the film adaptation?
If this was a re-read:
How did reading it this time compare with your previous time reading it?
Did you notice anything different this time round?
Did your interest and focus stay on the same characters and moments, or shift?
If you choose to shelf this out one:
Was there a barrier (genre, focus, time period, density)?
Would you consider trying it later?
Have you already read it?
Will you join us again in November for our last book of the year: Brighton Rock by Graham Greene? I hope you do!

Book reviews from Book to Film Clubbers:
Be the first!
Film Adaptation:
The Woman in Black
stars Daniel Radcliffe (
Harry Potter
series), Ciarán Hinds (
The Eclipse
) and Janet McTeer, directed by James Watkins (Eden Lake). The film has been building a lot of energy in the past few months with the
trailer
released and stills as well. The scary and atmospheric feel definitely fits what I am hoping to see and I can't wait to see Daniel Radcliffe's take on the role of Arthur Kipps. I'm also thrilled to see we are going to see the film as including it in the
Book to Film Club
was a gamble with no release date at the time but now we know it will hit theatres on
February 3, 2012.
You can join the
Movie Moxie Book to Film Club
at any time. Sign up for
updates here
.