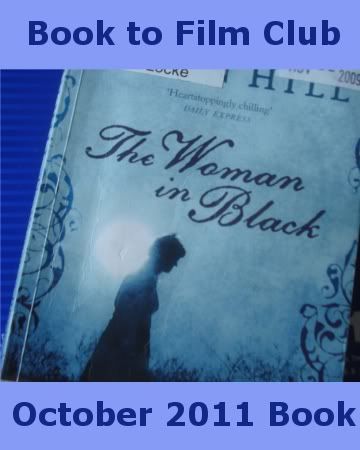 October 2011 Book Selection: The Woman in Black by Susan Hill

The Woman in Black
is a supernatural thriller followsing a young lawyer who goes to small town which has a menacing spectre. I can't wait for this one! Stars Daniel Radcliffe (
Harry Potter
series), Ciarán Hinds (
The Eclipse
) and Janet McTeer, directed by James Watkins (Eden Lake). I'm really excited because information (including stills & trailers) have started to be released and a North American release date has also been confirmed, this one was a bit of a gamble and looks like it will pay off - we'll read it in spooky October and have a few months to process before it hits the big screen.
What better time than October to read a spooky story? I'm really excited about this one, the
trailer
looks scary and atmospheric and I am really excited to see Daniel Radcliffe take on the role of Arthur Kipps. This was also a selection I took a risk on back in January to include in the
Book to Film Club
as at that time it didn't have a release date but now we do - it will be out on
February 3, 2012.
You can join the
Movie Moxie Book to Film Club
at any time. Sign up for
updates here
.