DVD Review of the 2011 horror film Scream 4 starring Neve Campbell, Courteney Cox-Arquette, David Arquette, Emma Roberts, Hayden Panettiere, Rory Culkin, Marley Shelton, Nico Tortorella & Marielle Jaffe; directed by Wes Craven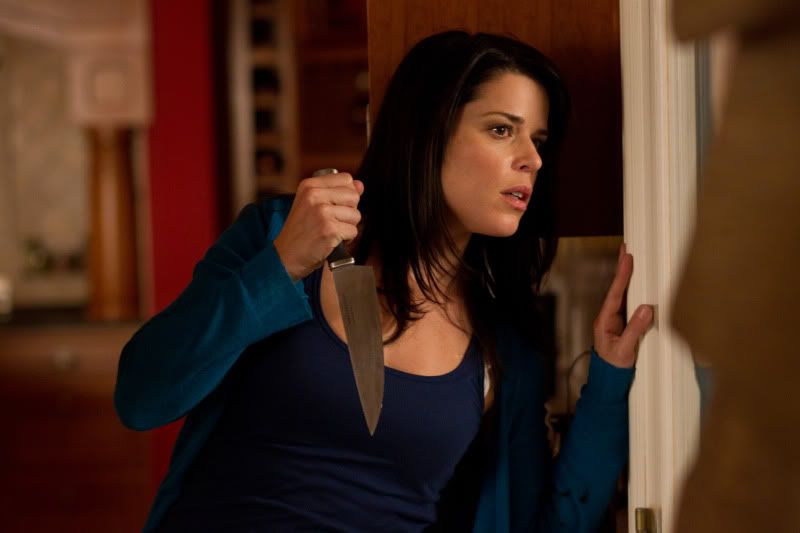 Neve Campbell in Wes Craven's SCREAM 4, an Alliance Films release
Legal Line © 2011 The Weinstein Company. All Rights Reserved. Distributed exclusively in Canada by Alliance Films. All Rights Reserved.
Dir: Wes Craven (My Soul to Take, A Nightmare on Elm Street (1984), The Serpent and the Rainbow)
Cast: Neve Campbell, Courteney Cox-Arquette, David Arquette, Emma Roberts, Hayden Panettiere, Rory Culkin, Anthony Anderson, Adam Brody, Mary McDonnell, Marley Shelton, Nico Tortorella, Marielle Jaffe, Kristen Bell, Anna Paquin, Lucy Hale, Shanae Grimes, Aimee Teegarden, Brittany Robertson
USA
,
2011
Reason to see:
Once you hop on the Scream train - you have to ride it out to the very end
Over 10 years after the release of
Scream 3
and a whopping 15 years from the first Scream we get a new installment in the franchise with
Scream 4
. I was a little leery going into this one after not loving Scream 3 but I had to give it a chance and I'll be honest I'm a completist and once I'm in something I'm in for the long haul. Turns out in this situation that is a good thing as
Scream 4
brings back the energy, anarchy and intelligence that started off the series.
Scream 4
continues on the series strength of giving us a fantastic ensemble cast with Sidney (Neve Campbell), Gail (Courteney Cox) and Dewey (David Arquette) and adds a whole new set of the high school generation including Sidney's cousin Jill (Emma Roberts) and her entire group of friends including the delightfully snappy Kirby (Hayden Panettiere). To update to the times, they bring elements in current horror tastes in terms of extremeness which felt like a necessary evil but thankfully it also continues the beauty of the referential factor and also projects forward to what would be the next big thing to take the horror and killings to the next level. I'm not a super big fan of this choice especially given the first film the tone of reinventing and celebrating the past, and the tricky thing about the current is that we are in it at the moment and only when the chips fall do we really know what will have a lasting effect. That being said, it feels like an earnest choice that they really went for so I can appreciate going all in.
There scares are definitely still running strong, as is the comedy and referential moments along with the great ensemble cast that nice bridges the different generations and pipes in new resident film geeks as cinema club leaders, there is lots to enjoy in this installment in the franchise. I'm actually really happy to have sat through them as a set, as after Scream 3 I was skeptical but
Scream 4
was back to the roots of a great story, scares and unique cinematic flair.
See also:
DVD Review of
The Complete Scream Collection
Scream 4 DVD Extras:
Feature Commentary with director Wes Craven, stars Hayden Panettiere & Emma Robers with a special guest appearance by Neve Campbell

on how the film captures teenager behaviour, discussing original concept for opening scene, lots of notations to when it mirrors the original film, the camaraderie between the characters of Sidney, Gail & Dewey, how the younger set of actors bonded on set, some technical notations, how audiences know when certain characters are going to get knocked off and also the things they never predict, the difference between filming it and seeing it with an audience, the stunt work & stunt doubles and a pretty hilarious mini-rank on the annoyance of fake blood, the challenge of defining a new decade of horror, red herrings and when or if they are cleared up in the film, the challenge of working with knives, calling out favourite lives, stories from being on set and thanks (Neve Campbell joins remotely from about 15 minutes in to about 1 hour, and Hayden Panettiere is on it until 1h 12 minutes in).

Deleted Scenes & Extended Scenes with optional commentary by Wes Craven (20 scenes, 26 minutes)

a huge number of scenes including an alternate opening, extended ending, a great scenes with Dewey & Gail, scenes that were in the trailer but not the actual film, also talking about why they were scenes didn't make the final cut and and notation on when the directors cameo would have been.

Gag Reel (9 minutes)

lots of reactionary scare shots - many of which are genuine scares to the actors, hilarious line flubbing, stunts & physical gags and goofing around.

The Making of Scream 4 (10 minutes)

film clips, behind the scenes footage and interviews with director Wes Craven & actors Neve Campbell, Courteney Cox, David Arquette, Adam Brody, Anthony Anderson, Alison Brie, Emma Roberts, Hayden Panettierre on what is iconic to a Scream film, on the drawn back to the Scream world and the players in place, the changes in horror and the online world has change since the first film, working together over such a long period of time and the welcoming in of the younger cast and the connection & chemistry between the 2 generations of characters, the role & voice of Ghostface,

Scream 4 Video Game promotion
Scream 4 is available on DVD as of October 4, 2011. Check it out over at
Amazon.ca
&
Amazon.com
Shannon's Overall View:
I enjoyed it
I'll watch it again
I'd recommend it if you enjoyed any of the
Scream
films so far
Return to Film Reviews
or see more
DVD Reviews
© Shannon Ridler, 2011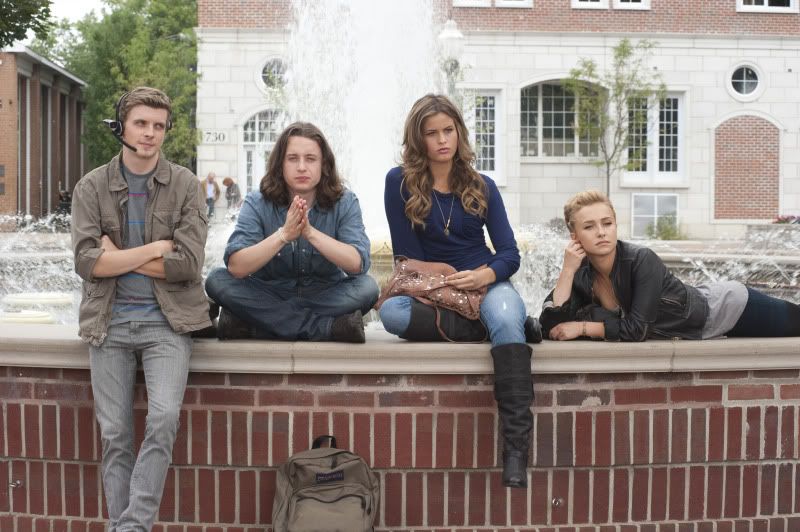 Erik Knudsen, Rory Culkin, Marielle Jaffe and Hayden Panettiere in Wes Craven's SCREAM 4, an Alliance Films release
David Arquette and Courteney Cox in Wes Craven's SCREAM 4, an Alliance Films release
Allison Brie, Marley Shelton, Adam Brody, Neve Campbell, Courteney Cox, David Arquette and Anthony Anderson in Wes Craven's SCREAM 4, an Alliance Films release